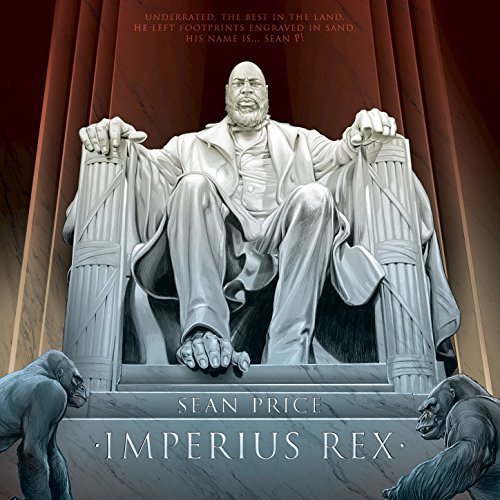 Sean Price :: Imperius Rex

Duck Down Music
Author: Sy Shackleford





In 2005, Ruck from the Brooklyn rap duo Heltah Skeltah fully emerged in a brand-new form. Though Ruck and his partner-in-rhyme, Rock, had achieved success as the architects of Duck Down Music's biggest hit "Leflaur Leflah Eshkoshka" from their 1996 debut album "Nocturnal", they split apart two years later due to the critical and commercial failure of their 1998 sophomore follow-up album "Magnum Force". The break-up of Heltah Skeltah bears parallels to the that of the pro-wrestling tag-team championship duo of the Hart Foundation (Bret "The Hitman" Hart and Jim "The Anvil" Neidhart). For anyone without historical knowledge of professional wrestling, this fan-favorite duo won the tag-team championship belts twice before their second loss split them apart. Bret Hart went solo where he had his greatest accomplishments (multiple reigns as both the heavyweight and intercontinental champion, as well as being the first ever winner of the "King of the Ring" pay-per-view event), gained an enormous rise in popularity, and even an occasional reunion with his former partner.

Slowly, but surely, Ruck was building a new reputation as a solo artist. Discarding his nom-de-rap (except for when he and Rock reunited as Heltah Skeltah), he went from simply a hardcore rhymer to a hardcore rhymer armed to-the-teeth with well-crafted belligerent lyrical threats laced with a sense of humor born from a superfluity of pop culture knowledge and a newfound tongue-in-cheek self-deprecating attitude. This was 2005, when the rapper formerly known as Ruck fully emerged as Sean Price, his birth name and rap moniker throughout his career until his untimely and unexpected death ten years later.

From his 2005 solo debut album "Monkey Barz", he became known for his hard-hitting rhymes and was a staple in the underground hip-hop community. He reamains one of Duck Down's most popular artists and was featured on songs from the Jedi Mind Tricks, the Wu-Tang Clan, CunninLynguists, Diabolic, Onyx, and Copywrite. Mind you, Sean Price was not a rapper with a message. In his own words, his rhymes were "ignorance at its finest." The late Brownsville emcee would bully rappers on the mic with a mix of hilarious menace and effortlessly-delivered technical rhyme skill. On the song "Title Track" from his 2012 album "Mic Tyson", he near-prophetically stated that it was "the last LP, I quit boy." Thankfully, this wasn't the case. His fourth solo album, "Imperius Rex", has been one of the most anticipated hip-hop albums of 2017 and, with this reviewer, that's for good reason: Sean Price may be dead, but his presence lives on to both shame and lyrically torment the worst rappers out now. In short, he's putting these rappers in the Sharpshooter finishing move from beyond the grave and his fans are no doubt ecstatic.

Executive produced by Dan the Man and Sean's wife Bernadette Price, the album captures that grimy New York City rap that Price was known for. In the works before his 2015 death, both the album cover and title represent Sean's melding of pop culture and his unconventional scattershot sense of humor: The cover depicts a Lincoln Memorial-parody monument of himself with a couple of gorillas genuflecting to his statue, a reference to the ending scene of the 2001 "Planet of the Apes" remake as well as a continuation of the ape/monkey/gorilla motif that he maintained all throughout his solo career. The title, "Imperius Rex", is two-fold: The term itself means an arrogant and domineering king, a term which was frequently used as a battle-cry by and an accurate description of the Marvel Comics character Namor the Sub Mariner. With braggadocio lines like "bow down to the world-renowned Brownsville Jesus" right off the breaks, it's clear why that title suits the late rapper.

The production on "Imperius Rex" is varied and completely outside of the usual Boot Camp Clik/Justus League enlistments. There's five tracks produced by Crummiebeats (Fonk & .45) and a different producer for each of the remaining eleven tracks. To start the album off is the title track, produced by the Alchemist. Looped with a vintage string sample, it starts with Sean Price's daughter reciting an interpolation of the first four bars from "Soul Perfect" off of Price's 2015 mixtape "Songs in the Key of Price". Over the Alchemist's beat, Price goes in on the mic with his dense rhymes schemes and gritty voice:

He continues his regal lyrical dominance on the 4th Disciple-produced "Dead or Alive", in which the track begins with another proclamation, "What do I like about rap? ME!" While it's understandable that Price's statement can be viewed as arrogant, it actually isn't. It's never arrogance when you can back up your gumption and Sean Price does this in spades. Mrs. Price provides the song's hook and proves to be just as menacing on the mic as her late husband. Though the usual BCC suspects are not behind the boards for production, some of them gave the late rapper mic assists, starting with Ruste Juxx on "Ape in his Apex" and then "Apartheid" featuring verses from Buckshot of Black Moon and Steele from Smif-N-Wessun. "Negus" featuring DOOM is the first collaboration between the two since their appearance together on DJ Babu's 2008 mixtape "Duck Season, Vol. 3". Produced by Crummiebeats, it contains vocal samples from Spike Lee's 2000 mass media/racial satire "Bamboozled" and features Ike Eyez. Crummiebeats are also responsible for the darkest-sounding beat on the album, "Church Bells", which has ominous bells and Junior Reid's haunting echoes on the hook.

The second half of the album serves to enhance its already-hardcore element. Harry Fraud produces the aptly-named "The 3 Lyrical P's" featuring Styles P. and the late Prodigy of Mobb Deep. I don't know why, but this song sounds like it may have been recorded before Price passed away. But in any case, over hammering multi-track clapping snares, all three men tear apart the mic, letting the listener know why they're all lyrical thugs, especially Prodigy who sounds more focused and determined here than he did on a lot of his released material during his final years. One thing I noticed about Sean Price's vocal delivery since his solo debut is that he gradually developed a slurred congestion to his voice, eerily similar to how Big Pun sounded all throughout his 2000 posthumous album "Yeeeah Baby". It didn't stop him, of course, and it's probably what led to Freeway's appearance on the Marco Polo-helmed "Prisoner". The Philly rapper hasn't lost his flow or delivery, but he no longer has the signature high-pitch to his voice. However, hearing both rappers on the same track worked well despite what they both lack vocally.

"Clans and Cliks" is the album's posse cut, consisting of members of BCC featuring Wu-Tang Clan members Method Man, Raekwon, and Inspectah Deck. Queensbridge's Foul Monday delivers an Ol' Dirty Bastard-inspired hook while Nottz Raw does his best RZA homage on this track with a keyboard sample looped with dusty lo-fi drums. At 5:30, it's the longest track on the album. However its length is worth it as it marks a lyrical beatdown courtesy of two of New York City's largest hip-hop super-groups:

The inclusion of "Rap Professor" was a welcome surprise here. Released a year ago on the one-year anniversary of Price's death, I thought it was just a throwaway track at first. With the "Imperious Rex!" vocal sample and the familiar bass-&-horn samples courtesy of DJ Skizz, Sean Price comes through with a faster flow than he exhibited on the prior album tracks and includes some of his best wordplay, obscure references, and most densely-packed alliterative rhyme schemes. He even threw in a clever reference to a pivotal scene in the 2007 film "American Gangster" that will no-doubt go over most listeners' heads. His irreverent sense of humor shines through on these bars:

"Listen, I'm the magnificent, the mathematical magical misfit
Technique is tactical, clap at you and your bitches
My rap terrific, my rapping is explicit
I'm active, accurate when slapping up you bitches
Fact-filled rap that's wack when you kick it
Gats you catch forever in my district
Think you whack, I think I'm nice
F--k up your view like Frank at the fight"

I wrote earlier that this was one of the most anticipated hip-hop albums of 2017. While the full-length releases by fellow rappers Jay-Z and Kendrick Lamar have garnered the lion's share of critically-acclaim for rap albums this year, I honestly believe that "Imperius Rex" not only outshines both, but also exists in a class of its own. Hov and K. Dot issued their 2017 albums in a very short time after the official release date was announced. Despite the critical and commercial praise, listeners didn't really have much time to have their anticipation for either album to grow. "Imperius Rex" did exactly that and delivered hardcore rhymes from beyond the grave. Some may think I'm being excessively reverential for the dead, but that's simply not the case. And while I gave more note to some songs than others, there's not a single track on "Imperius Rex" that I didn't dislike or even skip. Sean Price never changed up his style since going solo and that worked for him and against him to a degree. But that refusal is part and parcel what continues to endear him to listeners.

Music Vibes: 9.5 of 10 Lyric Vibes: 9.5 of 10 TOTAL Vibes: 9.5 of 10

Originally posted: August 15, 2017
source: www.RapReviews.com

Sounds amazing social media agency added to my playlist buy real active soundcloud followers.