DJ DMD and the Inner Soul Clique :: Twenty-Two: P.A. World Wide
:: Inner Soul Records
** RapReviews "Back to the Lab" series **
as reviewed by Matt Jost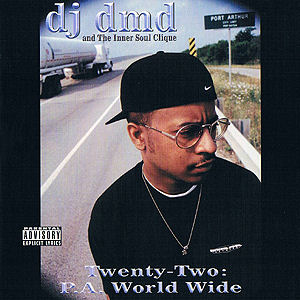 There's a picture to be found online of a group of nine young gentlemen and one lady posing by the roadside captioned 'The Land of the Trill - 1988 Port Arthur, Texas.' Six of the men are named. They are Lee Master, Boomtown, MQJ, Pimp C, Boonie Loc and DJ DMD, the latter, dressed in all black, standing at the front and center. It's possible that the picture was published via MySpace by Mr. Boomtown, a Port Arthur native and in-demand music video director whose portfolio includes clips for Gucci Mane, E-40 and Z-Ro. It's furthermore feasible that the people in the photo were identical with a hip-hop posse known as Dangerous Music Incorporated (two of them dancers, by the look of their synchronized gear). Said DMI would soon disband, leaving only Pimp C and MQJ, who first went by Mission Impossible and later decided to call themselves Underground Kings, after one of their songs. At one point they merged with duo P.A. Militia, which included a certain Bun B, temporarily forming the group 4 Black Ministers. As fate would have it, 4BM too fell apart, eventually giving us the legendary Underground Kingz, Pimp C and Bun B.

Pimp C and DJ DMD went seperate ways professionally when UGK rose to prominence as one of the premier Southern acts, but they did meet again when D co-produced two tracks on 1994's "Super Tight..." and was even featured on one ("Three Sixteens"). DJ DMD eventually became a leading star himself, starting with 1997's "Eleven." His most known release is the follow-up, "Twenty-Two: P.A. World Wide," which also contains his most famous song, "25 Lighters." "25 Lighters" is an undisputed Texas classic, reverberating through rap music to the present day, from Mac Miller using the instrumental for his "K.I.D.S." mixtape, to rappers-du-jour A$AP Rocky ("Wild For the Night"), Kendrick Lamar ("Backseat Freestyle") and Big K.R.I.T. ("Money on the Floor") all referencing the "25 lighters on my dresser, yessir" line during the past year. What's more, after a long hiatus, Texan blues rock cornerstone ZZ Top returned in 2012 with a rendition of "25 Lighters" entitled "I Gotsta Get Paid," the lead single off their 15th studio album.

DJ DMD's "25 Lighters" is a slick replay of Al B. Sure!'s "Nite and Day," an airy yet still anthemic multi-purpose track that isn't out of place in cars, clubs, or wherever the radio waves happened to reach you when it was in heavy rotation. D takes the lead with his clear delivery while soon-to-be Houston legends Lil Keke and Fat Pat rather vibe to it. The track features valedictory adlibs directed at Fat Pat, who was gunned down in early 1998 and didn't live to see the release of "Twenty-Two," nor the video shooting for "25 Lighters":

Despite the Houston features on "25 Lighters," "Twenty-Two" is a proud Port Arthur record. "We just wanna make rap music", "we just tryina represent," DMD declares in the "Intro," which bridges perfectly over to the heavy piano-supported "The Trill Connection," led by DMD himself, who sports a measured, authorative flow similar to mid-'90s Dr. Dre or E-A-Ski:

"We represent P.A., where the trill niggas rollin'
Niggas' nuts swollen, real niggas holdin'
Bankroll foldin', we certified golden
Niggas tryina hate but got they mouths wide open
[...]
Jay Will on the streets and I be on the beats
Niggas bang my shit like niggas blow Sweets
I keeps it on the real, get the paper, fuck the hoes
Before I'm 3-0 gon' be worth 7 0's
Flows, keep it paid, hoes, keep it laid
Polos and treys keepin' a nigga player-made
Foes can't fade, they can't make the grade
They best to stop the plex or fuck around and get sprayed
Returnin' to the game after two years like Jordan
Back to claim my spot, top nigga scorin'
Soarin' to the sky, niggas wonder why
We love this city, we gon' claim it till we die"

Pimp C closes the track, concluding a potent P.A.T. showcase. DMD continues to rap on the majority of the tracks, always joined by members of his Inner Soul Clique, foremost Lee Masta and Laboo, who would have fit right into H-Town's Screwed Up Click or Swishahouse with their smooth but precise flows. "Twenty-Two" as a whole falls in line with other late '90s releases from Texas. It looks to Suave House (rather than Rap-A-Lot) for inspiration, as well as the West Coast and '80s hip-hop. The bluesy "Out There on That Corner" is the most distinct 'southern' piece. On "Makin' Moves" DMD turns a seemingly straightforward Barry White interpolation into a unique track, something hip-hop had perfected by that time. "Landmines" samples the same Average White Band guitar licks MC Ren once rocked over on N.W.A's "If it Ain't Ruff." "Boonie Loc Off the Dome" accomodates freestyle rhymes over kicking 808s. The CD even features a hidden track highlighting DMD's deejaying roots.

DMD is a skilled producer with a rich, detailed sound. His craftmanship behind the boards coincides with a lack of originality, but let's keep in mind that hip-hop has always been as much about recreating existing standards as it has been about pure creativity. It's indeed very hip-hop to use other people's property for your own purposes, and Texas in particular has kept that spirit alive from DJ Screw's thick-as-molasses mixes to Z-Ro's musical interpolations. That's why there's nothing corny about "When You Come Home" borrowing from L.L. Cool J's "I Need Love," especially not when it's used to send a kite to someone behind bars.

At some point "Twenty-Two" begins to read like a checklist of themes D and his Clique deemed mandatory for a 'complete' album. "Landmines" is where the lyrical excercises take place. "Out There on That Corner" is that street conscious track with spiritual overtones. "It's the B.U.D." is an East Coast-leaning smoke break introducing the B.U.D. Bros. (which included Mitchell Queen alias MQJ, as mentioned one half of the original Underground Kings). "Epitaph" is a spoken word interlude. "Go Back Home" tells women who don't give it up as easily as expected to hit the road. "'Til the Casket's Closed" is another Port Arthur anthem, this time orchestrated as a more cliché Southern gangsta rap song. Meanwhile "Shinin'" and "Makin' Moves" represent that Southern way like just about every rapper along the Gulf Coast: "Million dollar schemes, candy-coated dreams / 3rd Coast niggas know what I mean."

It may be a stereotype, but these rappers take their time and by doing so, many have had the time to perfect their craft. Check Laboo in "Makin' Moves":

"I drive them hoes crazy
They say, 'He sho' shady'
But I'm on the grind gettin' mine, so get yo's, baby
I'm still the same nigga
I mean yo main nigga
Don't think I'm slippin' cause I hopped out of the game, nigga
Just made my name bigger
Figured I changed, did ya?
My figures changed, now y'all lookin' like some strange niggas
That's how your friends'll be
One day they friends with me
and then I find you been dinin' with the enemies
These hatin' tendencies
These vibes you sendin' me
And all this time I showed you love like you was kin to me
Can't drink a brew witcha
I walked to school witcha
and lost my cool when niggas tried to act a fool witcha
You got your crew witcha - you get your own, bitch
Don't come tomorrow tryina borrow, I don't loan shit"

Effective quality control notwithstanding, it's not hard to see why "25 Lighters" instantly caught on and came to define DJ DMD's career. It's the one catchy tune among a collection of standard rap tracks. Like many one-hit-wonders he probably wasn't entirely happy about it, not the least because the '25 lighters' thing was likely an allusion to drug dealing (which the song may have inherited from a precursor, "25 Lighterz," found on the DJ Screw & The Screwed Up Click Presents Dead End Alliance album). Maybe such negative connotations were one of the reasons he decided to remake the track as "25 Bibles on My Dresser" in 2012. Learning that DJ DMD has been reborn as a Christian rap artist doesn't come as that much of a surprise. While eager to evoke flattering comparisons (No Limit, Suave House, Big, Pac all get namedropped), "Twenty-Two" is reluctant to resort to the typical drastic measures of '90s rap. Its main focus is to "represent P.A." and to finally be able to show 'em what you got a full ten years after that picture was taken in the Land of the Trill.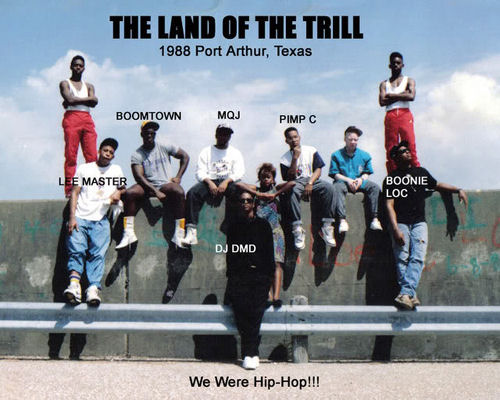 Music Vibes: 7.5 of 10 Lyric Vibes: 6.5 of 10 TOTAL Vibes: 7 of 10

Originally posted: March 26th, 2013
source: www.RapReviews.com