Bone Thugs-N-Harmony :: BTNHResurrection
:: Ruthless Records
** RapReviews "Back to the Lab" series **
as reviewed by Pete T.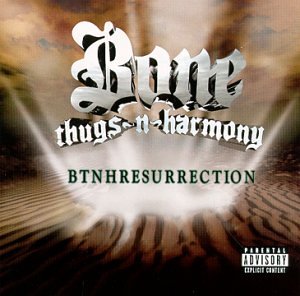 After producing three multi-platinum smashes in their first three outings as a group, the rapid-rhyming quintet that put Cleveland on the hip hop map took the next step toward world domination by going on hiatus to embark upon solo careers. In the aftermath of 1997's successful "The Art of War," an epic double-album in an era where double-albums were symptoms of rap superstardom, members Flesh-N-Bone, Krayzie Bone, and Bizzy Bone released solo albums while the group took pains to establish the extended Mo Thugs Family in a string of collective compilations and related side projects. Krayzie, Layzie, and Flesh even attempted their own ill-fated record labels, ThugLine Records, Mo Thugs Records, and Flesh Bone Incorporated, respectively, and each rapper took turns making the rounds with high-profile guest appearances. To say that Bone Thugs-N-Harmony had a lot on their plates heading into the new millennium would be an understatement, and rumors of the group's splintering were by no means unusual.
The meaning behind the title of "BTNHResurrection" is twofold. For one thing, its February, 2000 release meant that the world had survived the impending apocalypse that the new millennium posed and the group had so feared. But more importantly, it was a reassembly of the crew after a long three years which failed to produce a follow-up to "The Art of War." If three years doesn't sound like a long enough time to warrant a "comeback" album, consider that Bone had become one of hip hop's top-selling entities in the late-90s, and all the solo activity and group inactivity was inexcusable from fans' perspective and inadvisable from a commercial standpoint—Ruthless even released a greatest hits compilation in 1998. The breakup rumors and haters' expectations are heavy on the group's heart as Bizzy kicks off the album's opener "Show Em":
"Will they prostitute me? Will they prosecute me?
Stay under surveillance
Get out tha county, this nigga ain't got all my fuckin' jewelry
Local niggas, got me fucked up, Bone Thugs bitch
Runnin' and we thuggin' it up
Look at us creepin' on ah come up
Ooh, we don't wanna murda ya, and it's so mysterious
How many niggas wanna kill us, will they run up?
Come kill me hater, murder with the AK
Play our, play our C-Town, all the way through D-Town
Northcoast keep goin'
Ready for the Midwest invasion
Y'all niggas keep growin'
But know that I know we was 'saken
Fuck shit some niggas can't take it, respect that
But we poets and if you don't squash it, fuck some rap shit
I be on some many mack your ass attack shit
Ready to back that
Now who rollin?"
If nothing else, "BTNHResurrection" shows that the Bone empire was stronger than ever heading into the new millennium. With no guest rappers, the Wasteland Warriors come raw with their inimitable triple-time flows, melodic sing-song deliveries, and strong, sleek production from trusty longtime producer DJ U-Neek, JT Thomas, L.T. Hutton, and Darren Vegas. Sounding reinvigorated and hungry, they rip apart the producers' dark funk and, true to their formula, slow down the tempo in spots for their signature inspired R&B-influenced tracks.
The "resurrection" theme is well-explored throughout the first half, with heavy, apocalyptic songs concerning epic battle and death. These tracks are appropriately fitted with uneasy, bass-heavy beats like on "The Righteous Ones" and "Souljahs Marching." The anxious "2 Glocks" is an early highlight, with chilling production and a Krayzie Bone-delivered hook. The dramatic "Battlezone" is classic Bone, a hookless gem that Bizzy, Layzie, and especially Krayzie rip with marathon verses. The MCs sound phenomenal, speeding through vicious lyrics clearly and melodically, bouncing off each other with impressive chemistry and always seeming to be on the same page while each adds his distinctive touch. Bizzy rotates between his angry delivery and his signature high sing-song, Krayzie flashes his soulful, deep singing voice for great hooks between his unbelievably rapid-fire rhymes, and the eternal weak link, Wish Bone, is used sparingly.
"BTNHResurrection" is also significant because it's the only album of the group's discography on which Flesh-N-Bone appears as a full-fledged contributor. Always the "fifth dog," Flesh was a part-time member early on due to contract stipulations with Ruthless and later because of incarceration. Here he appears on fourteen tracks and performs meritoriously with his pitchy, doubled-up verses as on "Murder One":
"We in the last five days of these trials and tribulations
And I'm waiting for the Lord, oh please don't leave me forsaken
Caught up in the doom prepare for Satan
We facing a situation while I'm drunk and scared
Heavily sedated, wonder will I make it to the pearly gates
Or will I burn off in that lake now
Could you feel the earthquake shaking the dead awake
How many wait, it's too late, it's over now
Niggas had a lack of faith so life ain't straight, if you incapable
Having a little trouble, a day with a fiend or somethin'
Betta plead to bloody Jesus
Watch how the majesty control it
Don't let it go slow down hold on
Now can I get a witness shout hallelujah, amen
I'm feeling the holy ghost makin' moves through ya
Smooth, I made it to free your mind to the rhythm
I got designed when the world drop dimes
This world you'll fine there's no other like my kind"
It wouldn't be a Bone album without an ode to their beloved herb, and "Weed Song" is in that respect one of their best yet, incorporating classic, slowed-down soul samples like "Buddah Lovaz" before it and featuring hazy, floating melodic vocals from all five members. They also branch out on "Ecstasy," a nervous yet simultaneously relaxing track about markedly-less enjoyable experiences during trials of a new product.
The standouts are "Resurrection (Paper, Paper)" and "Change the World." The former is, in my opinion, the best song in the BTNH catalog; few songs have ever reasserted a group's power more effectively. JT Thomas' track is magnificent, with a thick bassline giving nods to "Tha Crossroads," tasteful piano chimes, and a rousing strings arrangement. It's also the track that best captures each member's complex character. In a stirring, well-vocalized verse, Bizzy asserts confidence despite a lifetime of insecurities. Krayzie bounces between triple-time rapping and soulful singing, lyrically certifying the group's comeback before crooning in reference to "Thug Mentality" from his 1999 solo double-album "Thug Mentality 1999":
"Thuggish ruggish till the day that I die
Fuck it that's all I been all of my life
It's just T-H-U-G we be
And it aint no thang
Keep buckin', buckin'
Dumpin', fuckin'em bustas up with my gauge
We poppin' all y'all
I'm watchin' all y'all"
In classic L-Burna form, Layzie displays mental strength in spite of his never-ending fears of the apocalypse:
"Fuck all the drama, I'ma just blast hollow point tips off in that ass
Tha slicka the nigga that's pullin the trigga is the nigga thats standin up last
Countin this cash, still doin' this mash
Blowin much weed as we watch you bleed
Nigga got killed fo' the love of the cheese
Now you can't do shit cause you're six feet deep
Fuckin' with Lay is a game you shouldn't play
Even myself I could die today
I could lie, but hey it ain't worth it
Shit, ain't none of us here to stay
I'ma hold my ground and I'ma lace my boots
So when it's time to shoot, then that's it
Screamin' out Mo Thug in this bitch, and Bone Thugs in this bitch"
Wish is abetted by an echoing Bizzy in the call-and-response that ends his surprisingly strong verse, yet best of all might be Flesh-N-Bone's closer. The eternally forgotten thug, Flesh avows, "I am what I am, the fifth dog," before continuing to express his endless mourning of Eazy-E. It's an appropriately dramatic finish to an inspiring song.
"Change the World" is a heartfelt assessment of the world's problems. With a poignant hook by Bizzy's onetime protégé Big B and sad piano-based production, Bizzy, Flesh, Layzie, and Wish deliver heartfelt sentiments without straying into the corny. It's interesting but lucky that the group chose to put this version on the album—the unreleased extended version featured a final out-of-place verse by Krayzie proclaiming "the end of the world" that turned a thoughtful, conscious song into an odd apocalyptic statement. The album version is a winner.
Late highlights include the deep "Don't Worry," a feel-good ballad on which Krayzie proclaims "Everything's go'n be alright" as only he can, and the soulful closer "No Way Out," a cleverly-produced track about desperation. The bonus track "One Night Stand" is a solid solo cut from Bizzy.
Ever since "The Art of War," every time the entire Bone unit reassembles it feels like a comeback—not unlike Wu-Tang, BTNH is full of such huge characters that to have them all on a single project is a significant event. However, "BTNHResurrection" was a departure point for Bone Thugs-N-Harmony. Mere months after it debuted at #2 on the Billboard 200, Flesh-N-Bone was sentenced to a decade behind bars for assault with a deadly weapon. It was also the last instance in which Bone and Ruthless Records were on good terms; controversy stemming from conflict with Eazy-E's widow and Ruthless CEO Tomica Wright would mar the release of 2002's "Thug World Order," the group's last album with the label, and result in years of turmoil and unauthorized releases.
The Bone Thugs of "BTNHResurrection" are a different animal than the marijuana-toting harmonizers of "E. 1999 Eternal." Their earliest recordings were accentuated by devilish undertones and driven by chilling murder narratives, but what took them to mainstream prominence were their lovable, catchy odes such as "Tha Crossroads" and "1st of tha Month" and image as likable Midwest gangsters. The Thugs of "BTNHResurrection" have seen success and are intent to come hard, but still maintain their signature balance of tough street-ready cuts and slow, inspired ballads. Maintaining high quality over a long 76 minutes, "BTNHResurrection" is not Bone's magnum opus but brilliantly showcases an essential rap act in its prime.
Music Vibes: 8 of 10 Lyric Vibes: 8 of 10 TOTAL Vibes: 8 of 10
Originally posted: March 2, 2010
source: www.RapReviews.com