H.W.A. :: Livin in a Hoe House
:: Drive-By Records
** RapReviews "Back to the Lab" series **
as reviewed by Emanuel Wallace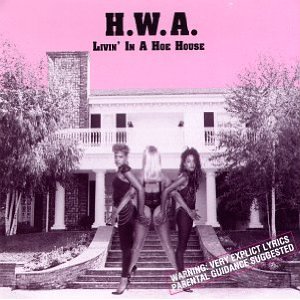 The female emcee has always been one of those issues that is bound to spark up some debate or heated discussion. The most popular female in hip-hop at the moment is Nicki Minaj and prior to that we had Trina, Foxy Brown and of course Lil Kim. There were and are other femcees like Heather B, Dominique Larue, Jean Grae, Bahamadia, Queen Latifah, Conscious Daughters, Mia X, Boss. MC Lyte, Rah Digga, Eternia, Yo-Yo, Da Brat, Lady of Rage and Sistah Souljah, among many, many others. While some of the aforementioned artists may have had a bit of sex appeal to their acts, none of them really dared to take it to the extremes that Kim did. For many, the brash and crass lyrics of La Bella Mafia, Fox Boogie and Da Baddest Bitch were the first of their kind, but they actually weren't. Back in the late 80's and early 90's, there were groups like Kimmie Fresh and The People, Bytches With Problems and Hoes With Attitudes.
Conveniently and conspicuously known as H.W.A., the group consisted of Chicago natives Baby Girl, Jazzy and Diva, who then relocated to Los Angeles. Their debut album, "Livin' In A Hoe House" was released in 1990 on a label called Drive-By Records and was primarily produced by Dangerous D, with assistance from Ronnie Vann, Ced 'Casanova' Malone and someone named Nutra-Sweet. From the album's opening moments, the Hoes are taking shots at Ruthless Records. The first victims are Terri B and the late Eazy E. Throughout the course of "Livin," every member of N.W.A. gets caught in the wrath of these Hoes, with Eazy taking the most damage. Even some non N.W.A. artists aren't safe, as they are referred to either by name of by parody of their songs. Tone-Loc, Ice-T and Too $hort are mentioned by name and an inference to Sir Mix-A-Lot can also be heard.
The album opens with the previously mentioned "To Live Or Die" and the first single, "Funk Me," which was intended to be, or at least described as a dance. If you "take the N out of funk, and add a C," you'll end up with what they really wanted to say here. I highly doubt that Prince was affiliated with the Hoes, well at least these hoes, but there's a high-pitched yell all through the track that sounds a hell of a lot like the purple one. It shouldn't take much of a genius to figure out what "Eat This" is referring to, but let's just agree that H.W.A. are advocates of fine dining. Before Jay-Z had "1-900-HUSTLER," these Hoes had "1-900-Bitches," which finds the ladies running a sex line that serves clients that range from Average Joe to Bush 41 to even Nelson Mandela. Most of the production is driven by 808 drums and keyboards, and this track is no different. The title track finds the ladies chronicling the ups and downs (pun intended) of taking up residence in a house of leisure, and the cadence of Too Short's "Freaky Tales" is borrowed for the aptly-titled "Freaky Daze." The second half starts off with songs like "Tight," "Gangstrology" and "Trick Is A Trick." While the Hoes make it a point to call out N.W.A. on other songs, they dedicate "The Conflict" entirely to hurling insults at the four remaining members of the group (Ice Cube had already parted ways) and even Miche'le:
"Now let me tell you about a lyin' emcee
He goes by the name of Eazy muthafuckin' E
He says he's a woman beater, but he's not a pussy eater
Hold up for a second while I sip on my two-liter
Muthafuck...'The Art of Suckin Dick'
That little ass midget licks a hell of a clit
My panties hit the ground, his head went down
Slid his tongue up my pussy and he couldn't hear a sound"
"Nasty," "Baller Baller" and "Little Dick" shut down the operations at this hoe house. These songs touch on the things that most important to the Hoes: repulsive guys, fake ballers, and men with uh, appendages that are smaller than average. One could argue that the material here is no worse than the Too Short, N.W.A. or 2 Live Crew releases of the day, and they'd be right. Anyone looking for lyrical dexterity would be sorely disappointed, but it makes for good and entertaining crude humor, which has to count for something. In the years that followed this release, H.W.A. actually ended up signing with Ruthless, but after a few lackluster efforts, they seemed to fade away into obscurity. However, female emcees are still around and in many cases outperforming their male counterparts. You could even say that they're running the house.
Music Vibes: 5 of 10 Lyric Vibes: 4 of 10 TOTAL Vibes: 4.5 of 10
Originally posted: November 9, 2010
source: www.RapReviews.com