Dream Warriors :: And Now the Legacy Begins
:: 4th and Broadway/Island
** RapReviews "Back to the Lab" series **
as reviewed by Matt Jost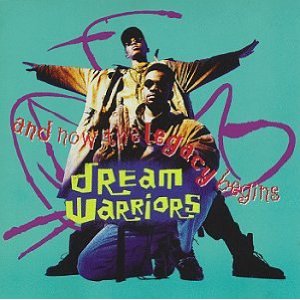 For whatever reason some songs just resonate with certain crowds, resulting in what we could call surprise hits. One such hit was "My Definition of a Boombastic Jazz Style" by the Dream Warriors. The Canadian duo's tune struck a chord in Western Europe in 1991, cracking for instance the UK's and Sweden's top 20. The rare groove/acid jazz movement was at its commercial peak in these spheres, and the hip-hop twist on Quincy Jones' "Soul Bossa Nova" was sure to fill dancefloors. Additionally, the sampled song had been present in pop culture in both Canada and the UK. In the latter it had been the theme song of an afternoon program on BBC Radio 1 in the '70s. Curiously, it didn't chart in its home country, even though "Soul Bossa Nova" had been used to announce a long-running game show called 'Definition,' which initially inspired "My Definition of a Boombastic Jazz Style." Years later Mike Myers remembered the theme as well and secured it its most high-profile exposure to date in the 'Austin Powers' movie series.
In 1990, when they recorded "My Definition," the Dream Warriors were probably just happy to have come across a sample that befit their quirky yet cheerful nature. The "Soul Bossa Nova" instrumental was in fact so fly it needed little additional bolstering for rapper King Lou to glide across and deliver his free-form philosophical musings. The De La Soul influence is undeniable as the song questions perception ("Your definition of me is definitely wrong") and the ambiguity of all attempts to define something or someone ("Define if you will but I know so - there is no definition"). In fact, the 'boombastic jazz style' here is all Quincy's as the rapper mainly wrestles with the term definition.
"My Definition of a Boombastic Jazz Style" was the Warriors' effort to position themselves in the rap scene, with hopefully as few contortions as possible: "Why must I try to lie and build an alibi / when all you ask is just for me to be me?" "Follow Me Not" continues the theme, mixing a message of individuality with soul and jazz sampling, this time more adventurous with internal musical variations uncharacteristic for individual rap tracks.
Just as much against the grain, but into a quite different direction went "Ludi," apparently made at the request of a higher power: "My mother wanted me to make another song / somethin' brand new so she could dance to, too / So this one's dedicated to no other than my mother / my father, my sisters and my brother." The dedication may be literal, but the Toronto rapper is quick to extend it to the entire West Indies, the board game ludi acting as a metaphor for the Carribean's shared culture.
While "Ludi" is the album's most elementary song, the playfulness is often confounded by abstraction. First single "Wash Your Face in My Sink" had no qualms about coming across cryptic. Still it's not hard to decipher the battle stance Lou takes over the chopped Count Basie tune. The lyrics, when more closely inspected, weren't just strings of non-sequiturs either:
"Never ever will I fall, fall to the effects of bandwagonism
So please listen
- up, not down, for down is the devil
So roll like a boulder and not like a pebble
You roll like a rock - you roll like a rebel
For this is pure pain - pick, axe and a shovel
Hear no command, hear just warning
If you wake up in the morning
and wash your face in my sink"
Like other rap acts inspired by the funk, the Warriors used wondrous imagery to depict real-life situations. "Behold Dream Warriors, as we enter the brink of reality," Lou announces in "Journey On," sounding like Professor X emceeing an X Clan track. Musically, "Tune From the Missing Channel" could have been the likely result of an unlikely collaboration between Public Enemy and PM Dawn, ticking percussion paired with low-mixed melodic highlights and a hushed hook, while lyrically it's Ultramagnetic MC's meets Jungle Brothers as the Jane & Finch representative broadcasts his loosely righteous, vaguely cosmic message.
If there's one thing that sets this rapper apart, it's the distinct sound of wisdom to his clear voice that gives his rhymes a thoughtful touch. Paired with the off-and-on esoteric verbiage, it turns the six-minute "Voyage Through the Multiverse" into a compelling lecture:
"Modern technology, Warriors in mythology
We rule the multiverse, we're infinity
Echoin' in the minds of the suckers I'll be crushin'
[...]
I am a mega, and you are a micro
I got style, and born to rock ghettos
or you could say projects, your satellite complex
I work the strings, you're just a marionette
made by Gepetto, so you're a Pinocchio
You could beat me? Your lyin' nose is growin'
[...]
A simple rapper like yourself can be unwrapped
You will be tired as hell, so you can't go the laps
I got strength, I get ovated and encored
That's why my rhymes keep sailin' like Concordes
Breakin' sound barriers, strong like Bo' Terriers
Come join the party, the more the merrier"
The rest of the tracks rounded off an eclectic collection that wasn't without flaws. "U Never Know a Good Thing Till U Lose It" failed in comparison to Brand Nubian's "Feels So Good," which used the same sample to better effect. The title track was an amalgam of '80s funk grooves with a faux old school feel to it. "U Could Get Arrested" was a posse cut featuring DJ Capital Q and two guests that - political intentions or not - seemed to miss its mark. "Face in the Basin" came across like an unfinished afterthought to "Wash Your Face in My Sink," the stereotypical drums (think Lyn Collins) contrasting too loudly with the harp strings. "Do Not Feed the Alligators" was a collage of repeated phrases devoid of the charm of De La's "Tread Water," the song it instantly brought to mind. "Twelve Sided Dice" explored the darker side of hip-hop instrumentation (after all, 'Dream Warriors' was the subtitle of a 'Nightmare on Elm Street' sequel). "Answer for the Owl" finally put a classic Meters sample to good use for some sort of concluding theme song with yet more subliminally striking lyrics.
The Dream Warriors are often compared to contemporary acts from the extended Native Tongues family. Likening "And Now the Legacy Begins" to "3 Feet High and Rising" and "People's Instinctive Travels and the Paths of Rhythm" is certainly not wrong, and yet the sheer uniqueness of this album has stood the test of time. The originality and creativity lie mostly in the innovative arrangements and wide-eyed-yet-wise vocals, but there are also at the time unheard of references to staples of geekdom like 'Dungeons & Dragons,' 'Star Trek,' 'Star Wars' ("Use the Force, Lou!"), and 'The Hitchhiker's Guide to the Galaxy.' Unparalleled is also that Lou openly admits to playing a role, offering in "Twelve Sided Dice," "I'm usin' a character, in this case a king / to say things I would've wanna said."
King Lou and DJ Capital Q would make sporadic returns under the Dream Warriors moniker, but they never were as unconventional and challenging as on "And Now the Legacy Begins," an album that performed well in Canadian and European critics' polls at the end of 1991 but was completely slept on in the States. So for some early '90s enthusiasts this one might be one of the last few discoveries to be made. Rap has since seen hundreds of equally visionary records, but few of them can match the vitality of this one.
Music Vibes: 8 of 10 Lyric Vibes: 7 of 10 TOTAL Vibes: 7.5 of 10
Originally posted: October 12, 2010
source: www.RapReviews.com