Boss :: Born Gangstaz
:: Def Jam West
** RapReviews "Back to the Lab" series **
as reviewed by Emanuel Wallace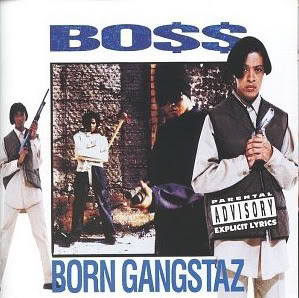 For the record...she doesn't give a fuck, not a single fuck, not a single solitary fuck. This is the mantra in play for the entirety of the 1993 debut release from Boss, "Born Gangstaz". For what it's worth, Boss was actually a duo consisting of Lichelle "Boss" Laws and her DJ partner Irene "Dee" Moore, but much like the currently re-emerging Sade, the group took the name of the premier artist. The story of Boss (the group) is filled with valleys and peaks, and are only slightly eclipsed by the story of Boss (the individual). As a group, trying to secure a deal took Lichelle and Dee from their native Detroit, to New York, back to the D and off to California. With a survivalist mentality, the ladies did everything they had to do in order to get by, short of resorting to the world's oldest profession. The girls eventually found their way to DJ Quik's management team at the time, which helped to get them off the street. Their biggest break didn't come until they met with Russell Simmons and signed to his Def Jam West imprint, where he would make them his pet project of sorts. Uncle Rush felt that the same women that were purchasing music by the likes of N.W.A. and Ice Cube would also buy into the same type of rap from females if given the opportunity to do so. With top-notch producers like Erick Sermon, the late Jam Master Jay, MC Serch and Def Jef (whom they had met before), Boss was ready to take the world by storm.
After a short introduction, the album kicks off with the Barry White-sampling lead single, "Deeper". Just after the audio clip of Eddie Murphy in "Beverly Hills Cop II" proclaims "this is deep, but I'm goin' deeper", Boss (for the sake of sanity, all further references to Boss will be in reference to the individual, unless noted) goes deep into her rhymes about feelings of despair and trying to make a way out when none seems to be in sight.
"Every now and then I start flippin' and get to thinkin bout deep shit
beyond all that bullshit I shoot at people
(Yeah I know what you mean) But fuck it I'm evil
And I'm hip to every bitch tryin to get a grip
and every nigga tryin to get a grip but fuck that shit
And I say fuck that shit with my mighty middle finger
I'm heavy off into this rap shit, buckin singers
Yo I think I'm gettin tense (word?)
Cause my dollars ain't makin no fuckin sense;
But then again, it's probably all that chronic that I smoked
I used to be like that when I was out there slangin dope
And lately I been flippin on some old paranoid shit
Like lookin fuckers up and down tryin to start shit, cause I'm a hard bitch
(So why don't you just soften up?)
I try to be cool but I get caught up when I go to clubs, straight up
I don't even trust myself (yo, you can trust me)
Fuck I know? (I'm just like you)
Riiiiiiight, that's deep"
Erick Sermon lends both his vocals and trademark sound to "Comin' To Getcha" and former DJ Quik associate, AMG contributes both the beat and his high-pitched raunchy lyrics to "Mai Sista Izza Bitch". The latter has Boss fully embracing the concept of being just that, a bitch. The full embodiment of what Apache was rapping about on his 1992 song, "Gangsta Bitch". Dee makes the first of a handful of appearances on the "Thelma and Louise" skit and "Drive By" which followed it. Onyx alumnus, Sticky Fingaz shows up on the JMJ and Chyskillz-produced, "Livin' Loc'd". if the beat sounds familiar, it's The Meters' "Cardova", which is the prominent sample on N.W.A.'s "She Swallowed It". The other single that was released was "Recipe Of A Hoe" and just like the other single, it featured a slower tempo. This time the song was built around a sample from an Isley Brothers song, "Ain't I Been Good To You". The song itself finds Boss taking aim (pun intended) at wanna-be players, letting them know they they'll either be robbed or even worse, have their Johnson blown "clear the fuck off". Ouch.
"Guess who? The down ass bitch BO$$!
Speakin' on how ya dick'll be gettin' shot clear the fuck off!
If ya keep, talkin' that shit cuz all bitches aint hoes!
And imma be the one to let ya stray ass know, niggaro!
So many bitches, ya keep a file on 'em
State to state dick, ya draws got too many muthafuckin miles on em!
But then again so many fakin' the fuck, claimin' they getting it but on the real they really ain't getting shit
Steadily stressin' you knockin the boots, yo nigga please!
You's a nappy headed havin', hoe ass rooty poot G!
And any bitch can see for her damn self
Niggas thats talkin' the most shit ain't even buldgin' up under them belts!
Ya fake ass wanna be a pimp muthafucka!
Ya heard me right brother, this bitch here don't stutter!
You no where next to the pimp you wanting to be, oh no
Getting your nut on the solo from get go was a no no!
Don't even think about steppin' to me see!
I'm tellin' ya like it izzzz nigga....I know the fuckin' recipe!"
The Def Jef-produced "Catch A Bad One" makes for one of the album's most aggressive tracks and features both Boss and Dee with a one-two combination of sorts that makes one wonder why she wasn't featured on more songs. "Born Gangsta" samples Parliament's "All Your Goodies Are Gone" and once again features Dee. She gets the chance to shine on her own on the MC Serch-produced "Diary Of A Mad Bitch". She kicks tales of a struggling "good girl gone bad" and gets revenge on all those that have wronged her with no remorse to be found. The ladies start closing the album out with "2 To Da Head" and "I Don't Give A Fuck", which basically puts a stamp on their music. They're brash women who refuse to back down from any man or woman, and if you doubt that, then you'll change your mind after a few slugs to the chest.
I purposely neglected to mention the bookends of the album which includes "Intro: A Call From Mom" and "Outro: A Call From Dad". In these two short tracks, Boss' (again, the individual) parents both voice their disapproval of the profanity that their baby girl is using on her answering machine. But to me, the mere inclusion of those tracks seemed to indicate that Boss hadn't forgotten about her origins. For some reason, the media of the day seemed to make a spectacle of her upbringing as if she were hiding something, but she had laid it all out on the table from the jump. More recently, Boss found herself in need of a kidney transplant and taking close to fifty pills a day. She was planning a comeback in 2004, but other than a short mixtape called "The Six Million Dollar Mixtape", not much has materialized.
Damn near twenty years have passed since these Bitches On Some Shit crept up on the scene, and the album still has a magnetic element to it. Perhaps it's the beats, or it may be the females and their malevolent, sometimes over-the-top lyrics. Whatever the case is, there are generations of female rappers that followed in the footsteps of Boss that more than likely would have not seen the light of day if it were not for these bitches that refused to give a fuck.
Music Vibes: 8 of 10 Lyric Vibes: 7 of 10 TOTAL Vibes: 7.5 of 10
Originally posted: January 12, 2010
source: www.RapReviews.com