Chester P :: From the Ashes
:: RawDog Productions
** RapReviews "Back to the Lab" series **
as reviewed by Aaron Boyce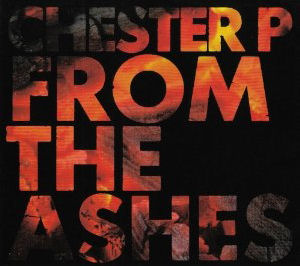 Joey Coombes, better known as Chester P. Hackenbush, has been an important figure in the UK hip-hop scene since he and his brother, Farma G, made their arrival as Taskforce in 1999. Blending abstract imagery with clever wordplay over hard beats, the 'Brothers McBain' built a solid reputation for themselves and are one of the first names to get a mention when UK hip-hop is brought up. Both MCs have featured heavily on other UK artist's albums over the years but it was always Chester P that stole the show whenever he shared a booth. Check his verse on Jehst's "Trilogy (Remix)" from 2002's "Return of the Drifter":
"I spray walls so we can battle for the writer's bench
And fight against the odds like Daniel in the lion's den
You bite my style, I'll cut your hands off and write with them
Don't breathe down my neck or I'll stop your flow with nitrogen
You said I'm nice, blood? You'll have to say I'm nice again
My ways are set like cement, swinging like a thousand Spider-men
Hit so hard, some rappers never write again
Like a dried-up pen, so you just can't rely on them
To step to me's to put your own legs in jeopardy
You could walk a thousand miles and still not get next to me
I'm so beyond, it's only the future that's ahead of me
To battle me you'll need to travel to the next century
I'm so hype, even mute people try to mention me
My arts are sharp mentally, when I think you're meant to bleed
I'm blacking out coz I haven't got the strength to see
My hate's blind so I'm running dangerously on lengths of beef
I'm old school like a real pair of hippies' flares
When I go to bed I cuddle up with a grizzly bear
I move so fast most people ask 'is he there?'
I leave now and by tomorrow I travel fifty years..."
Verses like this had fans craving a Chester P solo album. Not to take anything away from the Taskforce legacy but people wanted to know if Dr. Hackenbush could hold down an entire album by himself. A few dope solo tracks started to surface, most notable the outstanding "Wickerman Theory" which only served to add further anticipation to this project.
After a lengthy delay, which wasn't helped by producer/DJ Louis Slipperz' studio burning down, 2007 finally saw the release of Chester P's long awaited solo debut, 'From the Ashes'. The title shouldn't need explaining as Louis Slipperz dusted the ash from his equipment to produce all twelve tracks. "Chessmonster" opens the album with a simple yet creepy guitar loop which is soon followed by rattling drums and heavy bass to provide the perfect backdrop for Chester P to grace his inaugural release:
"Chessmonster, wild as Charles Bronson
Fresh from the valleys of hell and half conscious
Fire in the bellies of sin
Warped minds of a maniac, writes with the poisonous ink..."
As soon as Chester drops those bars, over that beat, you know that you could be in for a treat of an album and you are. Sort of. "Chessmonster" is a gem from start to finish, the hook blending straight into the flow so it basically becomes three minutes of straight fire without any interruptions. It's exactly the sort of thing that Taskforce fans would have been hoping for as Chester P seamlessly weaves together each and every line.
"The City" is up next and carries on from where the opening track left off. Slipperz serves up another banger and Chester P's razor sharp flow about life in London tears the track to shreds. The first single, "Oh No!!!(He Loves a Ho)", follows and while the subject matter is quite a leap from the first couple of efforts, Slipperz' upbeat production carries it as Chester P and Farma G reunite for this song about a guys unique relationship with a particularly troublesome girl. The lyrics are still as gritty as we have come to expect but with the pace that they are delivered over Slipperz' chirpy beat, this could easily find its way on to a DJ's playlist during a hip-hop set in a rammed club.
"Rocks Bottom" continues the strong start to the disc as Chester P dissects the life of London youth, hit by poverty and a lack of prospects. The beat on this is monstrous; stripped down and raw, Chester P rips it over the live drums as every line is spat with so much venom that it can't help but leave a mark. Incidentally, half of the songs on this album feature live production which gives it an undeniably fresh feel. "That Shiiit" follows and while, again, the beat and verses are both crazy, the chorus lets it down. Not enough to warrant skipping it as this is a really hard track and one of Chester P's strongest verbal displays on the disc, it's just that chorus that I struggle with as it almost seems comedic.
"The Sermon" is next and, for me, this is the standout track on this album. The beat is minimalistic and bass driven, it reminds me of the intro to Wu-Tang's "Clan in da Front" and you could easily imagine GZA or Deck spitting on this Slipperz masterpiece. Chester P is joined by Taskforce affiliate Ramson Badbones for this and both MCs bring it hard:
Chester P: "Hang your head in the shame of defeat, came in the game for cheap thrills
The streets will say sleep kills, play the beat and I will display deep skills
Speak for the people asleep still, free will, refill speech, I speak shrill
Seeking a beat for each meal to eat and keep real with
In the heat where the police kill
where kids will steal up in the streets for the peas to buy weed still..."
Ramson Badbones: "...Miraculous rap skill is intergalactical
Practical savage animal, radical supernatural
So get to steppin' coz I'm here to bring an epidemic
When you're still pathetic ,sucker, repeat like a broken record
That can damage your physical to your venom frame
I'm waiting to die like being tied down to the British rail
My format, the figure-four snaps your thorax
Your wack raps before that get trampled like a doormat
I'm bringing out the eye tweezers for you sightseers
Mind reading, sly bitches lie if they don't like penis..."
"Faith" has a steady plodding beat with a haunting female voice occasionally dipping in and out of the track which creates a perfect backdrop for Chester to discuss that very topic, faith. Unfortunately the killer chorus strikes again and not in a good way. The flow of the track is interrupted by the awkward chorus and it takes a while for the smooth track to rebuild that lost momentum. It's a shame as, up until the hook, this is near perfection. "Inside Out" has Chester P displaying how adept he is at rhyming double-time. Technically it is great but the monotonous beat doesn't lend itself to much replay value.
"Fly Away" picks up the pace again as Chester's verses, Slipperz' beat and the simple hook all tie in beautifully to create another strong point for this album. This formula seems to work and the result is quite beautiful. "Burglar Bill Theme" is another grating of gears as this track opens with another strange hook about breaking and entering. Lyrically our MC is on point again but the lacklustre beat and suspect chorus unfortunately kill this one for me.
"Northsides" is the penultimate song on "From the Ashes" and is an absolute banger. Over a faux beatbox loop and subtle bass, Chester P absolutely rips it. On a simple beat like this he really does stand out, he is a gifted MC with a unique voice and vicious flow and this showcases what he is all about; no gimmicks or annoying hooks, just solid, hard rhyming. "S.O.S. (Summer of Serpents)" closes out the album and is another strong track with both Chester P and Louis Slipperz coming correct.
Apart from a couple of so-so beats and a few dodgy hooks, this is a decent album with both producer and MC consistently bringing it to a high standard. I was unsure at first but Chester P can definitely hold down an entire album by himself, there is a variety of topics and, despite only being a short album at 41 minutes, there is plenty to come back for. It may not be as dark and brooding as some Taskforce fans were expecting but it doesn't really harm the finished product as the chemistry between Chester P and Louis Slipperz is clearly evident making this well worth a listen.
Music Vibes: 7.5 of 10 Lyric Vibes: 7.5 of 10 TOTAL Vibes: 7.5 of 10
Originally posted: September 27th, 2011
source: www.RapReviews.com