Busta Rhymes :: E.L.E. (Extinction Level Event)
:: Flipmode Records/Elektra Records
** RapReviews "Back to the Lab" series **
as reviewed by Emanuel Wallace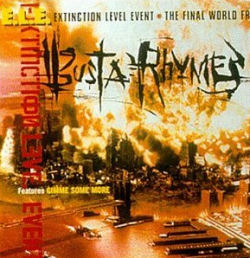 Remember Y2K? I think most of our readers are old enough to recall the frenzy that most of the world was in at that time. The entire planet seemed to be up in arms about an impending doom that so many had predicted would come down on the world. There were tons of films and television shows that raked in tons of earnings by playing the "world's gonna end" card, but in the world of music, no one did it better than Busta Rhymes. This may be due to the fact that he had a bit of a head start on everyone else. His solo debut "The Coming" was released in 1996. He then followed with "When Disaster Strikes" in 1997. By the time 1998 began to wind down, the rest of the world had hopped on the train to inevitable demise.
"E.L.E." was released in mid-December of 1998 and I actually received it as a Christmas present (along with RZA's "Bobby Digital In Stereo.") The lead single was the Bernard Hermann-sampling "Gimme Some Mo", produced by DJ Scratch (of EPMD fame). The minimalist approach to the production of the track is a contrast to a great deal of Busta's previous works and even a few tracks on this album. But it's that approach that made "Mo" so accessible and subsequently, made it a hit record as Buss raps:
"Yeah nigga what, what a surprise
Get ya sumn', make a nigga close both of your eyes
All my niggas gettin' money capitalize
Die little small guy, we on the rise
Everything a nigga touch platinumize
Fully equipped, you know we come wit' all the supplies
Got a big gun, and I'ma show you the size
You fuck wit' any of my Flipmode family ties
Me and my niggaz be comin' through stalkin' you out
Killin' off any and everything you talkin' about
See you in the club, now we walkin' you out
Shoulda' thought twice 'fo you went and opened your mouth
Yo, anyway we stay keepin it movin'
Fuckin' with the wrong nigga, hope you know what you doin'
Now blame me, all the same niggas is lame
It's not a game, makin' names still splittin' your frames!"
The theme of an apocalyptic demise comes into play from the first track, as a little girl asks her father what it will be like in the year 2000. He answers, and begins explaining that the end is near, in a voice that becomes deeper as the stream-of-consciousness rant goes on and on. It includes the mention of killing for overcooked food, collapse of government, nuclear holocaust and starvation that "reigns supreme...forcing unlucky survivors to eat anything and anyone in their path". It actually reminds me of a recently released movie I saw over the weekend. The album's first song is "Everybody Rise" which features a sample of The Controllers song, "If Tomorrow Never Comes" and a city roll-calling Busta Rhymes encouraging people to "get what's yours outta this 'fucka 'fore your time runs out". This is the first of three consecutive Nottz productions on the album, with the third being the title track.
"Tear Da Roof Off" and "Against All Odds", are closer to the traditional fare of Bussa Buss...high energy beats, paired with aggressive rhymes. The latter song features the once-upon-a-time always-present Flipmode Squad. A short skit of a guy being chastised by his parents for listening to Buss leads into "Give It To Me Raw". Songs like the Rockwilder-produced "Do It To Death" and "Keepin It Tight" are decent tracks, but not really overwhelming. Former No Limit Soldier (and recently released inmate) Mystikal comes through on "Iz They Wildin Wit Us & Gettin Rowdy Wit Us" in a tit-for-tat, back and forth lyrical speed fest that is complimented well by the 2000 Watts beat. The playful DJ Scratch-produced "Do The Bus a Bus" shows the jovial side of the former LONS leader that made him a star long before he was a solo success.
The other major single released from "E.L.E." was the Janet Jackson-featuring "What's It Gonna Be?!". Its high budget video was futuristic, gothic and sexy all at the same time. Janet Jackson was covered in heavy makeup and donned a purple leather getup that made one beg, plead and hope for a wardrobe malfunction (which happened some years later, of course). More importantly, it was another radio-ready song and actually hit number three on the Billboard Top 100 Singles chart.
"Baby just tell me just how you feel (how you feel)
We livin it I'm just givin it to you real, baby c'mon
Ev-erytime we crossin the borderline
Be giving it to you makin you feel fine, turn the heat up
Better believe we gon' shine, make your body wind
Baby the pleasure is all mine -- to my people
who be regulating the dancefloor (dancefloor)
Better step to your business and handle yours, how we do it?
Making your people just wanna bounce and get busy
because you know that we always'll hit you off, what you say?
You wondering why you feeling the force (force force)
And don't you worry cause yo we ready to floss (floss floss)
Mohicans'll always a put you on
And blow the spot til the very second I'm gone - get your groove on
Now that you tired I hope your body recoupin
because we keepin you movin that's what we doin and you know we're..."
The album starts to head towards the final stretch with "Hot Sh-- Makin' Ya Bounce" and "What The Fuck You Want!!". The latter was produced by Diamond D of the legendary DITC crew and exhibits a more brash in-your-face style, akin to older songs in Bussa's catalog. Former Black Sabbath member Ozzy Osbourne puts his personal stamp of approval on the "Iron Man"-sampling "This Means War!!" by appearing on the track himself. Busta closes the album out with the spoken outro, "The Burial Song". He makes a mention of how close the year 2000 is and the changes that appear to be on the horizon.
Well, needless to say, we haven't perished just yet. But quite a few things have changed for the worse, so maybe Busta was halfway right. The world didn't blow up, but here in the States we DID have George W. Bush as a president for eight years. In anycase, the album itself is entertaining and was a wonderful Christmas present back then. The varied beats and rhymes added a lot of replay value to the album. The high energy joints were good when I was in my bedroom doing push-ups, and the slower tempo jams were cool when I wanted to relax. Following this album, Busta released "Anarchy", "Genesis", "It Ain't Safe No More", "The Big Bang" and "Back On My BS". His next release is tentatively titled "The Chemo". I'm just wondering what Buss has up his sleeve for the next prediction of apocalyptic doom... 2012.
Music Vibes: 8 of 10 Lyric Vibes: 8 of 10 TOTAL Vibes: 8 of 10
Originally posted: January 26, 2010
source: www.RapReviews.com