Do or Die :: Headz or Tailz
:: Rap-A-Lot/Virgin
** RapReviews "Back to the Lab" series **
as reviewed by Pete T.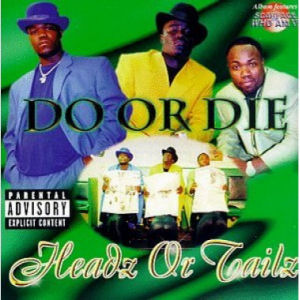 Although their most famous acts were still Houston rappers, by the mid-90s Rap-A-Lot Records was a national entity, with artists such as Seagram representing Oakland, Mad CJ Mac and Poppa LQ representing Los Angeles, Boston's Almighty RSO, Ghetto Twiinz from New Orleans, Milwaukee's A-G-2-A-Ke, Chicago's Da Snypaz, and Memphis' Tela. In 1996, the label scored a surprise hit when Chicago trio Do or Die's debut "Picture This" scaled the Billboard charts, anchored by the irresistible singles "Po Pimp" and "Playa Like Me and You" as well as the Midwest anthems "Paper Chase" and "Money Flow." Sporting rapid, melodic flows, Belo Zero, N.A.R.D., and AK-47 painted grim pictures of the Chi-Town streets with bleak crime narratives, harmonized choruses, and more than your daily dose of common pimpery over rich production. Do or Die's debut was also noteworthy for introducing the world to the dark, mechanical Midwest funk of producer The Legendary Traxster, as well as two frequent collaborators: the haunting R&B vocalist Johnny P, and a certain like-minded quick-lipped MC from Chicago named Twista. Like their then-rivals Bone Thugs-N-Harmony had done just a few years earlier, the success of "Picture This" proved that gangsta rap need not be a coast-dominated genre and that the Windy City had at least one distinctive, talented, and appealing rap group to rival the household names of Long Beach and Brooklyn.
Their 1998 sophomore effort "Headz or Tailz" attempted to duplicate their debut success by employing a few of the same methods. Like on "Picture This," production is supplied by The Legendary Traxster and infamous Rap-A-Lot mainstays Mike Dean and Mr. Lee, and Twista and Johnny P both reprise their guest spots. Lyrically Do or Die is very much on the same page, chronicling the lives of Chi-Town pimps over gloomy Midwest beats. Unlike its predecessor, there were definitely some commercial expectations behind "Headz or Tailz"; Geto Boys provide guest appearances, and the group even tries their hand at a few slow songs. The R&B-influenced cuts are well-arranged and suit the rappers' sing-song deliveries well, providing a nice counterbalance to the dark gangsta rap. Also in contrast to "Picture This," which clocked in at a concise fifty minutes over eleven tracks, "Headz or Tailz" extends a full 72 minutes over seventeen tracks, allowing much more room for development of each rapper but also ample area for filler.
The eerie intro "Headz" gives way to the equally creepy "Just Ballin'," with a deep, uneasy beat by Mr. Lee and a return to the group's celebrated rhymes concerning their flaunty hustling, with a well-vocalized hook referencing Cadillacs, Lexuses, drugs, and the eternal chase for a "mill" like their classic "Po Pimp" did two years prior. "Pimpology" and "Lil Sum Sum" follow suit with dark beats and similarly conceived verses, setting a familiarly sinister mood for the album's early stretch. The self-explanatory "Still Po Pimpin'" reunites Do or Die with Twista and Johnny P for a similar-sounding sequel to "Po Pimp," and while it fails to recapture the magic of the original it's a respectable effort.
"Nobody's Home" and "Can I" are the biggest gambles on "Headz or Tailz," and they're also the two best songs. The Legendary Traxster laces "Nobody's Home" with a slow, seductive beat and descending chord progression, and the chorus features not one but two quintessential hip hop hookmen: Johnny P and Danny Boy, the young vocalist who graced some of 2Pac's greatest hits including "I Ain't Mad at Cha" and "Picture Me Rollin." The collaborators interpolate elements of the Isley Brothers' "Make Me Say It Again Girl" for a sly, memorable slow jam. "Can I" is a little more genuine, as the trio attempts to earn a female companion's trust between R&B group Beyond Content's hook over Traxster's tasteful piano-based production. Even if he is kicking it to a lady, there's no mistaking Belo for the pimp he is:
"Baby would you die for me, when I can't see give a eye for me
Lay to the side and cry for me, when I'm in my grave say bye for me
Cause I might be, chilling with ya blasphemy, lay low while I pass the B
If you really wanna ride when the time is right
put it off to the side come on, ride ride wit daddy
Down past in the Caddy, spittin' honey in ya ear like a bumble bee
Wontcha mens come run wit me, let me show you what fun can be
Choppin' up from beyond the sea
Ain't this some (shhh...) still playa hate cause I kept real
Never asked for a free meal, all I asked if I work coming up from the dirt
Show me love, not a fake thrill
I'ma flirt with the girls and um make sure that they worth time and personal
Travel round the world and um make their money while have fun, gotta have 'em
Parlay everday wit my homies
I will never leave you lonely, I keep it real for my homey
Feel, never down out and lonely, come on"
There are a few missteps toward the middle of the tracklist, worst of all being "All in the Club," a fluffy disaster that even Danny Boy can't save. The Scarface collaboration "Who Am I" fails to live up to its top billing with insubstantial verses from all parties and a flat, predictable beat. You'll know the drill on the Val Young-assisted "Choppin' Up That Paper" and "Gangsta Shit," and "Bustin' Back" is a spirited but unsurprising diss aimed at Bone Thugs-N-Harmony featuring Lil Chilla of Da Snypaz—if you've ever wondered what happened to that beef, well, AK-47 released a full collaboration album with Layzie Bone a decade later.
The album closes with a string of strong tracks including "Caine House," with an unorthodox yet wholly appealing beat and clever hook. "Under Surveillance" is a solid cop-killer narrative, and "Dead or Alive" is a chilling closer showcasing one of Mr. Lee's finest productions. The outro "Tailz" features Bushwick Bill declaring war upon anyone who stands in the Rap-A-Lot army's way.
Despite a love for Do or Die extending into my childhood, I've always felt they were a group that never quite reached its potential. While never conceptual lyricists by any stretch of the imagination, their melodic deliveries and dark pimp styles were extremely appealing, and they were surrounded by incredible personnel by way of collaborators, producers, and label figures. Yet be it because of commercial expectations or mostly inaccurate comparisons to fellow speedy Midwest rhymers Bone Thugs-N-Harmony, they never produced the classic album fans expected despite an impeccable singles catalog. However, their discography is quite impressive, without a dud in the bunch over a decade-plus of recording, and I still consider them underrated for that reason and because they were trailblazers in a distinctive regional rap scene just waiting to be tapped. "Headz or Tailz" captures the group and the Rap-A-Lot machine at their best and just might be Do or Die's best album.
Music Vibes: 8 of 10 Lyric Vibes: 6 of 10 TOTAL Vibes: 7 of 10
Originally posted: March 9, 2010
source: www.RapReviews.com