Kam :: Made in America
:: EastWest America/Elektra
** RapReviews "Back to the Lab" series **
as reviewed by Pete T.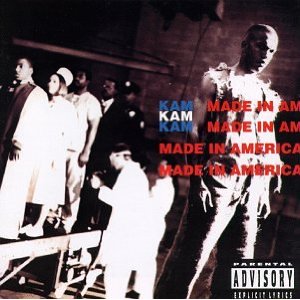 It's no secret that West Coast rappers, in many cases, can trace their hip hop lineage like a family tree. In fact, gangsta rap's bloodlines have produced some of the genre's most celebrated collaborators—had Snoop Dogg's buddy Warren G not been Dr. Dre's stepbrother, who's to say to what extent the Compton and Long Beach connection might never have occurred? In that case, Snoop might never have had the chance to put on his cousins Nate Dogg, Daz Dillinger, Butch Cassidy, RBX, and Lil 1/2 Dead, themselves forming a hall-of-fame hip hop clan. That said, rare is the superstar MC who hasn't at least attempted to hook up his friends and family in the record industry, and all too often the case is that the apple falls outside spitting range from the tree—need anyone be reminded of Nas' next-of-kin the Bravehearts or Master P's efforts with Tru's second generation, namely Lil Romeo?
As one of gangsta rap's forefathers, Ice Cube has had his share of both successes and failures in producing young artists from Mack 10 to Mr. Short Khop, but when it came to his blood relatives, he could do no wrong. First came his cousin Teren Jones, better known as Del tha Funkee Homosapien, who debuted in 1991 with the acclaimed "I Wish My Brother George Was Here," an underground favorite that sowed the seeds of a growing West Coast backpacker scene and set the stage for the Hieroglyphics crew's emergence. Another cousin, Craig Miller, was comparable in skills but hardly in style to Del, representing the Watts neighborhood of L.A. and sporting militantly sociopolitical raps. His 1993 debut "Neva Again" was ripe with the early '90s Lench Mob sound and established Kam as one of California's most venomous lyricists, viciously tackling the Watts riots, racism, religious discord, social inequality, and mainstream America at large on one of the year's top debuts. In addition to the brilliant production and heady subject matter, Kam wowed as a take-no-prisoners MC with a commanding vocal presence and impenetrable skills on the mic.
The disappointing sales of "Neva Again" were certainly a function of its inability to garner radio spins given its provocative subject matter, but it also led to a falling out with Cousin O'Shea. For Kam's sophomore effort, 1995's "Made in America," he surrounded himself with a veritable who's who of West Coast producers, and you'd be hard-pressed to find a better representation of Cali's producer elite than here. Established legends DJ Quik, Warren G, DJ Battlecat, and Above the Law's Cold 187um each appear extensively, as do Bay legends CMT & E-A-Ski, the Mad Scientists, Big Jessie Willard, and Rashad, together forming an array of beatsmiths that could easily sell mid-90s West Coast funk to a nonbeliever. Musically, "Made in America" is every bit the g-funk gem that such a team would suggest, a quintessentially left coast record with woozy, melodic synthesizers, lazily rolling basslines, twangy guitars, and Roger Troutman talkboxes. The arrangements are immediately appealing and form a smooth, fresh, polished palate for Kam's verses.
In spite of the Louis Farrakhan intro, suggestive title, and disturbing cover image, "Made in America" is not the scathing social critique that "Neva Again" is. That's not to say that Kam dumbs down his lyrics any—rather than demanding that his listeners abstain from pork and condemning a white Santa Claus, he keeps both feet planted firmly in the projects for some equally potent if less corrosive tracks. The opener "Trust Nobody" is a perfect example, a gorgeous, palm trees-swaying production by Battlecat featuring a reliably suspicious Kam juxtaposing his mistrust over an upbeat, brilliantly soulful track:
"I came into this world alone
Ain't no doubt that's how I'm goin' out, so let me get my live on
On top of that I'm black in this white man's world
Believe me, they don't care if your hair is jheri curled
Especially for a male
If they can't kill me, they wanna put me under the jail
You know my record's clean cause you just checked
But to them I'm just another male negro suspect
A threat to the powers that be
You got sweet talk for my sister but it sours at me
Cause you see the black man as a rival
But this is anybody killa and it's all about survival
So go for what you know from your country hick college
This is nine-fo' and I'm up on your trick knowledge
Watchin' devils like a hawk
Excuse me, mister, why do white men whisper when they talk?
Because that's a man-snake hidin' in that handshake
Who won't hesitate to lie, cheat, and take
I know you think they act nice
But you be wise and just take this advice
And don't trust nobody"
The CMT & E-A-Ski-blessed "Pull Ya Hoe Card" follows in suit, a call for hood loyalty over a funky track laden with sparkly keys, a swirling synth line, sunny percussion, and laidback female vocals. Even the DJ Quik-helmed lowrider thumper "That's My Nigga" is a vehicle for pro-black sentiment, and "Way 'a Life" highlights social disparities on a track that finds Battlecat evoking Zapp. Dresta and MC Ren appear on "Down Fa Mine," and while it's a pretty standard West Coast posse cut listeners may be surprised at the striking vocal likeness between Kam and the Villain in Black.
The second half is not quite as strong as the first, as Kam's lyrics don't hit quite as hard, but the beats remain consistently great and ensure that each track is a quality effort. The day-in-the-hood profile "In Traffic" is somewhat forgettable in light of the strong production, and "Nut'n Nice" is the most forgettable of the batch. He addresses rumors of a relationship with Yo-Yo and Watts' gang problems over Big Hutch's sparse funk on "Givin' It Up," and he paints a warlike setting on "Who Ridin'" over a deliciously woozy track from CMT & E-A-Ski. The gem of the tracklist, "Keep Tha Peace," is one of Warren G's finest tracks to date, a simply beautiful arrangement of soft vibes and a smooth flute line, tastefully sampling Snoop Dogg and Kam's "Peace Treaty" on the hook. Kam's anti-violence advocacy isn't revolutionary but is both timely and well-written, culminating in a glimmer of hope:
"Now they say it's on with the eses, right
But I know Chicano pride
So let's raise better days in jail so I'm quiet
Tryin' not to get stuck in a race riot
I can't buy it when I hear that's the enemy
'Cause I'm knowin' deep down they some kin to me
Still I gots to defend mine
Between love and hate it's a thin line
So I take it with a grain of salt
'Cause I'm really not knowin' who to blame or fault
For this tension I mention the skunk
Got crews cavey, the blue-white punk
Playin' both sides against each other
Now that's the real mutha
You gotta join on to your own, the question is can we
Keep it all in the family
Stop lettin' outside people in your circle
And take away everything that you work for
Show love for yourself if you're willing
To stop the killer, we could stop the killing
And you can keep the peace"
"Made in America" is not earth-shattering, but it's a very consistent, exquisitely produced LP of sunny Cali funk and a serious assessment of life in the hood circa '95. The production team shines throughout, and Kam never fails to impress with his impeccable technique and singular mic presence. Even without Cube in his corner, "Made in America" was only a moderate commercial success, and fate would have it that Kam was to remain one of the West's most underrated MCs, only resurfacing six years later for "Kamnesia." For literate, conscious rhymes and smooth, funky West Coast beats, "Made in America" is an overlooked gem.
Music Vibes: 8.5 of 10 Lyric Vibes: 7.5 of 10 TOTAL Vibes: 8 of 10
Originally posted: September 21, 2010
source: www.RapReviews.com