Lord Tariq & Peter Gunz :: Make it Reign
:: Codeine/Columbia/Sony
** RapReviews "Back to the Lab" series **
as reviewed by Matt Jost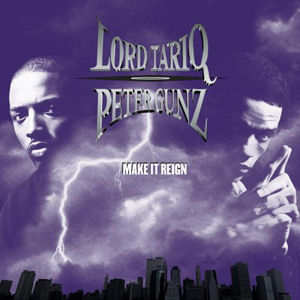 Some years ago, on the occasion of reviewing a mixtape by his partner's son, this site wondered, 'Why on earth did Tariq leave Money Bo$$ Playas for them?' - them being 'the short-lived duo Lord Tariq & Peter Gunz.' Like it or not, some rap acts just don't get off the ground, as promising as their first steps are (and the Money Boss Players material that could be heard on mid-'90s mixtapes sure as hell was promising). But the Soundview projects crew wasn't Lord Tariq's only outlet in the first half of the '90s. He had been a member of the Bounce Squad, appearing on Doo Wop mixtapes, and was in a group named Gunrunnerz(/s), who on their '95 EP "Life and Death" also included Peter Gunz, a Bronx representative himself.
Shortly after Lord Tariq began to draw further attention to himself with guest appearances, most notably on Real Live's "Real Live Shit (Remix)," but also more obscure posse cuts like Pudgee Tha Phat Bastard's "Think Big" (also featuring The Notorious BIG) and Doo Wop's "You Gotta Go Down" AKA "I Wanna Be Down (Doo Wop Remix)" (also featuring Fat Joe). Peter and Tariq were prominently (but separately) featured on Shaquille O'Neal's '96 album "You Can't Stop the Reign," which also yielded "No Love Lost," where Tariq met up with another big name in the game, Jay-Z.
At one point it came down to just Lord Tariq & Peter Gunz. Their introduction as a tag-team came in '96, when they guested on Whodini's comeback album "Six." Their '97 debut single, "Deja Vu (Uptown Baby)," was certified platinum before the album hit shelves. How's that for a reason for cutting off dead weight? Truth be told, the single's success is not easily explained. The hymnic, medieval opening was actually culled from a popular song by salsa singer Jerry Rivera (via Wyclef it even wound up on a Shakira hit), while the main loop borrowed extensively from Steely Dan. Upon first listen it's a nice, relaxed tune in the vein of more laid-back Bad Boy material, but it's not instantly engaging the way you expect a '90s platinum rap single to be. It's neither distinctly street, pop, lyrical, nor club, yet it has all of these elements woven into it. It was of course intended as an anthem for the BX, but as such it was different from the gritty theme songs the city usually inspired. Instead, with its melodic all-city chorus it recalled the good times of old school hip-hop. The last but definitely not least factor was that rap music was at a commercial peak in 1998.
While "Deja Vu (Uptown Baby)" was produced by KNS (who had worked with them during the Gunrunnerz phase), they now relied heavily on Dave Atkinson, likely a Trackmasters trainee (co-producing Nas' "Affirmative Action"), who had contributed to the aforementioned Shaq and Whodini albums. Atkinson brings a polished sound to "Make it Reign." "We Will Ball" is a generously arranged track that seems to have left all worries behind with its piano sprinkles, bass bounce and "W-w-w-wooooo" vocal chops. But more than just a celebration of LT & PG's sudden success, it always comes back to the determined "We - will - ball" hook. Both display a lyrical edge (PG: "I tried to tell my PO, screamed on the CO: / Before I turn 3-0, I'll be CEO / young black millionaire / while you still in there / checkin' asses, harass men / just some herb with a badge"), but more importantly they develop a genuine chemistry by simply trading triumphant lines:
"[ Peter Gunz ]
I'm too hot to handle, too cold to freeze
writes the illest shit and don't smoke no trees
Niggas want test but they turn around and freeze
Might get mic cancer the way I smoke MC's
[ Lord Tariq ]
Nigga, we did it all from flippin' birds to manipulatin' words
Gettin' less than 4 0s on a check is absurd
I got the 5, it's feasible, but the 6 is preferred
So when I step you better have my shit corrrect, ya heard
[ Peter Gunz ]
I'm in Aruba in the sand, gettin' a tan playin' frisbee
with this quarter piece, sippin' on coladas gettin' dizzy
on the celly with my broker buyin' shares of stock
cause when it stops, I'ma still be sittin' in drops
[ Lord Tariq ]
And I'm in a Benz comin' through, doin' two, pumpin' lelo
Bought the cut jewels from Tiff' cause the feds are watchin' Tito
Stepped up from an eigth, to a half, to a kilo
to makin' mills off this label deal, that's for real, yo"
The classy, contemplative "Worldwide" could have made (minus the female hook) any post-2K Jay-Z album, the stripped down yet spacious "One Life to Live" recalls the first LOX album, the rubbery "Who Am I" draws inspiration from Trackmasters pop-funk rap, while "Streets to Da Stage" brings a slightly sharper edge to the come-up tales featuring Cam'ron.
Veteran producer Clark Kent contributes three beats. The opening title track starts with a foreboding, stormy intro before continuing at a frantic pace with rapidly looping keys and single, deeply resonating piano strokes. If he had a beat on "In My Lifetime, Vol. 1," that's what it might have sounded like. "Massive Heat" adds fuel to the vocal fire (including a Sticky Fingaz hook and a Kurupt guest verse) with a cinematic high-speed chase equivalent of a beat. The appeasing "Keep On" finally is another apt backdrop for the duo's inspirational message. Tariq:
"In the early days of the Lord everything was shey-shey
Every day was payday sellin' nickels and dimes
Gettin' mine the mind state from '86 to '88
I still hear the razor scrape on the plate
A high school drop-out
Caught a case, moms expects me to cop out
6-G lawyer fee, the case dropped like a knockout
The Bronx was the shit but we all hung in Harlem
When gettin' money's easy - spendin' it was the problem
And I copped 16 valves, foot is on the pedal
tellin' bitches, 'This your last chance to get out the ghetto'
For less I wouldn't settle, think big, you get big
Came across the wrong niggas, almost split my wig
Some say I bitched up because I switched up and started rappin'
But I'm turnin' gold crack sales to drug raps platinum
See these streets through my eyes and you can feel 'em through my words
I swore to God that I'm gon' be heard"
On the formulaic crossover tip there's the Lionel Richie-inspired "Fiesta," which pales in comparison to the later R. Kelly/Trackmasters collaboration of the same name. No BLACKstreet support can save "Startin' Somethin'" from standing in the shadow of the Michael Jackson original, and the awful "A Night in the Bronx With Lord & Gunz" shows that nasty R&B joints should be left to specialists like Biggie and Akinyele.
They fare much better by sticking to their guns on "Cross Bronx Expressway," the elder brother of Fat Joe's "John Blaze" and just as much an Uptown anthem as "Deja Vu." Ski lifts a fly '70s funk break as they form a fearsome foursome with Fat Joe and Big Pun, offering a Tribe Called Quest-inspired tour of the Boogie Down. The album officially winds down with "My Time to Go" (put together by another big name in '90s production, Ron 'Amen-Ra' Lawrence), as unlikely a spiritual song as you'll ever find on a mainstream rap album since both rappers show themselves rather sceptical towards religion, faith, and god.
Along with the Terror Squad, Lord Tariq & Peter Gunz were part of a brief Bronx renaissance around 1998, something that should always quicken a rap fan's heart. As their hit single's hook put it: "If it wasn't for the Bronx / this rap shit probably never would be goin' on." The video for "Deja Vu (Uptown Baby)" was set in Yankee Stadium, coinciding with a Yankees World Series win later that year. Yet their own desire to win may have prevented these two Bronx Bombers from delivering a more convincing album. For instance, instead of including "Be My Lady" as a bonus track just to add Jermaine Dupri and Jagged Edge to the line-up, "Make it Reign" would have benefitted from remembering the potent "Deja Vu" b-side "Marmalade." Lyrical moments like the incarnational "Who Am I" or well structured songs like "Keep On" are just too far and few between.
"It's all about survival and avoidin' defeat / cause Corey gotta eat," Peter reminded himself. As of now, young Corey Gunz is still on the mixtape circuit, while his dad is likely somewhere in the background coaching him. The rap act Lord Tariq & Peter Gunz meanwhile went down in history as a one-hit wonder, but while for many of those their one hit represents the best possible effort, "Make it Reign" makes it obvious that these two were capable of more. But while the evidence is there, it's not substantial enough to win them the case.
Music Vibes: 6.5 of 10 Lyric Vibes: 5.5 of 10 TOTAL Vibes: 6 of 10
Originally posted: March 16, 2010
source: www.RapReviews.com