Big Mike :: Somethin' Serious
:: Rap-A-Lot Records
** RapReviews "Back to the Lab" series **
as reviewed by Matt Jost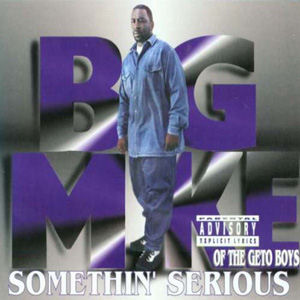 "There's something about them Mikes - everybody wanna be one." Apart from Big Mike making a clever aside to a Michael Jordan slogan ('Be like Mike') here, there are indeed a number of Mikes in rap (not counting the one mic/mike practically all MC's fiend for) - Wonder Mike (Sugarhill Gang), Mike D (Beastie Boys), Mike G (Jungle Brothers), Mr. Mike (South Circle), Killer Mike, Mykill Miers, Mike Jones, DJ Magic Mike, Mix Master Mike, DJ Michael '5000' Watts, (DJ) Big Mike, Mikey D, Mikey Rocks (Cool Kids), Mikah 9 (Freestyle Fellowship), Mike Ladd (Majesticons/Infesticons), Michael Franti (Spearhead, Disposable Heroes of Hiphoprisy), Mike Skinner (The Streets), Mic Geronimo... There are three Mikes alone on this album - Michael 'Big Mike' Barnett, Michael 'Mike B' Banks and Mike Dean.
The latter is arguably the most prolific with his key contributions to the Rap-A-Lot Records catalog and his recent involvement in Kanye West releases. Engineer/producer Mike B is a a notable figure in Houston hip-hop, but Big Mike is the one with the mic in his hand (which, as he claims on the Mike B-produced title track, has been attached to that hand since birth).
Before his 1994 solo debut, Big Mike had been in two groups, the rather obscure Convicts and the world famous Geto Boys. Mike accepted these formats but kept his mind on a solo career. Luckily, Rap-A-Lot had the sense to take advantage of the acclaim he had garnered for his performance on the Geto Boys' "Till Death Do Us Part" and let him record "Somethin' Serious," which went gold within four months.
Finally emerging as his own man, the Peter Man made it a point to emphasize his Louisiana roots that hadn't been as apparent when he first began recording for the Houston label. "Somethin' Serious" kicks off with "Comin From the Swamp," co-produced with fellow Nawlins transplant N.O. Joe. The swinging uptempo track is the perfect opener for the rapper to flex his precisely timed flow and lyrically put his foot down "for the number one nigga out the south / fadin' all you niggas runnin' off at the motherfuckin' mouth."
The two team up several times, sharing production duties on "Ghetto Love," while Mike raps over Joe's Gumbo Funk on "Playa Playa," "World of Mind," "Get Over That" and "Daddy's Gone." Crazy C and John Bido each produce one track, and a remarkable contribution comes from Pimp C on "Havin Thangs." On one of his earliest outside production gigs, the Underground King not only cooks up a deep-fried funk track that is distinctly southern with its dry guitar chords and solemn church organs, he also provides a falsetto hook about "just another young nigga havin' thangs" surrounded by "fly hoes and chains and swangin' thangs." That young man in his early twenties gives an inspiring speech about patience and persistence, yet doesn't hold back his generally negative worldview by likening society to a prison.
A sentiment he also brings up on "World of Mind," which nearly measures up to Goodie Mob's "Cell Therapy" and Scarface's "I Seen a Man Die" when we're talking philosophical rap masterpieces from below the Mason-Dixon. Over a clear-cut, bass-steered beat accentuated by acute guitar wails and organ drops that absolutely requires thoughtful lyrics, Mike gets on the pulpit:
"I heard somebody say, 'I'll do anything nowaday to make a buck'
Cause niggas are dyin' and nobody gives a muthafuck
And you be wantin' to trip when I be talkin' about murder and thangs?
I think it's obvious that you ain't never heard of, mayne
what goes on in the neighborhood
East Coast, West Coast, ain't shit turnin' out good
Sometimes I wanna cry
and straight put the 9 to my muthafuckin' dome and let the bullets fly
But mama said I'm too strong to break down
And I'm caught up in another drug shake-down?
Cause they think I'm sellin' birds
But I'm workin' 9 to 5 and still ain't gettin' what I deserve
So who's fuckin' who?
Is it that white man or the black man standin' next to you?
See, most blacks can't handle power
Get paid and get to changin' by the hour
Closin' all the doors
Got a little paper, now they wanna treat they people like hoes
Now after takin' a look at that
how the fuck you think the white man is supposed to act?
See, we can't check a peckerwood
if we can't treat our own fuckin' people good
We wanna pick the fruit, but the fruit ain't ripe
Yeah, now who got the right to bite?"
Big Mike's strength lies in real talk. When he describes situations and characters the visualization is usually 20/20. "Ghetto Love" ditches the tired money-over-bitches clichés and instead tells of a young love bonded by shared hardship. "Playa Playa" explains the difference between a player and one getting played with forceful language but also a healthy dose of humor. "Southern Thang" is a quick trip down memory lane, producer Troy 'Pee Wee' Clark evoking New Orleans with a slowed down Meters loop. (By the way, the nickname Peter Man references another Meters tune, "Here Comes the Meter Man.") "Daddy's Gone" delivers heartfelt musings on absent fathers (possibly entirely written by guest rapper Scarface). "Get Over That [Shit]" has a bit of a confusing storyline, but the relationship advice comes across clearly:
"Pardon me, can I have your number? I was bashful
How can I not be, when baby had a ass full
of satin panties, in between her ass cheeks
Got her number (Did you hit it?) No need to ask me
We kicked it for a couple of months and everything was shiny
Until the hoe couldn't find me
Ran behind me, even though she wouldn't admit the shit
We fell out of love, so I had to quit the bitch
And it woulda been like any other hoe, but it was complicated
But it was kinda tight, so I hesitated
And instead of gettin' my roll on
I was a stupid motherfucker and got hurt tryina hold on"
An even stronger dose of candor Mike supplies with "On Da Real" (resurrecting the beat from "Till Death..."'s "Straight Gangstaism"), where he puts a golddigger and a jacker in their place before putting his pursuit of happiness into a bigger perspective:
"In my dreams I've seen
that life ain't all about makin' money and havin' yo face on the scene
It's about bein' comfortable, takin' care of yours
And that's what I'm strivin' for
And with God on my side
ain't none of that hard to find
And that's on the real"
While Big Mike doesn't neglect his rougher side with the Convicts reunion "Fire" or "Smoke Em & Choke Em" (which samples Snoop's shoutout to him on "The Chronic"), "Somethin' Serious," like other '94 releases (Scarface, Odd Squad, Big Mello), marks a departure from Rap-A-Lot's wildest days, both in sound and content. The biggest playa to ever grace the RAL roster, Mike truly lived it up with "Havin Thangs," "Playa Playa," and let's not forget "Creepin - Rollin," and made even aggressive crackdowns like "Smoke Em & Choke Em" and "Somethin Serious" sound like house parties everybody could join.
Anybody pondering the evolution of southern rap music would be well advised to take a closer look at "Somethin' Serious," which, although it wasn't the first rap album to explore a potential southern sound, is certainly a landmark release that has to be mentioned in the same breath as OutKast's "Southernplayalistcadillacmuzik" and UGK's "Super Tight..." as far as developing a specifically southern sonic identity. To say it with the man himself - "And I can't do it no other way / Doin' it the southern way / So fuck what another say."
Music Vibes: 9 of 10 Lyric Vibes: 8 of 10 TOTAL Vibes: 8.5 of 10
Originally posted: June 14th, 2011
source: www.RapReviews.com