Kurupt :: Tha Streetz Iz a Mutha
:: Antra/Artemis
** RapReviews "Back to the Lab" series **
as reviewed by Pete T.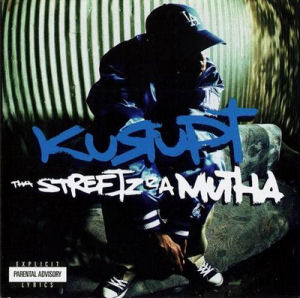 1999 posed a crossroads for West Coast gangsta rap. Looking into a new millennium, the East Coast, South, and Midwest were gaining momentum with new sounds and styles sweeping the nation's airwaves, yet in California, the g-funk movement was standing on its last legs. With Death Row's heyday and its associated coastal feuds miles in the rearview, the household names who had come to prominence as members of Suge Knight's label soldiered on as they were eclipsed by new superstars such as Eminem and DMX. Luckily for these left-coast rhymers, revitalization loomed in the near future by way of Dr. Dre's "2001," which provided a new sound and attitude for them to use as a template. In sharp contrast to the woozy, soulful beats that dominated West Coast rap throughout the '90s, the turn of the century saw meaner, darker, faster, and more electronic hip hop coming from some of the same artists, maintaining a distinctly West Coast flavor but capitalizing on newfound interest and inspiration.
Kurupt was a veteran of Long Beach's hip hop scene by 1999, a 26-year old who had already cemented a legacy for his contributions to the seminal albums "The Chronic" and "Doggystyle" and as one half of Tha Dogg Pound, whose 1995 debut "Dogg Food" served as a cornerstone of the Death Row discography and the larger g-funk movement. With Suge's label in his wake, he founded his own imprint through which to release his 1998 solo debut, the double-album "Kuruption!," with a disc each dedicated to his dual homes of Philadelphia and Long Beach. A year later "Tha Streetz Iz a Mutha" hit stores, and if the album cover portraying Kurupt sporting blue Chucks and a Dodgers cap wasn't an indication, it had both feet firmly planted in the West side despite a tracklist chock-full of star appearances from across the hip hop map. Although collaborations come in bunches, it's indisputably Young Gotti's show, and he sports a vicious, developed flow and inspired lyricism over some truly mean tracks.
As you might expect, the whole DPGC crew comes through on the mic and behind the boards. Kurupt's partner-in-rhyme Daz Dillinger contributes beats on four tracks and rhymes on eight, also inking an executive producer credit. Soopafly produces five tracks and has multiple verses scattered about, and further production comes courtesy of Dr. Dre, Fredwreck, Bink!, DJ Battlecat, and Meech. But what sets this apart from the other concurrent DPGC albums is the collaboration with Organized Noize, the ingenious Atlanta production trio behind the Dungeon Family classics by OutKast and Goodie Mob. This was among their first projects outside the D.F. circle, and they really expand their horizons while providing some phenomenal production. They manage some great chemistry with Kurupt and his collaborators and provide many of the LP's highlights.
The opener "I Call Shots" is an absolute monster. Kurupt and his little brother Roscoe deliver some of the most purely ferocious rhymes of their respective careers over a frenetic ONP production. After Snoop Dogg's intro, Young Gotti clocks in with two absolutely head-spinning verses:
"The tactical acrobatical automatic
Automatically psychosomatics that got it verbally guided
Visually you ride it, super like the Sonics
Potent like gin and tonic being injected through the veins
with double dosage of liquid chronic (what?)
Columbian flake, the top rate
Irate, lost mental state
Stallion, I want about a million or more
Of y'all fools to come back and get some more
You can tell a gangsta soon as he come in the door
He don't wear Calvin Klein, he won't wear Velour
He got some Cortez or some Converse on
All-Stars, G'd from the hat to the floor
You can miss me, I'm probably chillin' up in Mississippi
or Poughkeepsie or Baton Rouge guzzlin' whiskey
I'm a walkin' franchise and I wanna get paid
Get dropped, mopped and stomped like a parade
Persuasion, phase three of the invasion
I gots to break loose cause I'm feelin' caged in
Loose in the jungle, blaze a botanical garden up
Nowadays, niggas ain't hard enough
to bombard and bogart, spots like these
Renegade revolutionary infantries
I'll bet a thousand to one, you're never gonna make it
You're never gonna get it, y'all can't fuck wit us
Put it together, our squad, 1999 mod squad
Universal soldiers, I thought I told ya"
What's most impressive is that Young 'Scoe might in fact have the best verse on the track. Xzibit and Daz both show up for the brief and fierce "Loose Cannons," and the posse cuts keep coming in the likably bouncy "Who Ride Wit Us" and "Represent Dat G.C.," featuring verses from an incredible roster including Daz, Snoop, Tray Deee, Soopafly, Jayo Felony, and Butch Cassidy. Fredwreck's funky production is a suitable template for their rhymes expressing love for their crew. The love continues on "Welcome Home," a sunny Soopafly production featuring LaToya Williams devoted to the laidback L.A. lifestyle.
The tracklist takes a dark turn beginning with Organized Noize's brilliantly uneasy production "Tequila," featuring Daz, T-Mo Goodie, and an appropriately eerie hook from Nivea. Although "Trylogy" clocks in at just over two minutes, it's the most imaginative track here—Bink! draws his sample from a Brahms violin concerto, of all places. Kurupt does it complete justice with a marathon verse:
"Hyperactive with automatic, snappin' reaction
I'm sick of waitin', a thirty-eight, I'm jackin for Daytons
Kick the door in for sure, double four's rammin'
Hollow bandit, ready to knock him off if he standin'
Position the cannons, telegraph the whole parameter
Paralyze anything that walks through the perimeter
Cervical veins lacerated lost to missiles
Interrogated and I paraded posted with pistols
Time for war this is when the heart's exposed
Change up the game, cockin' and sparks explode
I'm a marksman, touch of death, ten steps to draw
And that's all, end to anything before
In a world war, off like a Concord jet
But fool, DPG's the set
In a world war, this is when the heart's exposed
Change up the game, cock, sparks explode
Manic depressive panic and then start skitzin'
Not givin' a fuck while all y'all bitchin'
Dis is for all my G's, my homies
Flippin' birds and servin' keys
I'm with King Tee and Tha Liks, alcoholed up
Like bitch, get the fuck off my dick
I got pistols, pills, acid, bomb, crank
Crystallized coke and limes, I don't give a fuck"
Perhaps the best track here is "Neva Gonna Give It Up," a rallying cry from Tha Dogg Pound family featuring Warren G, Soopafly, Snoop, Tray Deee, and a particularly great appearance from Nate Dogg which combined with Meech's heavy production makes for a chilling effect. On the gritty title track and the upbeat "Ya Can't Trust Nobody," both co-produced by Daz and Blaqthoven, Kurupt and Daz offer serious and somber takes on the unglamorous aspects of street life.
If the LP loses its focus a bit in the second half, the quality hardly suffers. "It Ain't About You," "Girls All Pause," and "Your Gyrl Friend" are familiar, sly Dogg Pound fare. The infamous Dr. Dre and Hittman collaboration "Housewife" from "2001" appears here as "Ho's a Housewife" in all its glory. Soopafly laces the cheerful "I Ain't Shit Without My Homeboyz" with a clever steel drum arrangement, and a young Crooked I provides a strong guest verse—who'd have thought that more than a decade later we'd still be waiting for his debut? On "Step Up," Kurupt, Crooked I, and Xzibit drop rugged rhymes over a raw DJ Battlecat track, and "Live on the Mic" is a freestyle session with none other than KRS-One. On the bonus track "Callin' Out Names," Kurupt takes shots at some of his East Coast contemporaries including Ruff Ryders, The Firm, and Murder Inc.
If "2001" revolutionized West Coast gangsta rap, then "Tha Streetz Iz a Mutha" served as a worthy prelude. Over 75 undeniably fresh minutes, Kurupt proved an innovator and a beastly lyricist during a stagnant period for most of his Long Beach brethren. "Tha Streetz Iz a Mutha" is an impeccably produced LP with top-notch performances all the way through from both Young Gotti and his many talented guests. It's hard to say which preceded which, but the great production inspired some of Kurupt's most enthused work to date and in turn pushed his status from one of many solid Long Beach rappers to an echelon among the Left Coast's finest. The album has aged extremely well and remains Kurupt's shining hour, a severely underrated record among DPGC's premier albums.
Music Vibes: 9 of 10 Lyric Vibes: 8 of 10 TOTAL Vibes: 8.5 of 10
Originally posted: March 16, 2010
source: www.RapReviews.com