Krayzie Bone :: Thug Mentality 1999
:: Ruthless/Mo Thugs/Relativity/Epic
** RapReviews "Back to the Lab" series **
as reviewed by Pete T.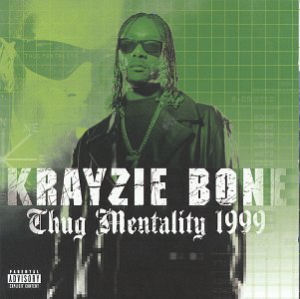 Double-albums were the bane of gangsta rap in the late-90s. After the runaway success of "All Eyez on Me" and "Life After Death," the mindset seemed to be that given rappers' high demand, they could put out epic two-disc packages of unfiltered studio sessions, charge somewhere in the twenty-dollar range for them, and go platinum moving half as many units as normally needed. Thus we got "MP da Last Don," "Wu-Tang Forever," "Lost," "The Element of Surprise," "Kuruption!," "Thugged Out: The Albulation," and "My Homies"—good albums for the most part with inexcusable filler, bloated running times, unnecessary guest appearances, and worthless skits.
Krayzie Bone had already explored the double-LP format with his group Bone Thugs-N-Harmony on 1997's successful "The Art of War," and two years later he returned with his first solo effort "Thug Mentality 1999." As you might expect, guests are quite frequent and range from bona fide superstars (Treach, 8Ball & MJG, Snoop Dogg, Kurupt, Fat Joe, Big Pun, Cuban Link, Mariah Carey, E-40, Gangsta Boo, The Marley Brothers, and the rest of BTNH) to his underwhelming protégés (Bam, Relay, Niko, Knieght Rieduz, K-Mont, Asu, GraveYard Shift, Up In Clouds, Thug Queen, Mo!Hart, and Felecia). At the time of "Thug Mentality 1999"'s release, Krayzie was hard at work establishing his ThugLine Records imprint, and many of the songs serve as introductions to his artists. The result is a sprawling and exhausting listen approaching 140 minutes with some quality music and some insignificant filler that has little business on an album, let alone a Krayzie Bone album.
Krayzie is a head-spinning rapper and an unusually talented singer, but more than anything else he's a thug, and the listener will have a hard time losing sight of this fact over the two discs. Bone was definitely in a military mindstate circa 1999, and both "The Art of War" and 2000's "BTNHResurrection" featured songs narrating epic battles and apocalyptic violence in light of the new millennium's impending doom. The war theme is prevalent throughout "Thug Mentality 1999"'s staggering 38 tracks, seven of which are skits. From the intro prophesying a thug revolution of sorts, gunshots are heard frequently, and most of the skits are little else than the sounds of drive-by shootings and AK sprays.
Krayzie displays a wide range of flows and deliveries, often on single tracks. The opener "Heated Heavy" is impressive because it features quite possibly the fastest rapping I've ever heard—if there was any question, Krayzie could give Twista a run for his money any day. On "Paper," anchored by a cleverly-flipped classic soul sample, Krayzie sports his signature bass, crooning between his socially conscious verses. He spins a violent narrative on the decent "Payback Iz a Bitch" and the best song on either disc is "Thug Mentality," a heartfelt, harmonized assessment of the criminal lifestyle over wonderful production, making for perhaps his finest solo track to date. Still, most of disc one is plagued by a lack of concepts: "Thugz All Ova Da World," "Street People," "Pimpz, Thugz, Hustlaz & Gangstaz," and "Thug Alwayz" are as predictable as their titles indicate. Two of the best songs on the first disc are the rallying "World War," an ominous pump-up jam, and "The War Iz On," a smooth, sinister collaboration with Snoop Dogg, Kurupt, and Layzie Bone.
The shameless promotion of ThugLine artists immediately grows tiresome, especially because it inflates the already overstuffed tracklist. Krayzie doesn't even rap on "(Relay) ThugLine" save for the hook, leaving those duties to the unimpressive female quartet Relay. "Knieght Rieduz (Here We Come)" is laughably bad, a sonically painful song from a masked horrorcore group whose sincerity is impossible to assess. Years later it was revealed that Knieght Rieduz were none other than Krayzie, his wife LaReece, and protégés Mo!Hart and Sin in makeup with their voices distorted—talk about a bad gimmick. None of the other ThugLine collaborations are even remotely noteworthy, and it quickly becomes clear that Krayzie solo is immensely better than Krayzie and friends.
Production on "Thug Mentality 1999" is generally decent, but little really sticks as memorable or particularly great. Few recognizable names contribute, but Krayzie handles a handful himself, and other notables include longtime Bone Thugs-N-Harmony producer DJ U-Neek, Damizza, and Romeo Antonio, who contributed to a few Mo Thugs Family projects.
The second disc is overall superior to the first, buoyed by better collaborations. Opening with the upbeat "Where My Thugz At" and the excellent weed ode "Smokin' Buddha," Krayzie goes on to present an interesting character study in "Silent Warrior" and a chilling home-invasion narrative on "Silence," featuring talented Mo Thugs act GraveYard Shift. Mariah Carey's guest on "I Still Believe" makes for an inspired, well-conceived R&B duet, and Krayzie proclaims "the end of the world" on the solid "We Starvin'" featuring E-40 and Gangsta Boo. Late highlights include the creative "Smoke & Burn," the encouraging "That's the Way," and the reggae effort "Revolution" with The Marley Brothers. Best of all is "Murda Mo," with its atmospheric beat, killer sample, and classic Krayzie Bone lyrics delivered in an inimitable melodic sing-song:
"Better watch that redrum
The bloody mo murda mo merger, it will learn ya
Don't be fuckin' with the thug to thug slug
Rippin' them guts and drippin' that blood
Roll with the gun in my hand
And they can't understand how we ran with the murda mo
Niggas pull triggas, and they really quick to put you in the river
So many, better serve 'em before they get me, stick me
Playa haters they be quick when they pull out they weapon
Mista Ouija would never deceive
It's keeping me deep and they all be me victim
And on the phone when I call my dogs
I'll be ready anytime you wanna go (ho)
Put him on the ground wit the fo'-fo'
I just wanna let a nigga know
Niggas steady fakin' like they rollin' with the Bone
When they really wanna see the Bone go
Now nigga you dead wrong
You better take a couple steps backwards
I'll collapse ya, cap to the playa haters
Just remember we're pinnin' you jealous back stabbers"
As cliché as it is to say, "Thug Mentality 1999" would have been immeasurably superior if it had been limited to a single disc. As it is, it's a commendable yet inconsistent effort with some good music and some bad music. As ever, this album displays that Krayzie Bone is an incredibly talented artist, and the legion of die-hard Bone fans will probably enjoy it plenty. Still, while there is some quality music to be found among the two discs, one must sift through a great deal of filler to get to it. The soulful introspection and well-arranged harmonizing that marked Bone's first efforts and his subsequent solo albums are notably absent here. Overall "Thug Mentality 1999" offers some quality if very predictable music yet hardly enough material to warrant a single disc, let alone two.
Music Vibes: 5 of 10 Lyric Vibes: 5 of 10 TOTAL Vibes: 5 of 10
Originally posted: March 16, 2010
source: www.RapReviews.com