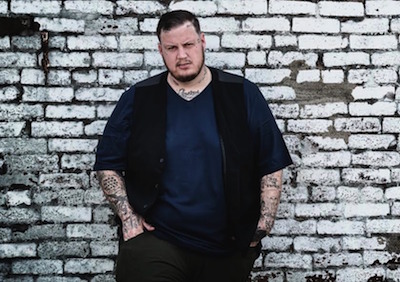 Jelly Roll Interview
Author: Adam Bernard

In part one of our interview with Nashville emcee Jelly Roll he discussed his incredible weight loss, his new, country inspired, sound, and the realizations that made him want to change both his music, and his life.
Following that up with some crazy good times, Jelly Roll gave us some wild stories from his time touring with Insane Clown Posse, and filming the music video for "Rock This Trailer Park," which is the theme song he wrote for the TLC show Welcome to Myrtle Manor.
---
AB: This past fall you toured with Insane Clown Posse. Tell me about the craziest moments you had partying with ICP.

JR: Man, I got a bunch of ICP stories. First of all, let me explain why I did the ICP tour. I came up in the underground circuit, and I feel like when people change their music they abandon the underground, and that's why the underground doesn't follow them, the underground feels like people are ashamed to have been a part of that. I'm not. I'm proud of who I am. I'm proud of how I came up in the music world. I'm proud of the people that brought me there. I wanted to take "Sunday Morning" and "When I Get Rich" back to those people first. I wanted to say, "Hey, this is what I'm doing now, y'all, what do y'all think?" Just kind of stand in front of people completely naked, and vulnerable, and go, "What's up, this is what I'm doing now."

To see the response every night, it showed me I was doing the right thing, and I wasn't going to lose any fans with this new music, and the couple I do lose, and mean literally the couple, fuck, they wasn't with me anyways.

(As far as a crazy tour story), we did a show outside of Golden Valley, AZ. I looked up and said, "Dude, we're right next to Vegas," so I go to Mushroomhead's bus, I'm knockin on the bus door, and I'm like, "Dude, let's go to Vegas tonight! We're off tomorrow night, we'll all bus call early on Sunday morning and shoot to Salt Lake City." They were like, "Fuck yeah, let's do it!"

I went to the ICP bus, and was like, "Let's all go to fuckin Vegas." They were like, "Fuck yeah, let's do it!"

I went to Da Mafia 6ix, and I was like, "Yo, let's fuckin go to Vegas," and they were like, "Yeah, that's where we're going!"

Mad Child was in the van with me, so that was the whole tour. We left right after the show. ICP was done at like 11:30pm every night. We went on early, because it was an all ages festival show, so by 1am we've already unloaded our bags in the hotel in Las Vegas, and we're going out.

The first night, that Friday night, we just went and gambled. I woke up early Saturday morning, and caught a cab down to Fremont Street ,where Mushroomhead's bus was. Me and J-Mann (from Mushroomhead), it's probably 9:30am, we go and start drinking.

So we're gambling on Fremont Street, drinking, and we ended up going to the Heart Attack Grill. By about two or three o'clock in the afternoon the rest of the Mushroomhead crew is starting to wake up a little bit. Keep in mind, me and J-Mann are four hours ahead of everybody drinking.

Somehow, and this is where Vegas turns into a unique story for me, it all starts to get foggy around 7pm. Somewhere around 7pm, or 8pm, we all end up at a casino together, and when I say "we all" I mean 80% of the tour. Big B, who's from Vegas, he comes out, so he's with us. My dude Shawn Nunes, who's also from Vegas, is with us. Six or seven of the main Mushroomhead guys are with us. Shaggy 2 Dope from Insane Clown Posse is with us. Two or three of the road crew from ICP are with us. Madchild is with us. One of Da Mafia 6ix guys is with us. We're just RAGING through Vegas at this point. We're casino hopping. We're blocking off six or seven blackjack tables at a time in a circle. We're just kickin it.

These are all stories I've been told, by the way. I recollect very little of the night. I was finding pictures on my phone. If you go back to my Instagram, I was posting pictures on my Instagram, tagging people like, "Who took this picture? Where were we when we took this picture?" The whole night was like black out drunk for fuckin everybody.

I ended up missing bus call, missing van call, catching a ride to Salt Lake City, (but still) missing the Salt Lake City show. I had 48 hours to get 400 miles up the highway, and I did not make it in time for the concert. My phone died. I was with a stranger.

I showed up at Salt Lake City, and when I got out of the car, and walked backstage, they applauded me. People were like hugging me with tears in their eyes. "We were so worried about you, man! We thought you were like in jail or something!" I was having to piece together my Las Vegas night by who'd seen me last, and at what time.

AB: Damn! That is an impressive evening.

JR: That's a true story. That's one of those stories that you see in movies and you think to yourself that it would be cool to live that, and then it actually happens to you, and you actually are the guy who had probably one of the wildest nights of your life and you don't fucking remember it.

AB: Something I think you probably have a better recollection of is the recent theme song, titled "Rock This Trailer Park," you wrote for TLC's reality show Welcome to Myrtle Manor. How'd you end up involved in that?

Jared (Gutstadt) from the Jingle Punks, that's his business. Pretty much everything we hear on every favorite reality show we have was done by Jingle Jared's company, the Jingle Punks, and my production deal is through them, so I get a lot of bones given to me, to be frank. They felt like I was a perfect match for a trailer park show, and I feel the same way. I tell people all the time, it takes white trash to know white trash, and I am white trash, so I tend to get along with all facets of white trash.

They were serious when they heard the song, they said, "Let's shoot a video for it and make it the theme song."

We went out there and I spent a day in the trailer park.

You want to hear a funny fuckin trailer park story?

AB: Hell yeah.

JR: I hope I don't get TLC in trouble for this. It's their show, but this is me talking. I'm in no way affiliated with TLC. I have no contracts with TLC. I'm not a part of the show.

(When we shot the video) they had us do the beer keg scene first, and they gave us a real fuckin beer keg, so here we are on the video set at 9am, and shoots last like 12-15 fuckin hours, and at 9am I'm drinking beer.

By 10:30am, 11am, towards the end of that scene, I had shifted us from beer to whiskey.

So it's 1pm, we still got seven more hours to shoot, and we're turnt up. I mean everybody on set (is turnt up) except for the videographers. We are fuckin crankin, dude. It's fuckery at its finest. At 3pm we're all so drunk we all have to go back to one of the trailers and take a nap. We had to completely stop the video shoot. We were out there KICKIN IT!

Let me tell you something about that trailer park, man, it's not gimmicks. I've been around a lot of reality TV show people, and a lot of them, their character on TV is not based on their reality. All reality TV is scripted to a degree, but these people are really who the fuck they appear to be in the show. They're kickin it. They're crankin.

The dynamics of the old people against the young people in the show is fuckin real. Whenever I left the young people to go shoot with the older people, of course I'm fuckin half drunk, half hungover by this late in the afternoon, it was just so funny how much they hated how the young people just partied, and those young people kick it, dude.

One girl had to be at work that afternoon, she had to go in at work at 2pm, and at 1:15pm she said (in a slurred voice), "I don't think I'm gonna make it to work." I was like, honey, I could have told you that at 11:30am. At 11:30am I started telling you that you need to call your boss, baby, you're on your way.

They were fuckin CRANKIN!
---

Check out Roll at JellyRoll615.com and follow Roll on Twitter at @JellyRoll615.
Follow Adam @AdamsWorldBlog. Follow the site @RapReviews!

Originally posted: February 3rd, 2015
Source: RapReviews.com