I was hipped to this album by well known gamer emcee Mega Ran, though I can't remember if the context was a blog update, e-mail exchange or newsletter blast. Regardless of the circumstances it's not a review I could pass on given that I actually own a Double Dragon cabinet that is on permanent residence in my rec room. I was looking for an old arcade cab to convert into a machine that plays hundreds of games instead of one, and knew a fellow gamer named Dan who was willing to help me do the work, so we went shopping at a warehouse that was more or less a graveyard for my misspent childhood. The man in charge was quoting us high dollar amounts for Ms. Pac-Man and Donkey Kong machines left and right, but the DD cab caught my eye right away. "How much for this one?" He looked at it dismissively and said "50 bucks." I would have called him a fool if it wouldn't have blown the deal – I just pokerfaced it and said "Yeah that sounds fair." 10 minutes later it was mine.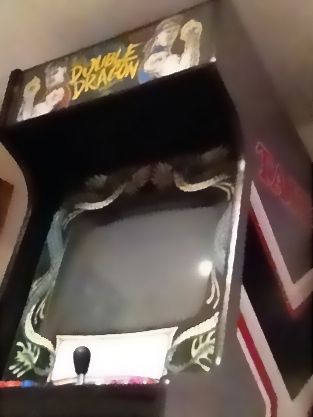 If you've ever had the chance to hang out in my basement you know this cab is the shiznit, but it wouldn't have been mine if I hadn't been pouring quarters into a similar looking cousin in my teenage years. The NES home console version is described as "technically limited" compared to its arcade counterpart, but if anything I spent MORE time playing it given I knew a friend with a copy and it didn't cost me a quarter at a time. The curious twist to this album is that Ilyas of Tanya Morgan fame was apparently working on this album with Juice Lee the same year he left the group to go solo. Gamers gotta do it for dolo!
Reviewer Patrick Taylor described i-El's departure as spiritual in nature, though I don't think playing video games is a holy sacrament. In fact if you've ever played any of the blue colored NES carts from back in the Double Dragon days, you'd know that Bible-based video games were NOT good. On the other hand you can't deny there are deeply spiritual and existential themes to games like "Final Fantasy," and Mega Ran has a guest rap on this track.
To be honest the "Double Dragon" theme here is more about how Ilyas and Juice form a team to fight together, much like how twin brothers Billy and Jimmy Lee do in the game of the same name. The duo jump all over the gaming map, which I have no problem with, since their touchstones as gamers are one anybody who sat on the carpet (or hard wood floor) in front of their family TV as a kid can relate to. "Castlevania" is actually one of the more gothic rap interpretations I've heard based on the game, not just in terms of accurately articulating the plot but in the way it samples from the series and reminds you how haunting and eerie it can be.
Various producers contribute various lifts from the game classics, and although they're more straight jacks than the way K-Murdock likes to flip and remix game beats, I'm not hating on Mysterious for the comical usage of Super Mario Bros. 2 on "Waitin 4 U." Mega Ran makes another of his loop of the Bubble Man stage from Mega Man 2 for the appropriately named "Splash," and I'm a sucker for him borrowing from one of my all time favorites on "Chrono Trigger." Sal Dali contributes some dopeness too such as "Assassin's Creed," DJ JW gives their ode to the ladies a fly feel on "Gamer Girlz," and Nonsense laces the short but fresh "Cheat Code."
It's obvious by the end of an hour+ of video game inspired beats and rhymes that i-El and Juice are serious about this project, which makes me wonder why "Double Dragon 2k11" seems to have been a one shot. I've heard Ilyas cameo on Mega Ran projects, and while the cynical could argue he's just returning the favor, it seems like more of a spiritual bond (there's that word spiritual again) from one gamer to another. I'm not even sure what i-El is up to these days, but I did find his Tumblr and a lot of what he's reblogging doesn't seem that holy or spiritual (in fact you might have to turn your filters off to see some of his mature content). I like Il's gamer rap, Juice is a strong partner, and if this was a side of himself he couldn't express while one-third of Tanya Morgan it's a damn shame.
Ilyas and Juice Lee :: Double Dragon 2k11