Every halfway respectable online hip-hop publication got one – a 'Star Wars' post. And so we use the 4th of May 2021 to finally bring you the RapReviews.com 'Star Wars' edition. At least as long-awaited as 'Episode I'. And just as long-winded.
Pop culture references weren't instantly present in early rap music, but they became more frequent in the later 1980s. In regards to George Lucas' dearest brainchild, we can identify five early crucial references. In 1987, Kool Moe Dee heralded his comeback "like Return of the Jedi" and a year later Biz Markie mused, "I watch Star Wars just to see Yoda / or R2-D2" while The Fresh Prince namedropped Lando Calrissian, notably the key black character in the original trilogy (special mention to James Earl Jones who voiced Darth Vader). Closing out the '80s, self-described boy wonder Kwamé bragged: "Got the Force of twenty men like a Jedi Knight". Shortly after, the '90s got kicked off by none other than Q-Tip, who knew the rest of A Tribe Called Quest had his back on "Youthful Expression": "Phife, Jarobi, Ali told me: / Get the Force like Wan Kenobi".
Lyrical references are the most common way rappers pay tribute to the space opera. Various online portals make an attempt to compile them, with Eminem's catalog emerging as the most profitable source, followed by the Wu-Tang Clan. MC's across the entire spectrum of US rap metaphorically reach for the lightsaber, summon the Force, liken themselves to any of the saga's heroes or villains, etc. Virtually everybody from Kanye West to Brotha Lynch Hung. In most instances, these references are thrown in with more or less care (including by well-regarded lyricists), but a deeper understanding of the Force has been demonstrated by Talib Kweli, Mos Def, Lupe Fiasco, Ras Kass, and, let's give it to him, Eminem. Two of the more solid puns that require some familiarity with the matter were penned by Ludacris ("I keep the hood with me like Obi-Wan Kenobi") and, believe it or not, Juicy J ("The new Skywalker, I'll put your hoe in a body auction"). And then there was E-40 with his delphic "Star Wars? Nope / Yoda? Yup" from "Choices (Yup)" (2014).
Needless to say, following the dualistic nature of the genre, quite a number of MC's join the Dark Side with their references.
'Star Wars' is to Hollywood movies what Michael Jackson was to pop music. Known around the world. So you can expect references in other languages. Still I was surprised about their number in French and Italian rap that my research led me to (the German lists were less exhaustive). Just looking at French, the influence of 'Star Wars' imagery is felt across generations of rappers as well, up to the present day – "Mandalorian" being a 2020 Kaaris song and this year's "Palpatine" a collaboration between Brussels electronic producer Todiefor and Parisian rapper Alkpote. Accidentally (or not?), one of France's biggest rap stars of all time, Booba, emerges as the country's champion of 'Star Wars' references, the Yoda tattoo on the back of his left hand vivid proof of his dedication.
There's also a tradition of hip-hop artists styling themselves as namesakes. Miami music mogul Luther Campbell paved the way when he branded himself Luke SkyyWalker as a local concert promoter and DJ and later founded a record label by the same name, home to the infamous 2 Live Crew. Dating almost as far back, in 1986 Cologne hip-hop group Äi-Tiem (that name obviously a reference to a different franchise) was created by Hans Solo and DJ Lord Fader (later joined by Def Benski Obiwahn, whom we considered in our recent Die Firma review). The longest-running nominal reference might be Canadian Hand'Solo Records established in 1996, whose output we frequently review.
The most notorious reminder of 'Star Wars" influence on rap and hip-hop is Philadelphia hardcore rap outfit Jedi Mind Tricks, which, be warned, stubbornly refuse to make further references despite a 25-year band history (the lead rapper also dropped his moniker Ikon The Verbal Hologram, which also had a bit of a connotation). To summarize, the name tributes range from DJ Jabba Tha Kut from South England to Bobba Fettt from Berlin (just one of many Boba Fett variations), DJ Yoda from London, rapper Mos Eisley of Vancouver's Sweatshop Union, beatmaker Hans Solo from Denmark, new wave street rapper Fly Anakin based in Virginia and of course estimated producer RJD2 from Oregon (by way of Ohio).
In the category of songs aligning to the 'Star Wars' nomenclature, there have been tracks such as The Last Emperor's "Echo Leader" (1999), Kool Keith and Esham's "Dark Vadar" (2001), Mac Dre's "Han Solo" (2002), Specs One's "Attack of the Clones" (2004), Toolshed's "Wookiee Boots" (2007), Jay Electronica's "Annakin's Prayer" (2008), Random Axe and Sean Price's "Chewbacca" (2011), Chris Webby and Emilio Rojas' "Dark Side" (2012), Kool Keith & Big Sche Eastwood's "Ewokie Galaxy Swag" and "Death Star Pimp Mobile" (2013), Logic and Dizzy Wright's "Young Jedi" (2013), KXNG Crooked's "Mace Windu" (2017) or Madchild's "Han Solo" (2019). Arguably the contestant to beat in that category would be Apathy's "Obi Wan" (2018), a heartfelt tribute to the rapper's deceased father.
Not necessarily fruitful are songs simply named "Star Wars/z". Rapsody (w/ Murs and Sundown) has one on an early mixtape whose cover was also inspired by 'Star Wars'. There's a curious Large Professor-produced specimen on an "Illmatic" reissue that can't possibly stem from the original 1994 recording sessions. Good old 2000 saw L-Fudge hallucinate his own "home version" of the space opera, lyrically not particularly inspired but nonetheless probably the most memorable rap track named "Star Wars" in the Anglophone world. There's a fairly interesting "Star Wars" in German rap by artists Laas Unltd and Fler, which mixes up the original title translation, 'Krieg der Sterne', with H.G. Wells' 'The War of the Worlds' to discuss the allegedly irreconcilable differences beetween opposite factions in hip-hop.
Album titles have been inspired by 'Star Wars' as well, for instance Public Enemy's "Apocalypse 91… The Enemy Strikes Black" (the subtitle at least), O.G.C.'s "The M-Pire Shrikez Back", CookBook & DJ Rhettmatic's "Phantom Menace", a "Bar Wars: A New Dope" compilation and mixtapes such as Styles P's "Phantom Menace" and Statik Selektah & G-Unit's "The Empire Strikes Back". An early stylish combination of cover design and album title came courtesy of Britain's MC Duke with 1991's "Return of the Dread-I".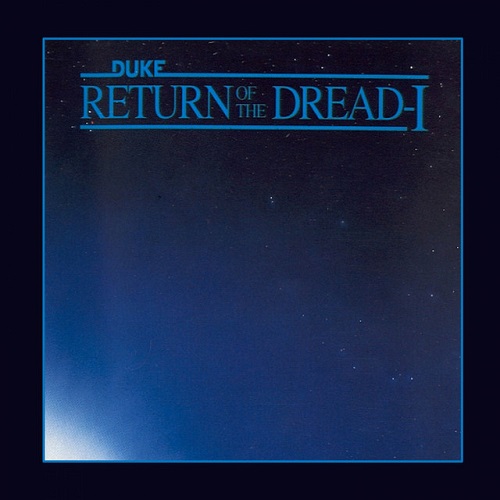 The next level of the 'Star Wars' game (and we're not talking video games, who have been available since 1982) are songs that literally play in the 'Star Wars' universe. Back in the '90s, Phoenix Orion rapped as Luke Skywalker in "Jedi Mastery" (1998) in an overall straightforward and solid performance. The rhyming fanfic the franchise's fandom is most likely aware of is mc chris' viral hit "Fett's Vette" (2001), a bragfest written from the perspective of bounty hunter Boba Fett. The nerdcore veteran would revive the concept several times with ditties such as "IG-88's 57 Chevy", "Zuckuss' Prius", "Dengar's Dumptruck" and "Bossk on a Segway".
mc chris being a bit of an acquired taste (he's on the opposite end of the vocal spectrum of Darth Vader), the field of nerdcore has plenty more to offer. Reflective of the genre's juvenile beginnings, we have MC Frontalot's "Yellow Lasers" (2002), where 'Star Wars Celebration' cosplay turns into bedroom roleplay with a surprise ending for the hero. Representing the more mature class of hip-hop made by gaming or movie geeks, Mega Ran recorded the tribute "The Force Pull" (2014), which covers three phases in the fan's career – the deep impression left by the first movie(s), the disappointment in the Prequel trilogy and finally the anticipation of the Sequel trilogy. Canada's Wordburglar undertook several expeditions into the 'Star Wars' universe, including "Dude Where's My AT-AT At?" (2012), "The Mos Eisley Rap Show", "Remember the Hoojibs" and "Torontaun" (all 2019). Meanwhile MC Lars reminds us how fiction can capture our imagination in the easiest ways with "If I Were a Jedi (That Would Be Hella Awesome)" (2015).
Also from creative minds outside of the rap industry but with an affinity for the artform, around the turn of the millennium there was MP3.com sensation "Star Wars Gangsta Rap", a sequence of detailed musical acts featuring various 'Star Wars' protagonists, if you will a precursor to 'Epic Rap Battles of History' and similar formats. As expected, there's a "Galactic Empire State of Mind". And on the topic of Jay-Z (who had his own 'Return of the Jedi' moment on his debut album), San Antonio's Richie Branson parodied "99 Problems" with "Cloud City Problems" (2012).
Which brings us to samples from 'Star Wars' scores and soundtracks (which, as a matter of fact, would include dialogue). There exist various lists, and I'm not convinced that they are always a hundred percent correct. I would like to say you can't go wrong with "The Imperial March (Darth Vader's Theme)", but Lucasfilm's early enforcement of copyrights says different. The most memorable musical borrowing for me personally was when German hip-hop group Too Strong sampled "The Imperial March" in '94 and '96 for reworkings of their '93 track "Rabenschwarze Nacht" ('Pitch-Black Night'), a stark statement against the arson of refugee shelters committed by neo-Nazis. Fellow German artist Fader Gladiator (whom you also got to know through our coverage of Die Firma) put together a short but potent stimulant for the b-boys called "Battle of the Planets" (1997) – after naming a previous instrumental track "Star Warz". Also in the later '90s, Tampa crew Walkmen sampled "The Imperial March" for the song "Fortruss", which made sense given one of the members' moniker was Storm Trupa. And the Bay Area's Ya Boy rapped over it on "16s With Me" (2005).
John Williams' scores also provided samples other than the Darth Vader theme for hip-hop artists from all over the place, from the Netherlands to Serbia, rappers ranging from Immortal Technique to Yukmouth, and producers such as Alchemist and DJ Shadow.
'Star Wars' and rap music also produced a number of conversation pieces that can't be put into bland bureaucratic categories:
Living up to his godfather of rap status, comedian Clarence Reid aka Blowfly staged "Blowfly vs. Darth Vadar" all the way back in 1980, essentially another excuse for him to engage in dirty talk.
There's a rapper who goes by the full name of Jonathan Toth From Hoth (more frequently known as J-Toth From Hoth). He's actually from St. Louis, but he did get the idea of being from ice planet Hoth while living in Colorado.
Future Boston indie legends 7L & Esoteric, Mr. Lif and Virtuoso gathered under the banner Rebel Alliance in 1997 on a self-titled compilation on Brick Records.
Both Biggie albums contain a 'Star Wars' reference.
Andrew Kishino, in a previous life pioneering Toronto major label rapper Kish (/KISH), voices the character Saw Gerrera on the animated series 'Star Wars: The Clone Wars', while Ahmed Best, once rapper with New York acid jazz group The Jazzhole, lent his vocal talents to one of the most contested 'Star Wars' characters ever, Jar Jar Binks.
Further – although not as readily identifiable – voice actors in the 'Star Wars' canon include the creator of hip-hop-meets-founding-father musical 'Hamilton', Lin-Manuel Miranda, Ice Cube offspring and performer O'Shea Jackson, Jr., actor Donald Glover, who treads the music world as Childish Gambino, and polarizing rapper Logic.
New York-based appropriation artist Morgan Phillips aka Sucklord put together a homemade "Star Wars Breakbeats" tape in 1996 and designed his own 'Star Wars' figurines in hopes of getting to work with the official brand.
L.A. collective The Shape Shifters styled their logo after the one for 'Star Wars' and called one song "Mos Eisley" and an underground/demo tape "Use the Force Luke… But Dont Hurt Em".
German MC Curse, one of the most talented of his generation who later in his career embarked on a pilgrimage toward personal enlightenment, opened his 2014 album with the song "Tatooine", in which he compares himself to a regenerating barren landscape illuminated by two suns, his son and the woman who bore him.
And so we are approaching the most ambitious – according to yours truly – hip-hop and rap projects inspired by 'Star Wars', presented in a neat collection of nine episodes:
Episode I: Suspekt – "The Underground Strikes Back" (1996)
This '90s underground UK rap period piece banks on the good-vs-evil theme of the early stages of the saga (if you go by the release order, at least), Derby's Suspekt hold "the mic like a Jedi Knight", wielding their "lyrical lightbeam" to "pressurize the Empire's political pipe dreams" with its "MC's programmed to be wack" who "guard the gateway to the airwaves controlled by the Dark Lord of the Death Star". The song's name was identical with the subtitle to Suspekt's "Style Wars" album (the logo mimicking the 'Empire Strikes Back' artwork), which hints at another early connection between 'Star Wars' and hip-hop (assuming the name of the 1983 hip-hop documentary was indeed intended as a nod).
Episode II: Wordburglar – "Remember the Hoojibs" (2019)
Remember the Hoojibs? Neither do I, that's why Wordburglar came to remind us of this unsung species – "basically telepathic bunnies" – who made a few comic book appearances mainly in the '80s but clearly don't get the recognition they deserve if you ask Wordburglar. Speaking as the main Hoojib character Plif, he claims his people's place in the canon. The song is highly eccentric but at the same time represents every 'Star Wars' geek with his own specific grudge:
"Peaceful beings, nah, don't wanna harm ya
Born and raised on the planet of Arbra
Against the Empire joined the good fight
But these days you wouldn't know what we look like
George Lucas never put us in his movies
Nobody's showin' love to the Hoojibs…"
Episode III: Richie Branson & Solar Slim – "Life After Death Star" (2015)
This has been referred to as a Notorious B.I.G./John Williams mash-up, but it's really Biggie's vocals over original beats that sample 'Star Wars'. Richie Branson and Solar Slim are members of collective Otaku Gang, a name that suggests they embrace their inner geek. Sean Combs once made a dubious artistic claim on the term 'remix', "Life After Death Star" shows that the art of the remix in the sense of a recontextualization is still very much alive.
Episode IV: IAM – "L'Empire Du Côté Obscur" (1997)
As so often, Marseille's IAM excel at what they set out to do. Mythical (as well as mythological) themes were always present in their music, and on "L'Empire Du Côté Obscur" ('The Empire of the Dark Side'), they side with the darkness and redefine it as the real rebel force prevailing against the pretended good side – the social and political elite and the silent majority that allows them to rule.
"L'Empire Du Côté Obscur" was initially (ca. 1996) backed by "The Imperial March", but after the sample couldn't be cleared, IAM raised the ante with dialogue from a 1983 French narration of 'Return of the Jedi' and Darth Vader's heavy breathing technique and a cinematic score of their own. The video completes one of the most emblematic tracks of this legendary group.
Episode V: Klub des Loosers f. Cyanure – "Une Minute A L'Ecran" (2003)
The life of Rodian bounty hunter Greedo on the big screen was infamously short as he was shot dead by Han Solo after threatening to deliver him dead or alive to Jabba, ending Solo's entrance onto the 'Star Wars' stage on a controversial note. 20 years later Lucas rewrote the scene to determine that Greedo fired the first shot and Solo killed him in self-defense, a revision that didn't necessarily quell the longtime 'Who shot first' debate among fans. It didn't matter to Greedo, whose life came to a sorry end either way.
With "Une Minute A L'Ecran" ('One Minute on Screen') French rappers Fuzati (of Klub des Loosers) and Cyanure (of ATK) pay a backhanded tribute to Greedo, branding him as a loser whose death is briefly reported on the last page of the 'Mos Eisley Gazette' and calling him a 'stupid little green man' who blew his chance to achieve a bigger role in the saga by talking too much and dropping his guard. His killer isn't treated any more favorably when he's judged a treacherous smuggler who will soon be admired by millions.
Episode VI: Skratch Bastid Scribble Jam 2001 "Imperial March" routine
Hip-Hop skills and 'Star Wars' knowledge recognized each other at this pivotal moment at Scribble Jam in 2001:
Episode VII: ManKind x DJ Mekalek – "The Force Is Woke" (2017)
There have been a handful of rap acts bearing names with celestial connotations (Sunz of Man, King Sun, Self Jupiter, Black Star, Black Moon, Digable Planets) who can be counted, at last to some degree, among the conscious rap camp. A tight interlocking of pop culture references and socio-political themes, "The Force Is Woke" refreshes that connection with the help of 'Star Wars'. Harlem-based duo ManKind (!LLumiN@TE and SciryL), supported by well-selected guests and versatile producer DJ Mekalek, deliver a lyrically dense sermon on the political concerns of the day and those existing since day one. The crew steadily weaves references to situations and scenes from 'Star Wars' into songs they call "Attack of the Drones" or "Leia Cake", taking a playful approach to dead serious topics through one of present time's most persistent and popular fairytales.
Episode VIII: Chong Wizard – "The Last Mixtape" (2017)
As far as full-lengths that seek inspiration in the saga go, this one is the most recent and thus features a fair share of contemporary MC's such as Eto, Vic Spencer, Ty Farris, Recognize Ali, SmooVth or Heem Stogied. Aided by Ras Kass "ridin' shotgun in the Millennium Falcon", Vancouver's Chong Wizard makes sure 'Star Wars' remains the guiding thread while he and producers like Ro Data, Unjust and sadhugold. create a familiar, not to say traditional hip-hop environment. If you're looking for something that earns the tag tribute because of the length and detail, this one is the most accomplished.
Episode IX:: Paleface – "The Ultimate Jedi Mind Trick – Episode IV" (2000)
Since Vinnie Paz would rather brood album after album about tricknology than reveal the meaning of the name Jedi Mind Tricks, it's up to Paleface to unveil "The Ultimate Jedi Mind Trick". At least that might have been the idea intitially. But while the Finnish MC creates the appropriate atmosphere off and on (especially with the half-sung, half-whispered "Fear is the path to the Dark Side"), there's way too much lyrical filler for this song to reach the sphere of enlightement it might have aimed for. Still the overall presentation (which includes a video) makes it a more complete package than the countless songs with random 'Star Wars' references.