New Boyz :: Too Cool to Care
:: Asylum Records
as reviewed by Steve 'Flash' Juon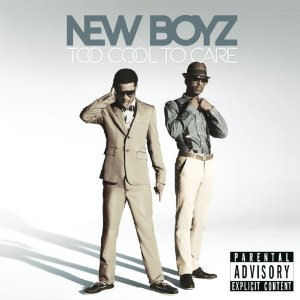 The New Boyz are the recently arrived duo named Ben J and Legacy who debuted in 2009 with "Skinny Jeanz and a Mic." Since their birth on the hip-hop scene, the tandem have advocated a relatively inoffensive agenda of sex, partying and fashion. These Boyz aren't out to stop the violence in Yemen, legalize marijuana or reform health care. They literally live up to their name - they're just too young to give a damn about anything but having fun. If you understand and accept their agenda (or perhaps the lack thereof) the New Boyz are perfectly acceptable. The biggest drawback to their debut album was that it ultimately became repetitive, both in terms of Legacy's production abilities and their self-absorbed subject matter.
"Too Cool to Care" has taken care of the former by bringing in a slew of guest producers, taking the reigns of the sound away from the New Boyz entirely. If you were a fan of their swagger though you'll be pleased to know that the all star talent they brought in goes to great lengths to keep their New style and sound in tact - they just make it tighter. DJ Khalil and Sabi give them a rock and roll attitude on "Tough Kids," Meech Wells does their minimalistic style to a tee for "Crush On You," and the tandem of Matt Squire and Damon Sharpe provide a bouncy electronic backdrop for the lead single "Break My Bank."
"Damn - girl! You look better than the videos
Think I wanna break my bank, hammer to the piggy though
All-all the groupie girls gettin jealous of what I spend
They tryin to chop it up, but I ain't +The Karate Kid+
Jaden! Everyday I'm spendin more on her
I don't buy shit, like I barely hold the door open
Every time I say this shit I always get her one more
When it's time for taxes a nigga gon' be done for"
The freshest sounding track on the whole album is "Backseat," from the current flavor of the month producers called The Cataracs. They've worked magic lately for everybody from Snoop Dogg ("Wet") to the Far East Movement ("Like a G6") and they are no less on point here. If you hear the song and you're immediately reminded of Ke$ha, Tinie Tempah and Lady Gaga that's exactly what they were going for - this is a bouncy electronic song tailor made to get your dance on.
"You see them girls with them high heels they got this party poppin
This ain't no country club we 'bout to get this party rockin
You got girls that's with the band let's get on top and let me see it though
Wait not in here we outta here, jump in my vehicle
Camaro long shift, she just tryin to fit comfortably
She like my orange Camaro, she said let's ride up and trick or treat
Like damn girl, damn girl, you fucks'n with the man girl
Like damn girl, damn girl, you fucks'n with the man girl"
As you can see at this point there's nothing profound about what the New Boyz have to say. With respect they are a lyrically and musically upgraded version of Gucci Mane - the same materialistic, conspicuous consumption, sex and money lifestyle sans the "trapping" and with accents that are easier to understand. The closest you'll find them to getting deep is on the Jay-Nari produced "Let U Leave," where the slightly less self-involved New Boyz talk about trying to salvage relationships so they can stay with female partners they want for the long term.
"Look, I know I'm wrong for the things I done
I passed up a couple of chances because I'm sprung
We've been together for fo' months, she pushed my buttons
Can't forgive it little daddy girl I messed up once, haha
I don't like her, she was a one nighter
If endin love was a girl, we can both fight her
Of course bro I like her, I was 'bout to wife her
If she don't let me go then yeah, I'm gon' wife her"
The charming aspect of the New Boyz is that without having to rudely say they don't give a fuck whether you like them or not, it's clear that they don't. They're young and full of cum but not necessarily dumb - in fact it's pretty clear that every part of them from apparel to appeal is carefully calculated. At times that borders dangerously on becoming mass produced and manufactured, an assembly line of teen rock hip-hop that's a younger hipper version of N*E*R*D, but for now they're doing just fine. Time will tell if these young kids can sustain their momentum.
Music Vibes: 7.5 of 10 Lyric Vibes: 6.5 of 10 TOTAL Vibes: 7 of 10
Originally posted: May 24th, 2011
source: www.RapReviews.com