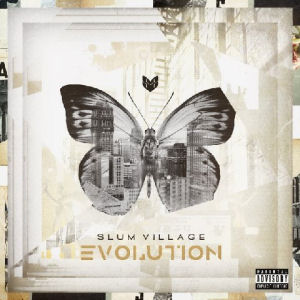 Slum Village :: Evolution
Slum Village
Author: Steve 'Flash' Juon
"Too bad you didn't believe
Told you nigz I had a trick up my sleeve - here it is
New team - new sound
Whole different flavor - take a taste, pass it around
Tastes good don't it? I'm killin my opponents
I know I'm gettin on your nerves like serotonin
Don't it? Run your mouth I hear the chit-chatter
I'm too big for small talk so y'all don't matter" - "The Line"
Practicing amateur psychology while reviewing a hip-hop album is a risky proposition. If I had to define what Slum Village is saying on "Evolution" though, the group is feeling anxiety about their hip-hop stature. On the surface that would be unnecessary given that they've been around a decade, but on closer examination 2 of the original 3 have been stricken by ailments and returned to their spiritual essence. J Dilla's ghost continues to haunt hip-hop, and while Baatin was a troubled soul whose relationship with the group was always turbulent, his role in their rise to prominence on the national scene should never be diminished.
"I know I got a angel lookin out for me
I'm God's son, protected from blasphemy
Decapitate these 'spiracies
Mad because they can't make bangers like these
Yeah - but this ain't about that" - "Bout That"
The 2013 line-up consists of original member T3, J Dilla's brother Illa J and Young RJ. This version of Slum Village has had some success with mixtapes like "Dirty Slums 2," but their release came after what was advertised and marketed as the FINAL Slum Village album in "Villa Manifesto." That album has a cohesive and unifying purpose, bringing together every person who had been part of SV at any point in the 21st century, even if posthumously. It could have been a definitive celebration of Baatin and Dilla's legacy, the last chapter in the Slum Village story, but in 2013 the group's "Evolution" continues.
"Love - I show you how to spread it
And while I live in the present they live for contraceptives
The past is gone forever and the future's unexpected
Everything you coulda wanted - all it took was some effort
Then it all seemed divine, the way it disconnected
Everything falls in line, like pieces into Tetris
I'm much more than my physical..." - "How It Feel"
The latest Slum Village album is self-funded, and they are looking for pledges like public broadcasting. If anything could contribute to insecurity, it's having a whole album ALREADY recorded, and not even know if you'll have the money to release it. As of this writing they have 26 days to go and have only reached 1% of their funding goal - though it should be noted in fairness that reviews like these will raise the profile of their pledge drive. I have a feeling they'll make it. There are quality guest appearances on this new album - Havoc of Mobb Deep fame appears on "Braveheart," underground California rap favorite Blu is on "Let it Go," and so on. Production by T3, Young RJ and Focus... is head-nodding. The tribal rhythm and funky bass of "Scared Money" wins, "Greatness" is a deep car thumping beat, and "One Night" has that 1990's inspired sexy hip-hop jazz sound that makes you think the late Dilla had a hand in it.
The question then is why Slum Village feels so hesitant to proclaim their album and make it known that despite rumors to the contrary, SV is still alive and kicking in 2013. Perhaps there's a little guilt running through their veins that deep down they're not the same as the group that made "Fantastic Vol. 2," one of hip-hop's most debated albums (I don't even agree with our own review of it). And as I've noted myself in reviews every February for years, a lot of people seem desperate to cash in on Dilla, since his name still carries weight years after his departure from this Earth. If I had to hazard a guess though, I don't think he'd be mad at his brother for stepping in his shoes, and Illa already proved himself a capable emcee on his solo album. They need to give up the ghost and embrace what they are with pride. "Evolution" may not be a cutting edge advancement of hip-hop, but it's no embarrassment to Baatin and Dilla's legacy either. It's a solid album you wouldn't be ashamed to pledge a few dollars toward for a copy. They've evolved enough they can stride with pride and celebrate the past while leaving it behind.
Music Vibes: 7 of 10 Lyric Vibes: 7 of 10 TOTAL Vibes: 7 of 10
Originally posted: May 28th, 2013
source: www.RapReviews.com