"Come one, come all, we about to get hectic"
(Sadat X, "All For One," One For All, '90)
A few years ago site writer Matt Jost wrote up a review of the Azeem album "Show Business." If you rated the difficulty of this task on a 1-10 scale he'd have easily hit 15. Almost three years after the review was published information about Azeem is still incredibly hard to find. Even if you do a Wikipedia search you get a redirect to a shitty Kevin Costner movie. Repeated tries bring you to a page tagged as being an advertisement that I'm not sure existed back then. Nevertheless Jost's review impressed the hell out of me because he dug deep and fleshed out Azeem's musical history, which included stints in Telefunken and Spearhead as he gradually reinvented himself and moved from spoken word poetry to full time hip-hop artist – Azeem turned out to be a rather remarkable man. While Jost's score of straight 7's might not have indicated "Show Business" was a must have, it was certainly one of the better and more interesting albums you could cop in 2004.
I was unprepared for the surprise of running across Azeem's name again. I thought he has been swallowed up by an unfair whale of pop culture obscurity, but like Jonah the rapper rose again – in three years instead of three days but I couldn't resist the analogy anyway. Zeph & Azeem's "Rise Up" has a glossy cardboard cover with a thin veneer of shrinkwrap over it that glinted in the dim sunlight coming through the window of my favorite mom & pop record store. A sticker informing me of the "special sale price" caught my eye, and the cover intrigued me more.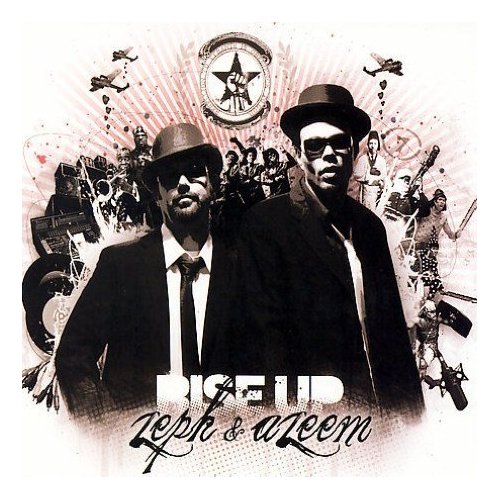 It was as though the Blues Brothers had met the Mau Mau Rhythm Collective. I thought back to Matt's review and without hesitating decided the "special sale price" would turn out to be money well spent. In one of those curious cases of art imitating life, reviews imitating art and life imitating reviews the song "Come One Come All" was the first track I played. The Brand Nubian sample quickly drew me in and when I looked at Matt's review he had opened with a Sadat X quote. Not just any quote mind you – a quote drawn from his cameo on A Tribe Called Quest's "Show Business" – the same song that gave hip-hop magazine 4080 it's name. "Come One Come All" is equally quotable and only made my analogy that Azeem rose up from the depths more apt:
"Question – when's the last time you touched essence?
Reflected; three minutes and some seconds
Who are these rap cats you reppin?
Start and they flat – when's the last time you checked it?
Me I'm gon' switch yo' poetic perspective
Grim the pen brim to electric chair Texas
Then get touched up like perms for profession
Permanent damage, don't dance to my records
Have sex and more babies, bold young and restless
Protest mine, cause I hold a death sentence
Resurrect epics as star suns and crescents
Sevens with circles broken into four sections
Yeah, that's ahead of most heads that don't listen
Mafia children, alive with tradition
Fingers have vision, every song's scripture
They're simply a seance but not ghostwritten
Ahh! Azeem Azeel man listen
Kick it with strippers and thieves like the first Christians"
Well there you go – Azeem is nice like Jesus Christ. When you remember that the word "bible" means book of stories, the best scriptures were definitely those about the honesty, integrity, and love of humanity Christ had for all nice and small; men of money simply could not corrupt him. It's good to know in these days and times that there are a few record labels and people that don't follow industry rule number 4080, because I can't think of a single shady thing to say about Azeem's former label Sunset Scavenger" in 2004 which stated the up-and-coming producer was "a diligent and cultured composer who has a natural ear for music." That description could not suit his work on "Rise Up" better. The title and opening track of the album is 25 years of hip-hop production in one shot ranging in influences from Afrika Bambaata to DJ Premier to Rick Rock. The song is sinfully symphonic, heavy with bass, infused with reggae riddims and laced with can't miss lyrics:
"So every song's another brick cemented in thickness
Well check it out – you don't believe it you can bear witness
Addicted to love, my second life addiction to smoke
Then came the hungries, honey women, and the microphones
Stab it and jab it, make the best of bad habits
Pattern upon a mic; I kill a beat and then just laugh at it (ha ha, ha ha)"
Then when you think you've got Zeph's steelo completely figured out he flips to straight up techno-electrical shit that proves he and Azeem are truly "Ten Steps Ahead":
"They might walk on water, but can't do this
Feed the people two fishes and can't do this
Give a blind man fish and make a dancehall sweat
It's more than just music, it's electric sex! Mon
Grew up in Jersey but, Oakland I live in on"
This team is truly thinking ahead of the curve in ways I haven't heard since Styles of Beyond dropped "2000 Fold" back in 1999. It's probably not a coincidence that all of these artists hail from the California music scene, a place where Azeem's crazy lyrical ideas and Zeph's musical menagerie are not derided by holier than though crunk purists, self-hating gangsters and elitist backpack thugs. Whatever Zeph & Azeem think of to do, they just do it. If it's time to rock like Black Eyed Peas, they'll do "That Type of Music" with some salsafied hip-hop. If they feel the need to get heavy on some hard rocking "freak the beat, reach the peak" guitars well "Here Come the Judge." If it's "Time to Wake Up" on a smooth Carribean groove well call in Joyo Velarde and Tony Moses for cameos, then get an all star band including Seth Theodore and Balboa Becker to create the groove. "Play the Drum" freaks you out by opening with an accordion and then switching up to a chorus that sounds like a nursery rhyme, then comes down with some of Azeem's most braggadocious rhymes that "ain't lyrics [they're] just my notebook dreaming."
By the time the rasta who you hear throughout the album makes the "Last Call" you're not ready to quit, so thankfully the most spacy futuristic track of the entire album hits after it with "One Moor Time." This is some straight up Quannum Projects type shit and again it's no coincidence that this vibe comes from people who are coolin' in California. There's clearly something in the water and the air there that inspires mindbending hip-hop creativity, with the kind of lyrical twisting that only a former spoken word poet could come up with:
"We could make boxcutters spit out your speakers
But choose to use minds as museums
Pictures and paints with no canvas, no brushes or easels
and easily spit masterpieces on people
But this is not negative nor braggadocious
So just take the picture dawg! Stop all that posin
I'm focused, you late, from here to Las Vegas
Rappers backstage be like 'Zu you my favorite!'"
Give Zeph & Azeem a try and I guarantee they'll be one of your favorites too. Come one, come all, it's time to get hectic.