Homeboy Sandman is the most buzzed about emcee in all of NYC. His unique rhyme style and high energy live shows are two of the big reasons why. You don't have to take our word or it, though, just check out all the accolades the six foot five half Dominican / half Puerto Rican Queens native has been racking up. He was just named the best Hip-Hop act in NYC by the New York Press. He's been featured in The Source's Unsigned Hype column. He's in the current issue of Beyond Race, and he just won round eight of loud.com's emcee competition. This week RapReviews sat down with Homeboy Sandman, who is also a member of the famed AOK Collective, to find out more about his music, all the YouTube videos he stars in, and all the years of hard work and effort it's taken to become an overnight success.
---
Adam Bernard: Start me off by telling everyone about this Loud.com competition you're in.
Homeboy Sandman: It's a good competition, right? I threw a couple joints on there, "Eyes On Vinyl" and "Verbal Soul Clap Mania." You gotta have all original beats, which is good, and the whole Loud community gets involved. There's a whole bunch of discussion, people vote. They're looking for creativity, good sound, uniqueness, originality… a bunch of words that mean similar things. It's a real good networking platform and the competition itself is a great opportunity for whoever wins; you get a single deal with Loud, which is great, and in addition to that you also get a hundred grand, which could be real useful, as well. Just winning a round has already been good publicity for me. Obviously we haven't met the goal yet, but so far so good.
AB: With online competitions the feedback is instantaneous, but also completely anonymous as anyone can hide behind a screen name. What are your feelings on this aspect of things?
HS: One thing I think is cool about the Loud thing is everybody kind of needs each other. When you have things posted in other places on the internet there appears to be a subgenre of people that log on just to not spread goodwill, some people get a kick out of it, I don't really mind, it's not a big deal, but I've found with this Loud thing people are more supportive of one another, maybe it's because they want you to vote for them so they're not going to say I think your ish is wack, by the way check my ish out and vote for me. It is kind of refreshing. I don't get too much into the message boards. I never really understood when the ballplayers were like "I don't read the papers," but I'm kinda startin to understand about that a little bit, so it's kind of refreshing to have so much immediate positive feedback.
AB: Obviously this hasn't been your only form of promotion as you've been featured in The Source's Unsigned Hype column and you're in the current issue of Beyond Race Magazine.
HS: Yes, Beyond Race just came out. I'm in there. I got an 8.4 for my latest album, Actual Factual Pterodactyl, and that's dope, and there's also a little feature on me. My whole AOK team is on the front page OkayPlayer right now. We just got a 90 on OkayPlayer on our mixtape review. We're all over the internet in terms of the big blogs and last month the New York Press named me the best Hip-Hop act in New York City for 2008, which is great because that's something that doesn't run out for a couple more months.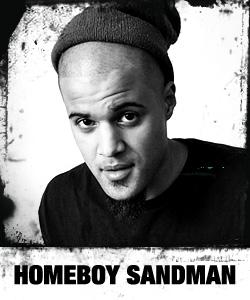 "For buzz all you need to do is be in people's faces."
AB: For emcees who might think this is an overnight thing, explain a little bit how generating this kind of buzz works.
HS: For buzz all you need to do is be in people's faces, but if you want to have buzz and rise to the top you gotta also be dope. Everybody thinks it's some magical thing, but really all you have to do is those two things; be dope, that's the most important thing, and somehow get in everybody's face. You can get in everybody's face physically at shows. You can get in everybody's face online. You can get in everybody's face in magazines. The way I really did it was doing a whole bunch of shows, going to all open mics and letting em now how nice I am.
As far as physical stuff, have something physical. I was never too big on giving it away even though I do have a free mixtape for download on HomeboySandman.com, but that's digitally. I'm all about doing shows, though. I'll rock a mic anywhere. I'll rock a mic in the middle of the street. I'll rock a mic in a supermarket. And always come correct, always come dope, because then people start talking and they start saying "I've seen this cat's show" and then they listen to the CD and they say "this is dope" and they talk to people.
AB: Last year you released Nourishment and Nourishment Second Helpings. This year you released Actual Factual Pterodactyl. How would you describe these albums to people who aren't familiar with your work?
HS: I like to describe my music as Hip-Hop where the flows are so dope that it would be dope even if I didn't have lyrics and where the lyrics are so dope that it would be dope even if I didn't have flows. It's real pleasing to the ear, but then once you start to dig into it and you start to say "what is this guy saying," you're uncovering layers of stuff. Every time you go back you're like oh wow. There are intricate rhyme patterns. It's impressive music. Most people are not music people. Even though everybody listens to music and people talk about celebrities, people are more interested in the celebrity aspect of things. If tomorrow construction workers were to turn into celebrities everybody would be talking about construction workers. There are only a small percentage of people who are music people that need music to live and to breathe. So for most people they listen to it and they're not really getting that far into it, they just want kind of a surface level sound, and this music has that, it has that mass appeal where when you just hear it without delving into it it stimulates your happiness and gets your juices going, but what it also has is, for the purest that wants to dig deep into it, they're gonna be satisfied with the girth of it. It's very full. It's very hearty.
The albums are different, though. The first album, I would say it's a fantastic album, but it doesn't show my range the same way Actual Factual Pterodactyl does and I guess that's maybe because I'm progressing and evolving as an emcee. I have some fast stuff, some slow stuff, some mid-range stuff, some stuff that sounds outer space, some stuff that sounds street, all these different sounds. They both have prolific storytelling on them. They both have flows that you'd never heard before. They both have a wide range of flows throughout em. With a lot of rap and Hip-Hop today, if everybody's voice was the same you wouldn't be able to tell anybody apart. It's not that way with me. You hear a flow and you say "is this a Homeboy Sandman flow?" You can't tell right off the bat because it doesn't sound like another one of my flows, but you'll say "this is so crazy I'll bet that's probably a Boy Sand flow."
AB: You are a force on YouTube, with over 130 clips coming up when one searches your name, including your nearly 10 minute true freestyle in the J Records offices. When did you start utilizing YouTube and how have you seen it work as a positive aspect for your career?
HS: I started putting stuff up on YouTube when I had my first show in March of 2007 and I'm a live show guy. The live show is the crux of everything before cassette tapes, CDs, MP3s, before microphones, there was the live show, there was just the one Neanderthal dude and he was banging rocks together and just holding it down and the other Neanderthals were entertained. Before transmitting things over the television and internet waves, the live show is where it all started. That's always been something that's on my mind. If you look, I don't have a music video, even though I'm working on that, but all my videos are either live performances, or things we wound up putting online. I also have "Live From," which has really picked up steam. This is my live show series that I do at a lot of the shows I do because I'm always rockin with the elite emcees of the world, so I take people backstage and show them a bit of the concert.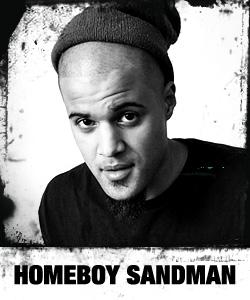 "We're up there eight deep, all nice. We got men, we got women."
AB: You grab everyone's attention by starting your shows off with "Verbal Soul Clap Mania," a song where you rhyme off of only the clapping of your own hands. How and when did you figure out that would be your lead off song?
HS: "Verbal Soul Clap Mania" makes a fantastic lead off song and I realized that very early on because when I first started rippin mics I was brand new, but I never wanted to confused with anybody else, I always wanted to stand completely out. With "Soul Clap" I'm clapping my hands to make the beat, so if anything else cats are like "what is that cat even doing?" I did amateur night at The Apollo last month and I did "Soul Clap" because at The Apollo they eat rappers up and they don't even give em a chance to spit. I don't believe I've ever seen a rapper make it through, but when you hit em with the "Soul Clap" it's something new from the jump, so then they're willing to listen to the lyrics and you've already kind of separated yourself. Unfortunately, people associate Hip-Hop with wackness because a lot of it is wack, so you gotta hit em something new off jump, so they can tell you're not wack.
AB: In addition to your solo performances you also roll with a crew known as the AOK Collective, which features you, Fresh Daily, P.Casso, 8th W1, Nola Darling and 2 Hungry Bros. Why do you feel people are saying you're the force that's going to take over New York City's Hip-Hop scene?
HS: Because they haven't seen anything like us in how long? We're up there eight deep, all nice. We got men, we got women. We got tall, we got short. We got cats that dress to the nines and cats that wear sweatpants, but we're all nice. We also all stand on our own. 8thW1 is from outer space. Fresh Daily is a fashion guru, 80's Hip-Hop Super Nintendo wizard. P.Casso is just a virtuoso of music. Nola Darling are super lyrical, dripping with appeal. Homeboy Sandman is obviously an oddball himself. 2 Hungry Bros got beats for days. We're all different. Think about Wu. Fresh always says, and he's right, that we're more of a Native Tongues than a Wu-Tang because we all do stand on our own first and foremost. I'm saying cats haven't seen anything like this in a while, but they really have never seen anything quite like us.
AB: Finally, when can people outside of NYC expect to see you live?
HS: We are in talks right now for a short tour in the Midwest in December, but I'm not the type to talk about the girl before I bag her. We got shows in Philly, DC and Massachusetts this month, so we're starting to leak into the surrounding vicinity. I can't wait to go worldwide, but I CAN wait to go worldwide. Most people in New York still have never heard of me. I want everybody in New York to know what's going down and THEN I want to spread that to everywhere else, but I still feel like there's a lot of work to be done in New York. I have a three week out of New York time limit, but we'll be to you soon. Go set up a show. Give me a call. Everything's at HomeboySandman.com.