Who is Slum Village in 2010? It's not a question one asks lightly given two-thirds of the group as it was formed in the 1990's is no longer with us in the physical essence. J Dilla passed on in 2006 and Baatin left his body behind in 2009, leaving T3 the only true and living member of the original crew. Open and shut case – there's no group any more – T3 is just using the name since he's the last survivor but it's a solo release. Well, no. As other writershave noted on this website, the lineup of SV was fairly fluid well before two of the founders met an untimely demise. Elzhi was brought into the group in 2002 when Dilla left to pursue a solo career, while Baatin was an on-and-off member throughout the last decade due to mental health problems. While only one-third of the original lineup is still alive, Elzhi has enough tenure with SV to credibly release an album together under the name should they so choose – and they have.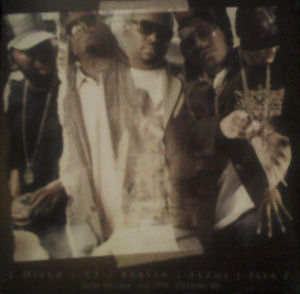 That's not the whole story though. "Villa Manifesto" is not simply T3 and Elzhi working together to keep the Slum Village name and legacy alive, it's the seemingly impossible REUNION of the entire SV lineup. A look at the artwork inside this new CD reveals a five man crew that even includes Dilla's younger brother Illa J. The press release that accompanies this album refers to a fantastic foursome that doesn't include Dilla Jr. but there he is anyway, confirming the stories and interviews that named him as a group member dating back to 2008.
It's a slightly mind-blowing idea that past, present and even FUTURE Slum Village members could collaborate on one album; the precedent is there though as hip-hop has pulled off seemingly impossible resurrections before. Name the deceased rapper and the odds are you can also name at least one posthumous album – not just superstars like Biggie and 'Pac but rappers like Big L who were on the verge of being mega-large before being gunned down. As long as you laid down vocals on tape at some point before death, a producer can put it to a beat while an opportunistic record label can put in into stores. Now the trick here is that Dilla's passing has already been celebrated with an unyielding assortment of posthumous releases, putting nearly every beat or rhyme he crafted out to the masses already.
Nevertheless Dilla's spirit still works its way directly into the album in the form of instrumental backdrops for "Lock it Down" and "We'll Show You." Indirectly it's there regardless as Young RJ a/k/a RJ Rice has always fashioned his production for SV by following in Dilla's large Detroit boot print. Therefore it seems wholly natural and not like a clumsily glued together pastiche listening to tracks like "Scheming," when Dilla can be heard on the opening verse, only to be joined with Pos from De La Soul and Phife Dawg from A Tribe Called Quest. Other producers could have botched this posthumous collaboration but RJ makes it sound like everybody met on a spiritual plane and there just happened to be a mic nearby. His tasteful production is the glue that holds "Villa Manifesto" together, from the snap and clap of "Earl Flinn," to the layered production of the crossover single "Faster" with Colin Munroe, to super collaborations like "The Reunion Pt. 2" featuring Little Brother. T3 owes him big time.
That's not to say other producers don't get a bite of this fruit – as Hi-Tek leaves his teeth on "The Set Up" and Mr. Porter contributes one of the best imitations of a Dilla beat possible on the silky smooth "Don't Fight the Feeling" featuring Dwele. The bottom line on "Villa Manifesto" should be that despite the overwhelming odds against it, this is not only an authentic Slum Village album it's actually one of the BEST albums in their entire catalogue. Perhaps that's because nobody producing what could arguably be the last chance to bring everybody together in one place at one time wanted to fuck it up. Perhaps that's because at only 13 tracks long there's not enough time for (no offense brothers) sometimes unimpressive performances of Baatin or T3 to drag the overall average down after an entire CD. Perhaps it's simply the right place and time to get that old SV feel back, the one that had the underground so hyped back when "Fantastic Vol. 1" was so heavily bootlegged in the 1990's. It only took 15 years for them to come full circle back to greatness, but here they'll go out on a high note.
Slum Village :: Villa Manifesto