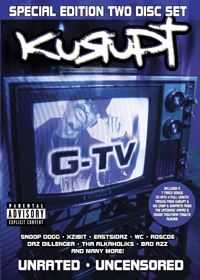 Kurupt :: G-TV

Video: Fortress DVD
Author: Steve 'Flash' Juon


Kurupt's release "G-TV" is the latest in a series of hip-hop docu-drama films released by the up and coming Fortress Entertainment Group. Previous releases on DVD have included Tha Alkaholiks "X.O. the Movie Experience" and the superb Xzibit DVD "Restless Xposed." It's a welcome sign both for hip-hop in general and fans of the West coast in particular to see one company so specialized and focused in bringing out artist films that show a side you DON'T see just from music videos or read in magazine interviews.
"G-TV" is no exception to the rule in this regard, and continues the Fortress Entertainment standard of excellence of bringing you the behind the scenes look at the lives of hip-hop's most popular MC's. These are "Behind the Music" movies without the interruptions of the narrator - Kurupt tells his story in his own words. Fifteen minutes into the film you've already seen a live performance, heard him tell a story about the first time he smoked weed, and listened to him rap about spots he grew up being around in L.A.: Compton, Long Beach, and Inglewood among others.
It's worth noting that the description "Unrated * Uncensored" on the front of the box is NOT a joke or a promotional device. The 'G' in "G-TV" does not mean "general audiences" like a Hollywood movie, it means "gangsta audiences" like the ages eighteen and up. None of the language or behavior involved will affont a mature aged hip-hop audience well familiar with cursing, smoking, and sexual lasciviousness, but an unknowing parent might be less than happy if her twelve-year-old son rented or somehow managed to PURCHASE this DVD. Parental discretion in this case is MANDATED.
There are plenty of highlights throughout this release. Kurupt's homey Roscoe gets into a live freestyle battle halfway through which nearly dissolves into a brawl when both rappers start freestyling at the same time. It's also either comedic or embarassing to see middle class white suburbanites throwing up gang signs and claiming DPG's in chapters of the video simply called "Missouri" and "Fanz in Missouri." Homemade videos like "That's Gangsta Shit" and "Represent" featuring Snoop Dogg appear throughout. Clips shown with the song "C-Walkin Cha Cha Cha" would serve as an instructional video in doing the dance if you didn't already know it - just watch who you do it in front of potnah!
Unlike the previous Fortress Entertainment video for Xzibit though, there are no actual music videos by the featured artist seen on BET or MTV included within the compilation. Hold up though! Before you trip on that, you should realize this DVD is a DOUBLE DISC release. If you purchase the DVD, you get a bonus disc of all new Kurupt music including the song "Now Wut" by Kurupt and Roscoe featured in the movie, as well as snippets by several new artists like Vapirz and Skyz Da Limit. The music is the typical G-Funk bounce you're probably already familiar with as a Kurupt fan, so this extra disc is a very nice inclusion.
On the whole, this disc is a superlative collection of materials by and about Kurupt, a pioneering West coast MC who along with his Dogg Pound affiliates Daz Dillinger and Snoop Dogg reinvented the entire sound of L.A. rap in the 90's. If you were already a fan of the DPG's this movie/video would be a must-have. If you're not but you still like West coast hip-hop, it would not be a mistake to rent and watch this album - but you won't get the disc of bonus music that's yours to keep if you do. Even if you're only looking for a DVD about hip-hop music and artists in general from a fresh uncensored and raw look at the life of a gangsta, "G-TV" should be on your wishlist.
Content: 8 of 10 Fun Factor: 8 of 10 TOTAL Vibes: 8 of 10
Originally posted: February 26, 2002
source: www.RapReviews.com