Bun B :: II Trill
:: Asylum/Rap-A-Lot Records
as reviewed by Steve 'Flash' Juon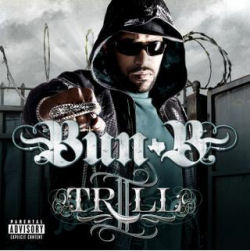 Before anything else is said R.I.P. to the late great Pimp C. From December 29th, 1973 through December 4th, 2007, Mr. Chad Butler was "II Trill" for hip-hop. With every Bun B solo album from now until the end we'll miss your presence in the physical, but your essence in spirit will be preserved on every song.
Bernard Freeman has little choice but to go on rapping and hustling. Sadly he had already gotten used to having to flow solo during the long period of time Pimp C was incarcerated, but the silver lining in that cloud is that "Trill" permanently established Bun B not just as one of the South's most popular MC's but as one of the top talents in all of hip-hop music. From the surprising crossover success of "Get Throwed" to the anthemic underground cuts like "Trill Recognize Trill" and "Draped Up" the album represented the long legacy of U.G.K. while simultaneously ensuring that the deep-voiced Port Arthur, Texas drawl of B would forever be widely imitated but never ably duplicated. It was a star-making turn that elevated B to iconic status. Bun B fits perfectly into the list of artists that Eightball mentions on the "II Trill" song "You're Everything":
"Let's talk about Pimp C, Bun B, Eightball, MJG
Big Boi, Dre 3000, Scarface, Willie D
T.I.P., Young Jeezy, Birdman, Lil Weezy
Trick Daddy, Young Buck, SoSoDef, Jermaine Dupri"
This track doesn't exist simply to acknowledge the legends of the South though - it's an all-star affair including David Banner, Rick Ross and MJG rolling with Bun B over a rumbling slow-crawling bass that's laced with Jodeci samples from "Cry For You." It's damn near criminal when the song ends at 4:36, because what Mr. Lee put together here would have been just as good twice as long. Expect this song to get Screwed & Chopped a lot, and expect multiple versions with even more guests artists on it (official or not). Then again there's no shortage of stellar material on the 18 track long "II Trill." Actually the album is 20 deep if you pick up the Best Buy version which includes "City of the Swang" featuring Mike Jones & Slim Thug and "Some Hoes" with the unlikely but amazing line-up of Bulletproof, CHINO XL and Killer Mike as guests. It's exactly those sort of surprises that shock and awe even on the regular edition, such as hearing one of my all-time favorite producers Chops shut it down with a beat for "Damn I'm Cold," a track so funky Lil Wayne was INSPIRED TO CROON as well as rap. That's ill as hell, but not near as ill as the verse Bun spits on the track. Even when talking some of rap's best braggadociousness he still takes time to tribute his comrade:
"See when I got that slab money I put the Rivvy on blades
When I got that 'llac money I candied the Escalade
Got that Screw in my deck, a house or two on my neck
A couple cars on my wrist, and bitch I'm ready to wreck
We 'bout to do this for Pimp C, so pass me a bottle
I'm 'bout to pop the top on it like a slab or a model
Turn it upside down then po' it out for my lil' bro
Then pass me another one so I can po' out a lil' mo'"
Bun is accompanied throughout "II Trill" by an outstanding line-up of guest producers and artists but much like the predecessor "Trill" Bun's gravelly flow and real talk rap ensure that he simply can't be overshadowed no matter how thick things get. Scott Storch bangs it out so hard on the keys you'd think he was Dr. Dre, but it's Bernad's verse that ensures "I Luv That" song. You can "Pop it 4 Pimp" with Webbie and Juvenile paying tribute on the 808s, but without Bun B even the "Back That Azz Up" samples would fall flat. Mya lends her dulcet tones to the surefire crossover song "Good II Me" (and yes if you're thinking Silkk the Shocker you're on the right track) but you've still got to "keep it one hundred with a player" like Bun B for it to work. Can Lupe Fiasco outshine B on "Swang On 'Em?" Nope. Will Southern luminary Chamillionaire knock B out the box on "Underground Thang?" Don't even think about it. If you have any doubts then turn your attention to the J.R. Rotem produced "That's Gangsta" featuring Sean Kingston, an incredibly strong song even on an album full of incredibly strong tracks, with B laying it down real flat for those who still don't get why he and Pimp C put Port Arthur on the map:
"Mayne I'm a gangsta, G-A-N-G-S-T-A mayne
A gangsta, the best to come up out of PA, mayne
A gangsta, seldom seen, but always heard
A REAL gangsta, more than just a seven-letter word (fo' real!)
A gangsta ain't cha clothes (clothes), a gangsta ain't cha hat (hat)
Your watch, rang, and chain - naw, a gangsta ain't that! (at all!)
A gangsta can have that, but he ain't gotta show it (why?)
cause with or without it he's still a gangsta and you know it
From my head to my toe wit it, it ain't hard to see
that I'm a gangsta, ain't too many as hard as me
You claimin G, but you ain't gangsta jack
So tell all them fake gangstas
I'm comin to take gangsta back - now that's gangsta!"
That's fo' DAMN sure. There comes a time in any artist's career when you simply have to step back and pay homage to greatness. With "II Trill" Bun B's ensured the legacy of U.G.K. will exist for decades to come, but more importantly he's created the album that every hip-hop head from North to South with have rattling out of their trunk all summer long.
Music Vibes: 9 of 10 Lyric Vibes: 9 of 10 TOTAL Vibes: 9 of 10
Originally posted: May 20, 2008
source: www.RapReviews.com