Dillz & Diwon :: Bonna Rhymes :: Shemspeed Records
as reviewed by Steve 'Flash' Juon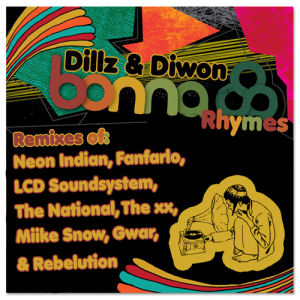 The Bonnaroo Music Festival has already received some ink in the past on RapReviews, and it's about to get some more too, although this time it's coming from an unlikely source. Since Shemspeed Records affiliates Diwon and Kosha Dillz were unable to make it to Bonnaroo in 2010 due to their other commitments (or because they were accidentally overlooked for an invitation to perform) they decided to create their own tribute to the festival in the form of "Bonna Rhymes." While Mr. Beverly Dillz provides the raps, Diwon remakes songs from past Bonnaroo performers by juggling beats and hooks, turning non-rap songs into hip-hop reinterpretations. 2010 Bonnaroo participant Miike Snow is included with a new take on "Animals," 2009 participant Cage the Elephant is featured on a revisit of "No Rest for the Wicked," and so on and so forth with 9 artists ranging from GWAR to Neon Indian. Since "No Rest for the Wicked" was a pseudo-rap to begin with, it lends itself to this new take better than most:
"My world got money that grows on trees
Mind expand on beats, see planet brain damaged
Ten can kickoff classic, so Brooklyn, moved to Jersey
So Jersey, pumped my fist in New York, Giants jersey
Listen to Journey, boardwalk piece, I hold the pepperoni
Garlic parmesan don, no phony
MTV, video legit you cellular phony
Cage me with Elephants, I'm Indiana Jonesy"
Kosha Dillz kicks a stream-of-consciousness rap until the stream runs out of water, then he lets Cage the Elephant sing the hook, and he comes back for another non-stop rambling verse. It's true that Diwon and Dillz managed to fatten this one into a more electronic hip-hop funk style jam, but I still prefer Cage's original over their tribute to it. I suspect fans of Fanfarlo's "Luna" may feel the same way, as the English pop band founded by a Swedish musician suddenly sounds like no parts of either - and Dillz is trying to do an accent that's either Jamaican or Brixton that's ALSO no parts of either. If you were to ask GWAR they would probably declare that "this is no life for a GOD" after hearing Diwon and Dillz take on "Lust in Space." It's not heavy, it's not metal, and it's other than a couple of lines like "blood everywhere, no one even really cares" it's not even brutal. Dethklok would dump about 20 hot pots of Duncan Hills Coffee on their heads for this travesty.
Alright arguably the point is that these songs shouldn't sound like their predecessors, or there wouldn't be much point in Diwon and Dillz releasing this downloadable Bonnaroo tribute. That leaves an uncomfortable question though - who exactly is this free release for? Most of the fans of the artists aren't going to enjoy these remakes, and aside from Cage the Elephant and their take on Rebelution's "Safe & Sound" (which doesn't feature any weird accents from Dillz, but given this reggae band is from Santa Barbara his normal rap's a good choice) I'm not digging it either as a hip-hop head. I do feel that Kosha Dillz is an artist with some promise and a chance to promote something that's not often seen in rap (strong Jewish heritage) but he should stick to doing that instead of these covers that mangle good music.
Music Vibes: 4 of 10 Lyric Vibes: 4 of 10 TOTAL Vibes: 4 of 10
Originally posted: July 6, 2010
source: www.RapReviews.com