Bloody Monk Consortium :: Burden of Truth EP :: Bandcamp
as reviewed by Steve 'Flash' Juon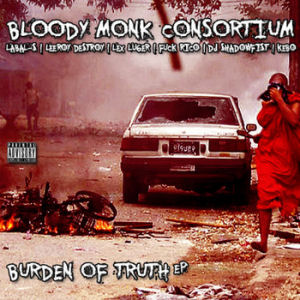 The ever-growing Bloody Monk Consortium currently consists (but is not limited to) the following affiliates: rappers Leeroy Destroy and LABAL-S, producers Lex Luger, FuckRICO and DJ ShadowFist, and graffiti writer Kebo. It's quite the eclectic crew geographically, representing both coasts of the United States musically, while representing artists from as far away as Slovenia in ShadowFist's case. What could bring such a widely dispersed array of hip-hoppers together for one common cause? Well in the words of their own bio it's to create the sound found on the "Burden of Truth" EP, which is "utterly raw with explosively charged defiant combative rhyme sequences over dark brooding forceful beats" with a braggart's claim that "their tenacious and relentless approach to verbally assault the sharpest of tracks is cleverly laced with grimey, brutal, horrific yet witty wordplay."
B.M.C. live up to more of their bio than most self-written and distributed hip-hop artists do, but there's a catch: part of the reason that the "Burden of Truth" EP works so successfully is because it's clear who they are derivative of. Grab your BlendTec and throw the following compact discs inside - Ill Bill's "The Hour of Reprisal," Vinnie Paz' "Season of the Assassin" and the Clan's "Enter the Wu-Tang." Push the frappe button. WILL IT BLEND? Angry underground backpack smoke - don't breathe this! Take that pile of ashes and melt it into plastic, shape it into a compact disc, and stick it in your stereo of choice. That's what we have here. Destroy and LABAL do their best to one-up each other in their imitation of the grimiest indie rapper in hip-hop. D comes closer to Goretex, while LABAL is the proof that Vinnie and R.A. the Rugged Man were both adopted children - he's clearly the brother from another mother neither knew that they had.
Being so obviously derivative could and should be detrimental to most hip-hop acts out there, but the Bloody Monk Consortium largely manage to get away with it on this six song EP. The album starts out so strongly on the Niko 'La' Tesla produced "Deadly Darts" you can forgive them for being carbon copies, as the whistling Asian beat and heavy pianos are met by a crispy drum beat, pounding bass and swift scratching by ShadowFist. LABAL sounds like he might hock up a loogie on the microphone at any second, and I'm fine with that. "Disciples of Death" continue their fascination with the East, as the rap opens with the bang of a gong and FuckRICO gives them a sinister ivory melody one would expect to hear RZA or some of his Digital Disciples flowing over. It's even more telling that the following track is called "Wang Chung" and features a haunting shakuhachi style melody AND direct snippets of Jeru the Damaja, GZA and Method Man. "Rising Sun" puts all of the sounds and styles together at one time and even brings C-Rayz Walz in to join the bloody barrage.
Now how much props should one dole out to the B.M.C. based on this EP? Well in originality points, I'd have to give them about 0 out of 100, and yet listening to it I can honestly say I don't give a fuck. The old saying is that the greatest form of flattery is imitation, and all the rappers and producers who are imitated here should be HIGHLY flattered. I can't count the number of times I thought I was listening to a R.A. the Rugged Man or Jedi Mind Tricks track instead of B.M.C. or their EP, but if you happen to be a fan of either one then there's no reason you shouldn't download this album. If on the other hand you're not a fan or would find such shameless imitation unflattering, take a pass.
Music Vibes: 7 of 10 Lyric Vibes: 7 of 10 TOTAL Vibes: 7 of 10
Originally posted: August 24, 2010
source: www.RapReviews.com