Bizzy Bone :: Crossroads 2010
:: Sumerian Records
as reviewed by Steve 'Flash' Juon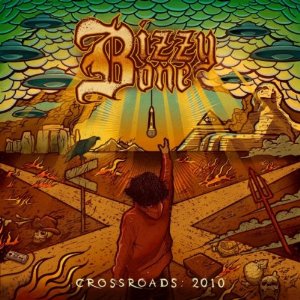 When I mentioned to a few friends that I picked up Bizzy Bone's new album for review last week, reaction was decidedly mixed. "He's still rapping?" "Bizzy Bone, really?" "Yeah Flash, good luck with that." I was honestly surprised. Since I've been listening to Bone Thugs albums for almost 20 years now and solo albums from the group's members for at least half that time, I still think of Bizzy Bone as a big name rap star. It may be that in 2010 though he's nowhere near as relevant as Cali Swag District, 3oh!3 or Soulja Boy. Bryon McCane seems to recognize that himself in titling this album "Crossroads 2010." True, the name does reference one of the biggest Bone Thugs-N-Harmony crossover songs of all time, but it may be that McCane is himself at a career crossroad as Bizzy Bone. His solo albums have received mixed reviews, while few have achieved large scale commercial success. He attempted to reunite with Bone Thugs for a new group album this year with equally lackluster results. It may just be that Bone's harmonious sound is dated and that hip-hop as a whole has passed them by, collectively and individually.
It should be noted right at the start that "Crossroads 2010" may have the strangest Bone related cover art of all time. The album shows a figure (presumably McCane) reaching up toward a microphone bathed in heavenly light for salvation, standing at what are the crossroads of his life. UFO's float in the sky on either side on this heavenly instrument - we're talking Ed Wood sci-fi D-movie level UFO's. The ground around him is littered with broken skulls and empty liquor bottles (telling). On one side of the crossroads he stands at is Stonehenge, on the other side is the Sphinx and an Egyptian pyramid with its peak replaced by the Eye of Providence. The artwork's confusing miasma of symbolism is relevant for Bizzy Bone as it seems to reflect the equally confusing "Crossroads" song choices, as if the artist tried to work each and every title into the cover visually. Yes - there IS a song called "Stonehenge." McCane speaks of biblical prophecy and personal struggle in it:
"Different obstacles, warrants for being victimized
I summarize my solutions, thinks restitution and realize
I live my life I'm on the stage presence of pain
And I'm thinkin if I had fangs, nobody would bother me
Jesus, had a plan befo' anyone ever knew me
I'm regarded as a sellout or a false friend but the truth be
I was the one who was sold out... (but)
I was born to sing these heavenly songs with soul"
If you can figure out what "Stonehenge" has to do with any of this other than the song's chorus (where he vows to keep it "stone cold right to the bone bone") you're a wiser man than I. The only religions I've ever known paired with Stonehenge are pagan ones from pre-Christian times. Of course it's not even entirely clear that Bizzy is religious - the album comes with no parental advisory sticker and features songs like "The Soul" but on said same track he raps "I get to flippin and fuckin 'em up/after that Layzie tell me shoot 'em up, shootin 'em up." Word to God? As for the issue of relevance in 2010, Bizzy Bone may not seem like a big star next to Justin Bieber, but the supposed guest stars on this CD aren't notable next to Bizzy Bone either. In fact none were even considered worthy of mention on the album's cover, though the liner notes and the iTunes sync reveal that Jonny Craig is on "Bottled Up Like Smoke," Devin Oliver is on "Cowboy" and Danny Worsnop is on "Automatic Rewind." I had to check that last name three times to make sure it wasn't a typo - that's the actual spelling.
Now despite the lack of recognizable guests, the UTTER lack of consideration from any of his fellow Bone Thugs rappers (so much for that reunion), the bizarre artwork and the equally bizarre lack of focus topically on the album, this IS a good album. That's probably not the conclusion you were expecting after reading this far, and to be honest I led you down the primrose path a bit with the opening paragraph. Rappers can still make good music long after they're considered relevant in the mainstream, much like past their prime Hollywood actors can appear in independent films and still be critically praised for their acting ability. Three things have never changed about Bryon McCane a/k/a Bizzy Bone in all these years - his unique vocal pitch, his raspy sung delivery and his smooth flow. All three can be heard on "Nintendo," and yes that's represented on the cover too (an old school NES controller). If you try to comprehend Bizzy it may be no more complicated than his "Cowboy" sentiments: "You know I like to play, and fuck, and get drunk, and smoke drugs/with the boys in the club, in the back fucked up."
Most of the album's tracks are produced or co-produced by Javier Reyes, which probably brings the most consistency to the album sans Bizzy Bone's vocal tone. Many of the songs have over-the-top screamed out hooks like an alternative rock band, but that seems to fit Bizzy perfectly at this point in his career. The staccato interruptions to the background melody of "Gangsta Music" make the song a cinematic backdrop for Bone's real life story going from childhood trauma (chronicled on America's Most Wanted) to worldwide rap superstar. "Everyone think I'm crazy/everyone think I'm drunk/I told the the world I was molested and they called me punk." I won't Bizzy, you've more than earned the right to tell the world about it. Maybe you've also earned the right to be a little bit crazy. Going from poverty to celebrity overnight can do that to people, and you've been living in the aftermath of that for 18 years. So what if he's a little nutty or a lot irrelevant - I still enjoy what Bizzy Bone does and how he does it. I don't regret buying this CD one bit.
Music Vibes: 7.5 of 10 Lyric Vibes: 6.5 of 10 TOTAL Vibes: 7 of 10
Originally posted: August 31, 2010
source: www.RapReviews.com