Double Vision :: Bifocal
:: No Sleep Records
as reviewed by Steve 'Flash' Juon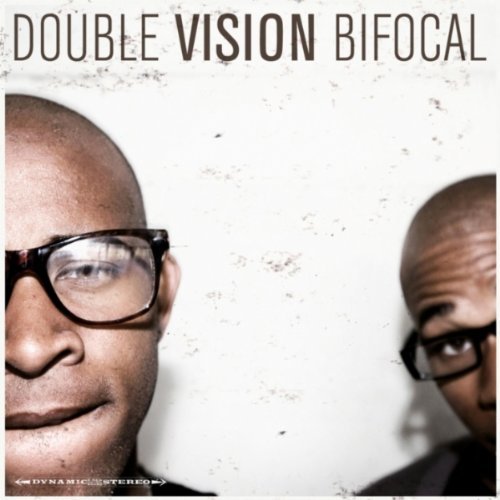 "It's D.I.Y. or D-I-E
D.I.Y. or we don't, eat"
Move over Twin Hype, hip-hop's got a brand new genetically identical duo, and judging by their opening track they're ready to D-I-E. Double Vision's rappers go by the names Mackamillion and Mr. Mackmore, but in real life they're twin brothers Jonathan and Jarred Lindsay. From their group name to their album title, they're working with double entendre, as the cover of "Bifocal" features both rappers rocking specs. You may think you're seeing double when you see them, but odds are they'll be seeing double if they look at you without them. Is this overkill in selling the gimmick for this rap group? It would be if their publicity department sent a pair of glasses in the package. I'm not kidding though - that actually happened recently. A label sent me a pair of 3D glasses to "enhance the experience" of watching their artist's music video online. My prescription is not bifocal, but it IS real, and the idea of rocking a pair of glasses OVER my glasses has always been ass. That's why you won't catch me at "Saw 3D" or "Jackass 3D" any time soon.
I'll assume Jonathan and Jarred really do need their glasses despite the fact it fits the "Bifocal" gimmick, but you won't need a prescription of any kind to see what they're working with. There's an intentional effort to be eclectic throughout their relatively short eight track album, reflecting what their bio describes as a diverse childhood that stretched from Cali to the Midwest to the Dirty South. As they moved from one locale to the next, they picked up on a different flavor at each stop along the way, while maintaining a singular fascination with rap's oratorical side described as "rhyming before they were out of their Underoos." I doubt tapes of THOSE raps would be a best-seller, but the songs of "Bifocal" are far more advanced than goo-goo and ga-ga. The Stress produced "Walk On By" is a light breezy affair that's Arrested Development meets Pigeon John:
"Baby doll get with it or get lost
I'm a young single man with the world in his hands
I want you as my girl, want you in my world
But you was never really part of the plan, and
What you see is what you get, no chain, no car
And I'm far from rich, I'm hardheaded
Try to tell me what to do and it's likely, there might be, a small glitch
Give it to you straight, no games or pitches
I don't wanna fight; I'd rather hold hands and kiss and if you like
the sensitive type, then I'm that type of guy
You want to be with me then accept me for me
I'm givin you the truth; ain't no need for me to lie"
But just when you've got the impression they're on some hippie hip-hop shit, they do a complete one-eighty and ROCK IT OUT on "For My."
"Let's get to illin
Then put yo' damn hands up and touch the fuckin ceiling
Then start a damn bar fight, get caught with a hard right
This is rock-hop non-stop so we bang as in pop-lock
This style is loud, this style is wild
It hurts you can feel it in the verse
So caught up in this thang it makes me want to crowd surf"
Fans of Lil Jon, Big B or the Kottonmouth Kings would no doubt approve of what they're working with here - lots of guitars and attitude as they "party like rock stars" throughout the track. The chameleonic rappers of Double Vision change gears though and make a track you could mistake for New Boyz on the aptly named "Skinny Jeans" - complete with minimalistic beat and fashionable rap lyrics. And that's not all as they flip the script AGAIN for the quietly soulful "Father's Day" featuring Dale 'Uncle Perk' Perkins, a thoughtful tribute to the importance of having a strong father figure in your life. Once again Double Vision show off their transitional skills, fitting smoothly into the beat which seems at times like an even mellower version of Mtume's "Juicy Fruit."
The good news is that Double Vision are good at anything they choose to do, from horny horn hip-hop funk on "Other Side" to a purely J Dilla inspired rap track on "It's You." The bad news is that they are so good at doing everything they don't quite nail down any single thing. Obviously the diversity of their heritage is quite impressive as is their ability to reflect that verbally and in the choice of beats they put down their skills on. One's ultimately left with the feeling though that if they picked just ONE of these styles and put all of their focus and concentration on it, they'd not only find their place in hip-hop but define that hip-hop sound for a new generation. The bio for their CD describes their music as "Pharcyde (meets) OutKat mixed with Gym Class Heroes" and while that's arguably true, I'd like them to ultimately be as good or better than any one of them instead of a little bit of all of them. "Bifocal" is enjoyable on the whole yet leaves you wanting the twins to find their focus.
Music Vibes: 7 of 10 Lyric Vibes: 7 of 10 TOTAL Vibes: 7 of 10
Originally posted: October 26, 2010
source: www.RapReviews.com