K Slack :: The Preincarnation
:: Keith Slack Music
as reviewed by Steve 'Flash' Juon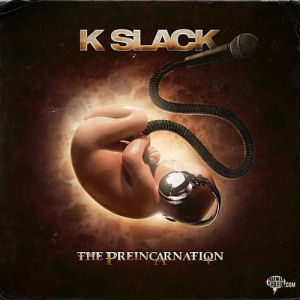 "Look you tried to give me crap, plus you labeled me a killer
[...] Gangbangin hard, terrorist to your neighborhood
Community revolution and progress I overstood
The black man ridin in the back of cop cars
Later beaten in the alley, he a rock star!
Weighin cocaine in the kitchen with his children
RICO case, so they surround the whole building
[...] Dippin it, embalmin fluid, losin my brain
Robbin my brother, baby mother, we at it a-gain"
Keith Slack doesn't follow the literal meaning of his last name. He wastes no time on "Who I Am," the introductory track of "The Preincarnation," challenging any preconceived notions about him and why he should be "the animal locked in a cage" and law enforcement should be given free reign to gun down future civil rights leaders on video tape while "justice wasn't served but we still paid the cost." It's a strong start over a methodical beat with haunting and ominous overtones, letting you know K Slack is a serious dude and he wants you to take him seriously too. Though his bio says he made his musical debut "once he moved to Durham, North Carolina" in 1995 he routinely references West coast roots and even has two songs called "Cali" and "Goin Back 2 Compton." There are 10 songs here and almost as many different producers with only K Hill pulling double duty. While most of the producers and guest rappers are probably looking to get a name if K Slack blows up, the two involved in "Strictly Facts" are already well known - Ski (of Jay-Z fame) on the beat and Inspectah Deck of Wu-Tang Clan providing vocals.
Slack: "Say you got a million dollars? You ain't countin no stacks
Say you got top producers? You ain't got no tracks!
We're here to bust the myths, only strictly facts
Strictly stats, the numbers don't lie and that's that"
Deck: "What'chu know about swag? My circle throw purple
in the air anywhere, y'all goin half on a bag
My jeans still sag, I don't rock the Ed Hardy
20, 30 grand in my hand - let's party
Diamond on my neck, love to shine that bling
Look like 4 or 5 dimes right beside the king
Big face on the strip, get your section to flip
You can wild for the night, just don't step on my kicks"
It's not unbelievable to picture Deck flossing off stacks of Wu-Tang money, though it's more likely what he's earned from Clan albums than from his often overlooked solo albums. Still I'm buying what Deck is selling here, and he and Slack make a good team over Ski's menacing beat, sounding like something Fame and Danze would be happy to scream on.
There's definitely potential on "The Preincarnation" but it's a bit of a mixed bag, where at times Slack is either going through the motions or coming dangerously close to cliche. The Centric produced "Mamacita" sounds like Fat Joe right down to the "OWWW" and his suspicious hispanic claim to be Rico Suave in the club (in 2011 nobody should be Rico Suave, not even Joey Crack). It's all good to have a song called "I Still Love Hip Hop" and proudly boast "y'all niggaz don't live this shit like I do," but that's exactly what every rapper in the underground says with just as much ernest sincerity. On the other hand, cliche does occasionally work. While the Jah Freedom produced party anthem "The Weekend" doesn't break new ground, K Slack sounds natural over the bopping bass, to the point you could picture him hopping up and down the street in a lowrider. I'm not completely sold on Keith Slack but he's far from whack. He may just need a little more time to find something that makes him more distinctive and answers his own question about "Who I Am."
Music Vibes: 6 of 10 Lyric Vibes: 6 of 10 TOTAL Vibes: 6 of 10
Originally posted: July 26th, 2011
source: www.RapReviews.com