In Good Company :: In Good Company :: Myspherical Ent./Obese Records
as reviewed by Steve 'Flash' Juon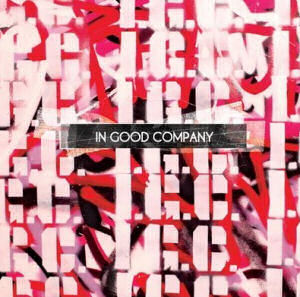 We've got to be just about due for a new Australian hip-hop review, and as the leading proponent of the field among the RR crew, I'll take it upon myself to introduce you to "In Good Company." Their album is self-titled, which makes it damn near impossible to Google search for even if their name WASN'T a very commonly spoken phrase. As for finding their album at retail? Even though it's distributed by Obese Records, I couldn't get a single entry from Amazon. Thankfully I do have two weapons I can wield in this fight for more information - a one-sheet that talks about the three man crew and a Facebook page too. Here we go!
The artists making up IGC are Syntax, Whisper and Breach. You may know the latter from the group A-Diction. All hail from the hip-hop mecca of Melbourne. This is their first album together, and came out just a few weeks ago on October 7th. Their official bio describes their assets on their first CD thusly: "Whisper's supreme production claiming the bulk of the album, his lyrical poignancy is resonant throughout, [while] Syntax with his venomous wit and fondness for sci-fi [and] Breach with his voice rich with stoic assurance and intelligence [are] an excellent example of complimentary skill." Complimentary skills can also be found from their guests though, as Ginger Van Es croons on the hook of their solid lead single "The Road," while Brooklyn indie rap fave Skyzoo guests on "Hold Your Applause":
"They sayin I'm the best, and I'm just gettin started
Can't get vexed cause they just bein honest
Label me a threat but I'm more like a promise
Fuck who is next, I'm the best, no pardon
S-K bonkers, young'un pay homage
'fore I tax it out of you, gettin it regardless
Beez who I beez, I ain't changed yet
Bannister flowin still from the same steps"
The majority of the guests on their album are fellow Aussie artists, such as Mantra on "All Part of the Plan" and Breach's partner Boltz on "Put Em Up." This keeps the flavor distinctly Australian, which is to the advantage of any albums you can classify in this genre, because for the average non-Aussie it would be entirely uninteresting to buy a hip-hop album where they try to imitate their U.S. counterparts. It's not just the vocal tone that makes In Good Company distinctive though, it's a sense of purpose that allows them to make good music and say something worthwhile at the same time, proving to skeptics with songs like "One Day" that they are NOT mutually exclusive:
"I'm constantly bombarded by the toxins that we harvest
Molded into products that are sold at the supermarket
Genetically modified food controllin the harvest
If you're poor and can't afford more then you're a target
Carcinogenic, chemicals leachin out the plastics
that we use for the packagin of what we manufacture
And what we manufacturin is a sicker society
Blinded by the riches that we are tryin to capture"
These are the kind of sentiments you might expect from Boots Riley or Chuck D, and I'm happy to see that that IGC are speaking for the 99% and not for the 1 on this album. It's not all serious though - they mockingly say "we're on some classy shit right now" before launching into "Four Finger Ring," a song which they proudly describe as a hip-hop throwback with "some of that old dusty loop type shit" - and it certainly is. "Peter Pan" is a whimsical title, but the beats and rhymes are an examination of living the hip-hop dream while skeptical mums think their boys just need to grow up. "Game Over" is an appropriately electronic ode to gamers everywhere, and might just be the only song I've heard reference both GameCube and Space Invaders in the same verse (props). There may be a hundred hip-hop songs called "The Light" by now, but the softly tapped beat and heartfelt lyrics put this track in good company with the rest (pun intended).
By now you know the typical strikes against rappers who hail from the world's only country that's also its own continent. You'll either like the accents or you won't, you'll either relate to the cultural references as a Yank who isn't hip to what's cool in AU or you won't, but the undeniable truth is that the beats and rhymes are up to par or in many cases above the average bar set by counterparts from other parts of the globe. If I may segue to say it for a second, I feel those same people who decry Aussie rap are the same ones who decades ago said they didn't want to hear women on the mic, feeling they didn't "sound right" and weren't "hard enough" compared to the men. I think the likes of MC Lyte, Queen Latifah, Jean Grae and Psalm One have long since proved otherwise. On that same note, don't front on In Good Company, because you'll be in bad company if you do.
Music Vibes: 7.5 of 10 Lyric Vibes: 7.5 of 10 TOTAL Vibes: 7.5 of 10
Originally posted: October 25th, 2011
source: www.RapReviews.com