Batsauce :: Starcrossed
:: Galapagos4
as reviewed by Steve 'Flash' Juon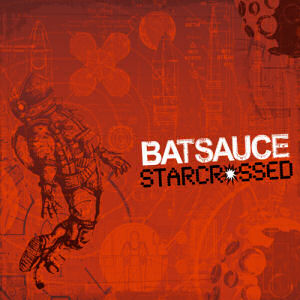 We last heard from Batsauce almost a year ago on the album "Bat Meets Blaine," but for those who missed the review or don't remember who he is, let me offer you this brief introduction. With no cape or cowl, Batsauce is the dark knight of hip-hop production, lacing Beantown emcees like Mr. Lif and Akrobatik with dope beats. Interesting given that he hails from Jacksonville, Florida. Actually he's worked with a lot of people ranging from Bahamadia to George Clinton, but as producers go he's generally one I associate with the East coast emcees, because that's where you generally find his name in the liner notes.
For "Starcrossed" Batsauce has decided to venture out on his own, going down the instrumental album path that feels increasingly familiar these days. I find myself taking a moment in the middle of this review to ponder why we don't see instrumental albums from DJ Premier and Kanye West, and then it occurs to me that anything good enough for such an album would be good enough for a top emcee or more in your rare music industry win/win where they both bank bucks off the units sold. I considered leaving that out though because it would appear I'm slighting Batsauce by saying Jay-Z wouldn't want to rap over his tracks.
Shawn Carter, I've got news for you - give Batsauce a chance. He may have a funny name, but at one time Kanye West would have seemed like a funny name to you too. Batsauce may not currently have the name validation in the mainstream of a Drumma Boy, Lil Jon, Pete Rock or Polow Da Don, but he's doing good work. Rap heads often sleep on the instrumental album because they feel that it's an incomplete work without an emcee, but these beats are good with OR without an emcee, whether Jay-Hova or Qwa-zaar. "What You Need" is a gritty mystery movie backdrop, with a lead pipe villain lurking around the corner. "Hallucinations" is airy and mysterious, floating through the air like wisps of something almost tangible. "Forward Thinking" is a piano melody from a Charlie Brown cartoon, if one had hip-hop attitude. I'm begging for Kool G. Rap or Lil' Fame to rap on "Bang Bang," and "The Unspoken Word" needs to be bumper music for [adult swim], preferably during Black Dynamite.
Producers often shine in these situations solely because they don't have to compete with an emcee for the spotlight, and because if the emcee isn't that good they don't have their beats dragged down (think Group Home rapping over DJ Premier). That being said Batsauce doesn't get praise simply off the benefits of riding solo. He's arranging songs so that these beats have natural "verses" even without a rapper to ride on them, so you get to experience the change-ups and hooks in the places they would naturally come and appreciate his deft touch. Everything is on time, layered up correctly, and the elements of bass, drum and melody mesh together perfectly. Producing is a bit like baking a cake that way - while you can experiment with the ingredients that go into it or on it to a degree, you still have to follow the recipe or it won't turn out right. Batsauce is a cake boss.
Music Vibes: 8 of 10 Lyric Vibes: n/a of 10 TOTAL Vibes: 8 of 10
Originally posted: July 24th, 2012
source: www.RapReviews.com