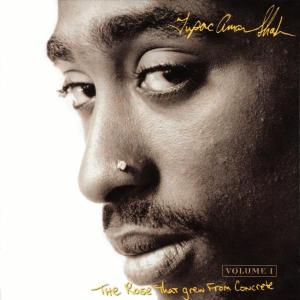 Just when you thought it was safe to close the book on your collection of Tupac Shakur tapes, CD's, cassettes and bootlegs; here comes another Tupac Shakur album – an official release through the Amaru/Interscope connection that also blessed us with the double CD "R U Still Down? (Remember Me)."
Hold up though, this isn't an album of new songs performed by Tupac Shakur; this is an album of new songs WRITTEN by Tupac Shakur. The lyrics to these songs come from his posthumous book of poetry of the same name, and the songs are performed by a variety of spoken word poets and hip-hop artists. This idea breathes fresh life into the idea of releasing anything after Shakur's death; a field that was getting increasingly stagnant due to diminishing returns out of what little TRUE unreleased material there was. Of course, you're still going to wonder how Shakur would have presented the lyrics and songs if he had performed them himself but you can't disrespect the fact so many people came together on one album to pay him tribute. Best of all, a portion of the proceeds from sale of this release are going to charities such as Diabetes Research Institute and the Elizabeth Glaser Pediatric AIDS Foundation. Now that's "Panther Power."
To a beat poetry neophyte, keep in mind you can't interpret all of this album's presentation like a traditional hip-hop album. It's not so much about a head-nodding beat as it is about being mesmerized by the speaker, and how he or she presents the words to build images in your head. Sonia Sanchez does this well on "When Ure Heart Turns Cold" as does Jasmine Guy on "Tears of a Teenage Mother." It's only a shame that these poems are so short – but the ladies give them depth beyond their words.
For a more traditionally hip-hop asthetic, you'll may appreciate the Outlawz & geronimo ji jaga's presentation of "In the Event of My Demise" or the surprisingly fresh Q-Tip presentation of "The Fear in the Heart of a Man" where The Abstract reminisces on times he shared with Tupac. "Starry Night" starts out slowly with Quincy Jones setting the mood but picks up when Mac Mall raps over QD3's fresh beat. More cuts like this would have been nice, since 'Pac was such a soldier for the Bay Area – it's nice to see Mall coming out to give love back without it being corny or cliche.
Some of the songs even by hip-hop artists come across more like beat poetics, such as Reverend Run's presentation of "God" and Tre' from Pharcyde's reading of "What of a Love Unspoken." Some of the songs by the best poetry spinners come across like hip-hop, such as Sarah Jones' interpretation of "Why Must U Be Unfaithful." Falling somewhere in between are the "Male" and "Female" versions of "Can U C the Prise in the Panther" done by Mos Def and the hip-hop and poetry of "U R Ripping Us Apart!!!" by Dead Prez – ironically one of the songs on the album which sounds closest to a classic Tupac song, beatwise.
Though some of the readings come across as too pretentious, such as the Danny Glover/Afeni Shakur/Lion King reading of "A River That Flows Forever" or the bizarrely ironic appearance of Russell Simmons on the short "What of Fame?" you'll find most of this album to be spiritual, inspiring, and sometimes downright funky – such as on the Rha Goddess track "Only 4 the Righteous." This is the way Tupac Shakur would have wanted it – to get your ass grooving, your body moving, your feet tapping and your heart and soul clapping. Even people who knew nothing about Shakur's golden voice and fiery delivery would be well advised to grab this album. It certainly compares well to the umpteen amount of poor quality bootlegs of Tupac available via your local shady music dealer. If you want to pay tribute to his legacy, get a taste of his previously unspoken poetry, or simply dig a different distillation of what hip-hop is, you'd be advised to pick this album up – you won't be dissapointed.
2Pac/Tupac Shakur :: The Rose That Grew From Concrete