When this album entered my rotation last fall on the occasion of its European release, it seemed like the perfect soundtrack for peaceful walks on the countryside. Months later the warm weather around my way remains virtually unchanged, replacing the feeling of being one with nature with the unsettling suspicion that this climate change thing is in full swing. As I still await the arrival of a rapper with not only political but also ecological sensibilities, I realize that Seven Star is not the one to save rap from its environmental ignorance, even though the circumstances of his appearance might indicate otherwise.
Seven Star is Puerto Rican and resides in Miami, where since 2000 he recorded for Counterflow Recordings, notably the 2004 full-length "My Mother and Father Were Astronauts." For his second album he has hooked up with Miami's Botanica del Jibaro label, the musical branch of the Beta Bodega Coalition, an international collective of artists on a mission to shed light on the plight of the underprivileged parts and people of the world (particularly in Latin America), taking their multi-media art show on the road all the way to Japan.
When listening to Seven Star, terms like 'natural' and 'organic' spring immediately to mind. Akin to acts like Five Deez and Lone Catalysts, he delivers his findings in a soft spoken, relaxed tone. He rarely raises his voice, but injects it with enough melody to avoid the impression of a hush. Vocally restrained yet still expressive, Seven Star is a Talib Kweli without the potentially annoying manieurisms of The MC. Someone who's not all up in your face like a salesman. Just an everyday dude speaking his often poetical, sometimes political mind. An oddity in a town whose most popular rapper is named after an attack dog and whose Cuban community fights for every soul it can save from Castro's clutches.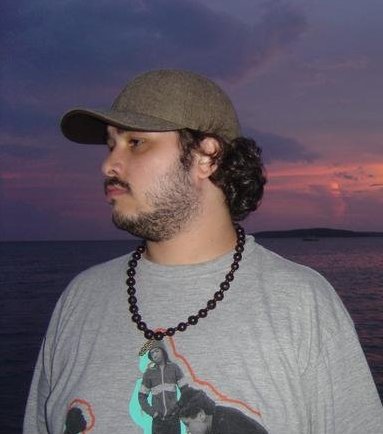 It is safe to assume that the United States are probably not Seven Star's promised land. "I don't want a career / I don't wanna be the employee of the year / I don't need the pseudo comfort America's sellin'," he raps on "Dawn of MILES," where he details his vision of justice and equality:
"They say I think ideal
that what I see in humanity will never be real
They think I'm crazy with ideas like health care for all
They think that if this goes down the nation will fall
See, I just wanna know why some have and some don't
why some grab and some won't
why some steal and some give
why most die and some live
I just dream of balance, of never fearin' death
cause fearin' death makes you collect
till there's nothin' left"
While generally a gentle man, his voice turns cold on the spoken word piece "Borik'en," where he lashes out against the ancient European invaders of Puerto Rico. "Friendshit" indicates further that Seven isn't always at peace with his surroundings. Over a somber beat that allows rays of hope in the form of organ drops by Miami's Metrospects production team, he examines the volatile nature of friendships, expressing his longing for that through-thick-and-thin companion: "I just need a friend to chill with, to build with, to learn with / If this is truly hell on earth, I need someone to burn with." Questioning friendships rather than affirming them, "Friendshit" is one of the tracks that put Seven Star with the rest of his peers who, if given the choice, rather rap about betrayal than loyalty.
Another, no less vital relationship in Seven Star's life seems to have turned sour. Once a believer, he now views God as an enigma, expressing his incertainties on "Return 2 Sender":
"Lord, grant me the wisdom to evolve
to analyze this mess with quick resolve
My only burning bushes have disolved
You no longer answer when I call
I've never heard more than my echo in these halls
Let's break these walls and confront the inevitable
Your whereabouts are questionable"
The feeling of being forsaken by the Most High is countered by the real people who have been there for Seven. "Woman" is dedicated to the women that have been important to him. From family members to friends to his fianc?e, they all get named, making "Woman" one of the most sincere dedication tracks to women in recent memory. He explores the dark side of family ties on "The 11th Commandment," which could be interpreted as 'Honor your daughters and your sons, so that they have reason to honor you in return.' Although a common theme, parental responsibility is rarely addressed in such a serious manner by rap music. Yet another direction is taken on "Eros," like "Woman" crafted by French producer Astronote, who fuses butter smooth textures, kicking drums and a choice Bahamadia sample. Despite being explicit in the depiction of the act, the song exudes rare intimacy and sensuality. The atmosphere's also charged on "Viuda Negra," an unextected crime narrative involving our hero and a mysterious female rival he falls in love with. Produced by Manuvers as a loopy, groovy, organ-driven track, "Viuda Negra," also highlights Seven Star's collaboration with said producer under the moniker MILES. "Dawn of MILES" sports a cushion-soft beat wrapping xylophones, horns and hollers into comforting layers of bass, while Seven attempts to bring rap back to basics: "You don't wanna hear that I don't care how I dress / 'Cut your hair, shave your beard, Seven, you're a mess' / No jewelry for me, forget the bling / I came here to rock the people, let's see what this cat brings."
While you won't hear endless, self-righteous rants about the state of hip-hop from Seven Star, it is clear that "Alternate Invention" is meant as an alternative. "The Long Walk" featuring Soarse Spoken might as well be subtitled A Day in the Life of a Backpacker. "Before you are the masters of the guild / champions in our field / content is the weapon we wield," Seven loudly announces himself and guests Cise Starr and Akin on "Speak the Truth" over a tearjerker of a beat with pleasing piano chords, strong undercurrents of bass, and clear drum kicks:
"Welcome to the end of no class
the end of payola, vanity and videos full of ass
the beginning of the past
Let us be reminders on our task
of our culture that grew fast was labelled an outcast
Look who's stronger as the years passed
Businessmen will go bancrupt and true MC's will have the last laugh"
"Alternate Invention" is not the answer to everything. But it is the answer to the question "Is what I see on TV and hear on the radio all there is to rap music?" Attempting to achieve a shaky balance between humbling himself and being full of himself, lyrically sometimes too abstract and self-absorbed, Seven Star's act still needs some finetuning. You can't admit "I don't claim to be perfect, I don't claim to be so smart," and still assume a scholarly position. That's why the album's biggest success is also its biggest failure. "Trojan Horse," as superior as the combination of Seven's measured flow and Deviant's sample-happy block party set is, propagates the idea of 'infiltration' by way of an anthemic track. If all it took to infiltrate the media was good music, we'd have a lot less starving artists. Still, with its invitation to "sprout wings from our spine, look above cause below is everything we already know, ladies and gentlemen, it's time to grow," "Trojan Horse" is a convincing call for all "Barbies and Kens / those who are tired of bein' clones and wish to be true women and men" from a rapper who is sincere about making "ammends with all the separated trends."
Employing American as well as European producers who provide him with simply structured but richly layered beats, Seven Star delivers an album that theoretically would not just appeal to those who consider themselves hip-hop heads, but practically will have a hard time reaching even those.
Seven Star :: Alternate Invention