Hassan Mackey and Apollo Brown :: Daily Bread
:: Mello Music Group
as reviewed by Patrick Taylor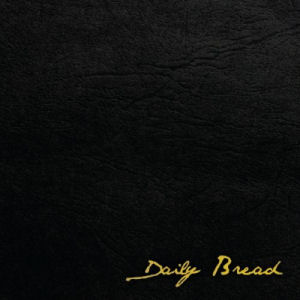 I first heard Hassan Mackey when his label, Mello Music Group, offered his debut album "Soul For Sale" as a free download in July in order to build up interest for this album. The album originally came out in 2007 as part of the Rawkus 50, 50 up-and-coming artists that Rawkus felt were important enough to support. It took a while, but "Soul For Sale" grew on me. Mackey's street/backpacker style was a nice change of pace, with lyrics that talked about the gritty side of life without getting boastful or gangster. He came off as real rapper making real hip-hop. When "Daily Bread" came out I plopped down my $7.99 for the digital album, proving the wisdom of MMG's marketing plan.
RapReviews readers should be familiar Mackey's partner in crime on this release, Detroit producer Apollo Brown. I enjoyed his remix album "The Reset," Pete T. was feeling his production as one-third of The Left, and fellow reviewer Mike Baber gave his instrumental album "Clouds" a stellar 9 out of 10. Brown is the new school of the old school, a producer who works with dusty breaks and samples without sounding like a retroist. His production style is a nice compliment to Mackey's rapping style. Both artists are old-school leaning yet forward-looking, the new breed of the underground.
It's a combination that works. Exhibit A: "Volume," which flips Percy Sledge's "When  A Man Loves A Woman." Brown flips that sample until it is nothing but organ stabs and fat drums. Mackey spits with a slow ferocity, sounding like a more intense and focused Mos Def.
The formula is repeated throughout the thirteen songs on this album. Apollo chops up a soul sample, layers it over fat drums, and Mackey spits intense tales of the struggle, loss, and drama of life in the hood. Mackey rarely strays from his controlled, level flow, dropping dead serious rhymes as only a New Yorker can. Track after track is Mackey spitting somber rhymes over somber beats On "Something," he raps about his fallen friends and relatives. "Dollar Bill Hill" is about chasing paper. He calls out lames on "Weak Won't Do." He shares tales of the pitfalls of the drug game with Sean Born on "The Trenches." One of the best songs is "Mackey's Lament," where he raps:
"Been at this for a whole damn hour
Trying to find a way to get the money and the power
Everybody I know got weed and got powder
But I ain't got either
I got a lot of demons
Room down the hall where every single dream lived
Turned into a wall where I couldn't reach it all
Boxes of alcohol leaned up against the wall
Like statues
You pray to them like gods"
Mackey and Brown have a good sound going, but it gets repetitive over the course of the album. Neither deviates from what they do best, and the tracks begin to feel interchangeable after a while. Another sad-sounding mid-tempo beat built around a soul sample, another verse about life on the streets delivered as seriously as a heart attack. The end result is that, as much as I liked a lot of the songs on this album, I was less enthusiastic about the album as a whole. I'm not upset that I invested eight of my hard-earned dollars on this, but I can't help but feel a little disappointed that it is merely very good instead of great. Despite my disappointment, I still recommend this album. The worst that can be said of it is that it is too much of a good thing, and it fits firmly in the tradition of real hip-hop that Mello Music Group has been holding down for the past few years. "Daily Bread" may not be as great as the sum of its parts, but its definitely worth paying attention to.
Music Vibes: 7 of 10 Lyric Vibes: 7 of 10 TOTAL Vibes: 7 of 10
Originally posted: August 30th, 2011
source: www.RapReviews.com