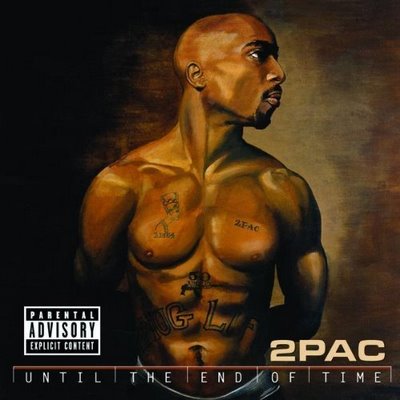 Pickaxe and shovel in hand, Afeni Shakur and Suge Knight went digging in the lost vaults of Tupac Shakur. There's plenty of motive to go around for such sweat and toil – he is still Death Row's biggest star even post-humously, and she wants to keep her son's name and memory alive in the public eye. Statistically though the law of diminishing returns is creeping ever higher – the more nuggets that they mine, the less that are left to find amidst the dust and rubble. When the rumors of this album first surfaced, the question on everyone's minds was whether they had actually hit a motherlode or were just trying to pass off cubic zirconium and pyrite as diamonds and gold. Now that the new double album has been released to the public, we finally know the truth.
For those who have been following the bootleg "Makaveli" albums many of these songs will be familiar albiet remastered with new hooks and beats. This causes an ironic contradiction – many of Tupac's fans will feel this is not a pure representation of his work, even though the albums they purchased weren't legitimately released by his label or his estate. For both the sake of fairness and out of respect to his legacy this review treats the tracks presented here as original works previously unreleased to the public; we leave interpretations about what Tupac actually intended as a debate for hip-hop scholars and historians.
The first disc has a surprising amount of good material. In fact it compares favorably to the his "All Eyez On Me" double album if not slightly higher in quality. Ironically, by opening with "Ballad of a Dead Soulja" they actually present a Tupac who is very much alive. Johnny 'J' and Above the Law's Cold187um combine together to give Tupac a menacing keyboard driven melody – perfectly matching the fiery delivery of Tupac's words. Although the next track is a somewhat mediocre remix of "Friends" from the "Too Gangsta For Radio" compilation, it's immediately offset by another Johnny 'J' production in the form of "Lil' Homies." This track is a bit eerie when Tupac yells about "Sixteen.. fifteen.. thirteen [..] juvenile delinquents ready to bust on you motherfuckers" over the outro. Et tu Columbine High? Tupac would never blame music and movies for such a tragedy though, he'd point to broken homes and shattered dreams as the root cause for their heartless behavior.
Not surprisingly the Outlawz pop up on several of the tracks throughout disc one, including the melodic "Good Life" and the gangsterous "Breathin." These songs seem culled from the same batch of material that formed his only official "Makaveli" release and as such are not at all an embarassment. Still Tupac has always sounded best on his own, and this shows on songs like like the Johnny 'J' produced "Happy Home." He also had a hand in the songs "Letter 2 My Unborn" and "Until the End of Time" but they were apparently remixed for this album by Tone of Trackmasters – neither song suffers for it. In fact the latter reuses the 80's song "Broken Wings" by Mr. Mister to excellent effect; giving Tupac's somber reflections added potency. Overall this entire disc could have stood alone as a good Tupac Shakur album, but this is a double disc after all.
This half of the release gets off on the wrong foot with a pointless "Big Syke Interlude" which could have been left off altogether, but regains some ground with "My Closest Roaddogz" which only seems to suffer from a mediocre chorus – the beat and the Tupac delivery are way stronger by comparison. A big surprise here is that QD3 steps in for a remix of "Thug Nature" – Tupac's other track from Death Row's "Too Gangsta For Radio." Lil' Mo is the hot singer of the moment, and her presence on the hook is appreciated, but I find myself still more drawn to the Michael Jackson remake stylings of the original version (if at this point, there +is+ such a thing).
As on the last disc, tracks which involve Johnny 'J' seem to have a magic touch. "When Thugz Cry" and "This Ain't Livin'" sound like material from 1995's "Me Against the World" but are not at all dated by that comparison – it should serve as a compliment to the high quality of the beat and how tightly Tupac flows with it. Some of the venom Tupac showed on the b-side "Hit 'Em Up" shows up on a track HEproduced called "Why U Turn On Me" where he ironically states "It was hip-hop, until Tupac fucked Biggie's bitch." Sadly the only person left alive who can comment on this abrasive statement is Faith Evans. With excellent songs like the DJ Quik produced "Words 2 My First Born" and Johnny J's techno-influenced "When I Get Free" disc two comes across strong and clear.
Perhaps it's a bit odd to be so surprised that both of these discs feature so much quality material, but after last year's dissapointing "Still I Rise" duet with the Outlawz this album seems like positive triumph. Out of twenty-nine tracks though, not all of them can sparkle. "Everything They Owe" is that rare Johnny 'J' track that sounds out of whack – a beat that at times seems completely mismatched with the tempo of the lyrics, or vice versa. Putting Mr. Mister's Richard Page on an of "Until the End of Time" remix at the end of disc two seems tacky; why not just pick one version of the song and stick with it? Neither version of "Thug N U Thug N Me" is impressive through no fault of K-Ci and JoJo – there's just no beat that can help this cornball sex ode sync up conceptually. Whenever the Outlawz show up to impress on songs like "Lastonesleft" they offset it with a mediocre one like "Runnin On E" – a song whose point just seems to be "putting a contract on Mobb Deep" anyway.
This post-humous double-album has enough quality material to justify going gold or platinum though, and not just on the strength of Tupac's name. It's the first post-humous album since "R U Still Down?" that really does him justice. There may not be much left to mine for future Tupac releases (and we all know they'll come anyway) but what shows up here still makes it worth your while to cop, even if it's the FIRST Tupac Shakur album that you buy. It stands up to anything already released in 2001 – an impressive feat for a rapper that was long since dead in the ground if not in the minds of hip-hop fans worldwide.
2Pac :: Until The End Of Time