The date: October 31st, 2007.
The place: The Slowdown; Omaha, NE.
The event: Devin the Dude & Del the Funky Homosapien in concert.
It was a night destined to be a HAPPY HIEROWEEN for all involved. I had never been to The Slowdown before but "guest +1" is a good enough excuse to go to any hip-hop show and having one on Halloween night is doubly so. Not having much time to throw together a costume I threw on a "spinner chain" and a dorky hat reading "It's All Good" turned to the side and went as John Cena. I suppose it would have been better if I had on a "Live Fast, Die Hard" t-shirt and camouflage hat but you make do with what you have. The people in The Slowdown were clearly more prepared than I was, coming as everything from walking trees to Daft Punk to Paul Reubens as Pee-wee Herman. Appropriately enough Pee-wee later got his ass thrown off the the stage by A-Plus, but I'm getting ahead of myself.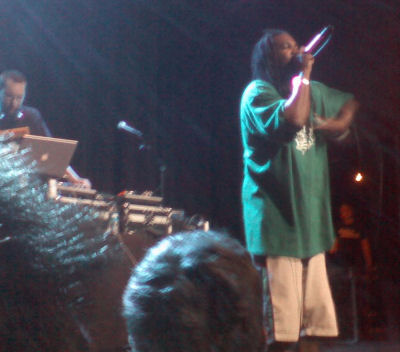 Beaucoup, our MC and an eventual performer for the evening, was the first man to hit the stage. He introduced Knobody from the Hieroglyphics crew, who was working damn hard to impress the crowd with his live performance. Unfortunately you know how it is when the opening act goes on at 5 after 9 o'clock – the venue is only one-third full and nobody has gotten their drink on yet. Nonetheless A-Plus backed him up on DJ and he proceded to rip through an energetic set dropping one-liners like "I'm the world's most wanted like Osama" and how he'd trade "diamonds and pearls for a pen and a pad," vowing to emphatically "give the industry a GOOD SWIFT KICK IN THE ASS." For some reason Knobody's albums have left a lukewarm impression on me until now but after this performance I'd have to give his definition of "rapitry" (rap + poetry) a second chance. He closed the set with an entertaining call and response number where the crowd chanted "Oh, oh, oh-oh-oh my GOD; I stay on, on, on-on-on my JOB!"
Next up were Iller Than Theirs, a group whose album recently got a very strong review on this website. At first I didn't see the hype as they looked like two grungy white guys – one wearing a Jets football shirt and the other with an applejack hat and a t-shirt that said "Scumlife." Appearances can be deceiving though and ITT delivered a non-stop high energy set, eventually turning a majority of the skeptical crowd into believers. They closed their set with "Razor Bumps," the first single from their album and one which apparently also has a music video. "I ain't nobody's hero and nobody's fool/No one's that fresh and nobody's cool/Don't try to front, so we can all play the trumpet/You're coming out your neck like some razor bumps." I give them props for going for theirs (no pun intended) in front of a lukewarm crowd. Next up was Junk Science, another group recently reviewed on this website. I had tried to step out for a minute between sets and when I got back the first words I heard were a call and response song with the crowd yelling out "I'm gonna quit my JOB!!!" as the rapper bragged he "took a shit in the filing cabinet" at his last place of employment. If you're going to rebel, say it with defecation! I wasn't into Junk Science as much as ITT but they did their thing.
Next up was Beaucoup doing his own set. I admit I missed a portion of the performance because the breaks between acts were a minute or less and I desperately needed a couple of beers to quench my thirst, plus I got waylaid by my man JJ for a convo as I was heading to the bar (big up JJ). Here's a tip for The Slowdown as well – when you're going to have a big concert and hundreds of people at the venue,PLEASE have more than two people working the bar. Also for the love of God, I know you're trying to keep the women with the big tits liquored up, but this was such a major sausage fest I really don't know what the point was. Guys outnumbered girls 20-1 so you might as well serve people in the same order they came to the bar, because no guy is getting any action without being cockblocked by 10 other men anyway.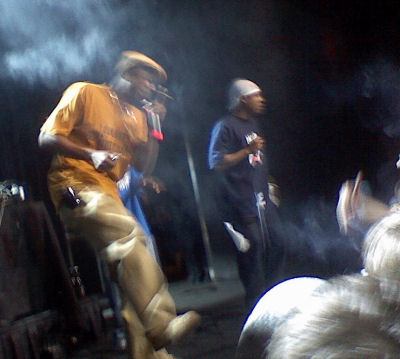 Anyway back to Beaucoup – he had a WICKED AN' WILDperformance, what of it I got to see when I wasn't waiting in line for beer or taling to friends. He promoted reggae and skateboarding (simultaneously no less) and showed off a special board designed by Del before launching into a heavily patois freestyle set to The Game's "One Blood." He ran through a bunch of his own material afterwards, none of which I knew but all of which was whipping the crowd into a feverish frenzy, getting everybody to scream out the hook "they call it MUR-DAHHHHHHHHHH" in unison. Looks like I need to pick up a Beaucoup album for review sometime in the near future.
The Coughee Brothaz and the Odd Squad hit the stage almost immediately afterwards to warm up for Devin, and needless to say the crowd was well ready for the co-main eventer when he came out. Blunts and joints were lit all around the stage and enthusiastically passed back and forth between The Dude and the crowd, and it felt like the whole venue had been swallowed in a thick London fog.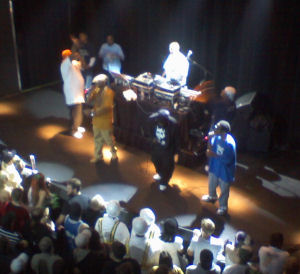 Devin ran through all the trademark hits, including "Fuck Faces" and "What a Job," even taking the time to spit out his verse from Dr. Dre's "Fuck You." Devin spent a large part of his time putting over the Coughee Brothaz clique and letting them do their thing, which I didn't really resent, nor do I think anybody else in the crowd would have cared due to how much marijuana smoke was in the air. I did take the opportunity though to get a rum 'n coke at the bar while the crowd had thinned out a bit, then went upstairs to snap an overhead shot of the entire group on stage. Devin had the crowd in the palm of his hand as the set was about to end and nobody was anxious for him to go – and not just because of the ample amounts of blunts being passed around.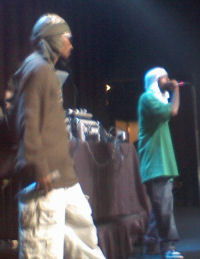 Last but certainly not least was Del the Funky Homosapien, who immediately opened his set with "Virus" from Deltron 3030. A-Plus played the role of hypeman AND bouncer during Del's performance. A large portion of the crowd was drunk, high or both by this point so the muscle was definitely needed. As I chilled and played the role by the side of the stage, snapping pictures of Del and A-Plee, a goofy white motherfucker dressed like Pee-wee Herman crashed into us, yelled "SORRY!" and then immediately pulled his ass up on stage. He took about three steps towards Del before A-Plus gave him a shoulder tackle straight out of pro wrestling and sent his ass FLYING off the front of the stage; unintentionally one of the most entertaining things I saw the whole night long. When Del needed a break from his torrid rap pace A-Plus took over and performed a couple songs from "My Last Good Deed," then Del and A-Plus got into a verbal debate about internet bootlegging on stage. I'm dead serious. Del advocated it to a certain degree, saying he hoped people who download albums would at least do him the solid and tell their man how good it was and get THEM to buy it. A-Plus EMPHATICALLY disagreed and said of anybody who downloads a Hieroglyphics album without paying for it "MOTHERFUCKER YOU ARE NOT DOWN!!" That's what's great about the Hieros I suppose – they can have completely different opinions about what music is supposed to be but still come together for one common cause. Del ran through all of his trademark songs including "Dr. Bombay" and "Mistadobalina" as well as the cult favorites like "Phony Phranchise" and "If You Must," ending his set with a performance of his verses from the Gorillaz song "Clint Eastwood," even singing the chorus for us. Overall I don't think a single person went home disappointed from this long night of hip-hop, which didn't get over until at least 10 after 1 (and last call was at 1). Don't miss this tour if it comes to your town.