EDITOR'S NOTE: We do NOT in any way agree with or endorse any of the views of Ye, formerly known as Kanye Omari West, and we urge all of our readers to refute the antisemitism that he has publicly and vocally aligned himself with. Reject hatred and choose love.
---
Kanye West is one of America's hottest names. You would be hard-pressed to find anyone who has not heard of him for one reason or another. It might be his global chart-topping music, his equally famous reality star wife and in-laws, his brief attempt at launching a bid for US presidency – or his fashion lines.
Yes, Kanye West – hip hop superstar and husband of Kim Kardashian West has put his foot – quite literally – into the world of fashion. And, as with everything the Georgia born boy does, he does it with full force.
So, how is Kanye West making his mark in the world of fashion and what made him move from music to clothes? Let's take a look.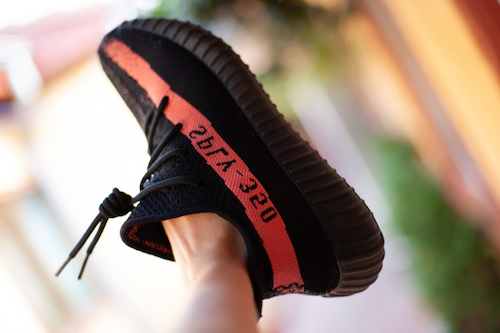 When did it start?
Kanye West's foray into the fashion world started way back in 2009 when he was already making headlines with his music and love of controversy – remember the infamous Taylor Swift debacle at the MTV Video Music Awards? He released his first collaboration with Nike – the now iconic Air Yeezy I. Three years later, the second edition of the Air Yeezy came out and sneakers were being resold for hundreds, if not thousands of dollars. This is the point where people stopped and realised that actually, West could be a huge influence on fashion. He then moved on from Nike and partnered with Adidas, where he has remained ever since.
What many people don't know is that the Swift controversy prompted West to turn his back on music for a while and move to Italy where he interned for Fendi. Clearly, he has always had an eye on getting into the fashion biz.
Hip hop and Fashion
Hip hop and fashion – particularly footwear – has gone hand in hand with each other for many years, way before Kanye West came onto the scene. Think back to the 1980's, with the Run DMC Shell Toe Adidas to 50 Cent and Jay Z's collabs with Reebok in 00's.
The Ugly Trend
It is thought that West is one of the pioneers of the so-called 'Ugly-trend' which top designers Louis Vuitton and Balenciaga are also known for. As the name suggests, the whole look is based around being as clunky and ugly as possible – the more out there it is, the more demand there is.
He has harnessed the power of branding
Ultimately, consumers buy the Yeezy brand because of its association with Kanye West. Big brand bring in big money! From Nike, and Apple through to Betway Casino and Sky. It isn't because they are particularly attractive as we established above – but because he is the name and face behind it. West absolutely knows how to capitalise on that, doing limited drops with limited publicity, knowing that people will queue for hours to get their hands on a pair. Buyers often don't even wear them; they have become the ultimate in fashion and hip- hop lovers' collectors' items.
He's bridged a gap between streetwear and high-end
Traditionally, high-end fashion has struggled to connect with a younger audience – it's for people with money, who are likely to be older. For a long time, there has been no designer that has specifically targeted the younger generations – the ones who are more likely to be wearing 'streetwear'. West has bridged this gap, making streetwear something that all designers want to get in with.