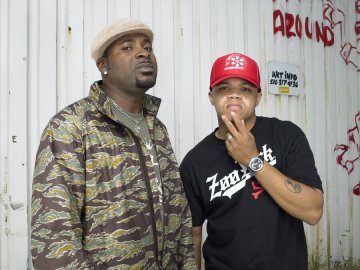 Grits Interview
Author: Adam Bernard

To an outsider's perspective Nashville, Tennessee, probably doesn't seem like the perfect place for Hip-Hop to grow. An hour outside of Nashville is the founding city of the Klu Klux Klan. Bonafide, of the Nashville rap duo Grits, notes "there's still those hurdles to cross, but for the most part you really don't get that hickness as much as you think you would." In fact, according to Bonafide, the city is a growing melting pot of culture and music.
Nashville, which was once known solely for country music, has become a hotbed of all genres and styles. Bonadfie explains "we have a lot of colleges in Nashville so it's a very progressive city even though it's not viewed as that. It's a very young city and it's still growing." He continued, adding "there's a lot of people that live in Nashville that are not even from the US. There are people from all over the world. It's becoming a melting pot, even more than Atlanta, I would say."
Bonafide didn't always live in Nashville, however. Life got a little too complicated for him in his younger years, though, as he remembers "I moved to Nashville not even for the music, but just to do something different in life. I had just gone through a few trials in life, got arrested a few times, and just was really in the streets and just getting away. I met up with a few people that were in a little music scene and it kinda became my rescue if you will, it was a blessing."
That idea of rescue is one Bonafide, and his partner Coffee, have injected into their music. According to Bonafide "one of our goals is definitely to inspire people for the better." He continued, adding "that's kinda how we are, we're like that guy that's always encouraging you to do better and letting you know you can make positive changes for your life." If rap is the drug, Grits are those dealers making sure the kids know there are other things they can do in life.
With the goals that they have Grits decided to keep their upcoming album "7" clean. For Bonafide it was a question of accessibility. "If you're gonna do this and you're gonna be in this business do it and do it right. Make yourself corporately accessible, make yourself commercially accessible, without having to sell out, doing what you do. Oprah did it, Bill Cosby did it, a lot of people have done it and been successful, that's why people like that are still around."
Grits hopes to be one of those luminaries that sticks around. Their album, which is due out in July, features songs on a myriad of topics, and although the duo can party hard Bonafide is proud to say "we're not talking about booty shaking and talking about selling dope and cussing every other line." He does note, however, that he realizes this is a huge swerve away from what the norm is on radio right now. Such a swerve is something Bonafide admits is "a risk in itself." It's a risk that he and Coffee feel will pay off in the long run.
The duo of Bonafide and Coffee have been working together as Grits for quite a while now, but they feel that 2006 is their year to make an impact. Bonafide notes "Hip-Hop is very open right now, a little more open than it has been in the past, for something different, especially coming from the south, and we want to offer that." What makes Grits different, according to Bonafide, is "lyrical content and concepts because we're more of a conscious, more positive, definitely heavily spiritual as far as the overtone of it, so it's definitely not your Laffy Taffy."
Laffy Taffy, from its beat to its content, has become the ultimate representation of what a lot of people feel is wrong with Hip-Hop today. Bonafide sees something a little more disturbing with songs like Laffy Taffy, though, and that's artists settling with being one hit wonders. "It's nice to ride that wave and have a great little summer hit," he notes "but at the end of the day a real musician, a real artist, is not looking for that one hit single or that one thing to blow em up, they put together projects, a whole album and albums." Bonafide continued, "a lot of Hip-Hop right now has such a timestamp on it, it's so right now I kinda feel for some guys at the end of the day because I'm like man next summer people are gone be like who are you versus being one of those groups that really makes a mark."
Grits is one of those groups looking to make a mark, that's looking to stick with people. Bonafide points out that the idea of sticking with people is right there in the name, Grits. "It sticks to you and that's why we named ourselves that, because we wanted music that sticks to you where you don't just get it today and tomorrow you're done with it. We wanted to do it right, give Hip-Hop a good name and do it right."
With the release of "7" this July Grits will no longer be just for breakfast anymore.
---

Check out Grits at grits7.com.

Originally posted: May 30, 2006
source: RapReviews.com