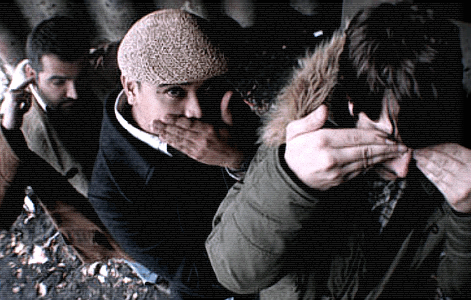 Metty the Dirtmerchant (Dirty Circus) Interview
Author: Pedro 'DJ Complejo' Hernandez

Q: First off, who is Dirty Circus and how do you guys differ from Sweatshop Union as a whole? Why did you decide to go with this particular pairing? Was Dirty Circus in existence before Sweatshop Union or did it form afterwards?
A: Dirty Circus is me (Metty the Dertmerchant) and Mos Eisley. we actually became a group in high school in 1996. All the members of Sweatshop Union had different things going on before we all united in 2000.
Q: You guys have been very successful as part of Sweatshop Union, why did you decide to release this album at this time?
A: Actually 90% of the songs I did for the 4 Sweatshop Union albums, I did with Mos Eisley. Even though we didn't list them as such, Dirty Circus was still the creative force behind those songs. We have been continuously working as Dirty Circus, only we just now released our first album under the group name. To be honest though...we released a low budget tape under the name in 1998 and recorded a full length album in 2000 that we decided not to release. After 4 albums with Sweatshop we felt ready to spread ourselves out a bit.
Q: Has it been a challenge carving out your own identity apart from Sweatshop Union? How does Dirty Circus differ from SU as a whole?
A: I would say there is little negative impact for me from being in Sweatshop Union, at least with fans familiar with our work. I think we have very distinct styles that set us apart. If you selected all the "Dirty Circus" songs from all 4 Sweatshop albums and listened to them together, you would definitely have an underlying theme to our work. I think our new album is another extension of that. Our basic style is VERY golden age influenced and I would say a strong mixture of serious and not so serious, ha ha. We talk a lot about spirituality and the life experience, but also talk a lot of shit as well.
Q: You state this album is an "ode to the traditional classic era of hip-hop," what do you mean by that and how does the sound of this album differ from your work within SU?
A: I don't think we strayed far from our previous work on the Sweatshop albums, however i think this new album is definitely a more concentrated balance of our different approaches to songs. We both are Taurus and both sons of Taurus and we both have young boys that are both Aquarius. There is a lot more at work than just being homies that work on music. We actually discuss very little when we work. It all pretty much seems to flow through us fairly effortlessly. We are very different personalities but we have VERY similar ears when it comes to the music we work on TOGETHER. We both cherish a lot of the same music from the 90's and I think we naturally are inclined to emulate a lot of that influence because that is where we both come from. I think Dirty Circus has a very defined image. maybe its just me, but i feel like it has its boundaries, not in a limitation kinda way, but more like Dirty Circus is not a vehicle for experimenting with trends etc. Its like the Coke Classic to me, I would rather invent new groups to try new things with; to me Dirty Circus is an old school classic group, even if this is the first people are hearing of it. I personally would like to always have it as my group that keeps the original recipe alive.
Q: You have an impressive guest line up for the CD (Shad, Geo, Bootie Brown, Rhettmatic, Moka Only), how did these collaborations come about and why did you choose these particular guests?
A: All of the guests I think are all natural fits for the record. They are all people, some old school some new school, that fit our mold. Some cats just pay rappers to be on their albums because they want to sell records to their fans. Nothing wrong with that but I feel it makes it impersonal. NONE of the guest featured on our album received any money for their contributions. It was all done on mutual respect for each other.
Q: What can fans expect from the album?
A: Fans can expect what we set out to do. Make a rap album for people looking for more than the normal trendy shit. Yes it def is crafted with those who grew up with 80's & 90's rap in mind. I think a lot of that essence and magic from that era is sadly missing in most modern rap. However even if you never grew up on that diet of music, I think younger cats will identify with the honesty.
Q: What is your favorite track off the album and why?
A: My personal favorite is the last song "the?remains" It is a VERY heavy song but also very personal to me. It deals with the topic of death and mortality. For my verse I had to visit some dark places in my memory, my mother passed away from cancer when I was 5 years old and people didn't really know how to help me deal with that. So i buried it and developed a major chip on my shoulder. Both me and Mos had difficult childhoods and we both became very engaged in the concept of death as we got older. We both have a bond and understanding in this area, he is the only person I know who spends as much thought and time studying different ways of understanding such a huge tangent. The song to me was therapy.
Q: You guys went with "Where I'm At" as the lead single and shot the video both in Venice Beach and Vancouver. The group originated in Vancouver, but Mos Eisley, is originally from Cali? How was the experience relocating to Vancouver? How was the hip-hop scene? Were you guys accepted into the scene easily?
A: Mos actually is from many places, Cali was just a pit stop in his life. He was born in Iran, but grew up in Germany, New Jersey and Santa Monica. He moved to Vancouver when he was 16 and met myself and other members in the group. We all started writing raps in school around the same time. The scene in Vancouver was very underground then, but we had a lot of amazing older talent in the graff scene. That was def the major influence for us, we all started out as a graffiti crew, some of the original members of our graff crew are still doing it and succesfully making a living from it. I actually live in Cali now. I've lived in Huntington Beach for the last couple years. That particular song was from Mos' point of view moving from down here to Vancouver...and then from my point of view growing up in Vancouver and moving down here.
Q: How did you guys hook up in Vancouver? Did Mos' Cali roots cause any issues, influence the group's sound, etc.?
A: When Mos moved to Vancouver there were officially less than 6 people even interested in rap let alone rapping at my school and 4 of those dudes are now members of Sweatshop Union. Thats what was dope about hip hop back then, you didn't have to look for others, we all just found each other. We grew up with the guys from Swollen Members as well so they def helped bridge the gap between the older generation of hip hop cats and us...the yunguns haha.
Q: You guys rep the west as hard as anyone, how would you describe the signature sound of Canada's west coast?
A: It's tough because when you think west coast most immediately think gangster rap, but anyone who knows better views all aspects of the west coast traditional scene...Hiero, Soul Assassins, Freestyle Fellowship, Pharcyde, Ice-T, Too Short, The Liks, Saafir, Death Row, E-40 & The Click, Dialated, Beat Junkies, Scratch Pickelz, etc. That encompasses so much variety of unique culture. I think our particular brand takes a little bit from all of those groups. Growing up we never bought into the divide. We all bought music from all of those artists and enjoyed them all the same. I LOVED the diversity of shit back then. THAT WAS WEST COAST. I think we unintentionally represent west coast culture as a melting pot because that's exactly how Vancouver is...a lil' bit of every west coast city.
Q: Why did you guys decide to sign to URBnet for this album? Do you plan to follow up with similar projects in the future?
A: I've always had a lot of respect for URBnet and its artists, due to politics and bullshit we had to release 3 albums we had in the works at a very close approaching deadline. Thankfully URBnet didn't hesitate to join forces with us at the 11th hour. They definitely went out of their way to accommodate our strange predicament. I think our track record spoke for itself in the decision they made.
Q: Finally, any words for your loyal fans?
A: Not much, just much respect and appreciation for your loyalty. As long as you're out there wanting it....we will keep making it. Also, PLEASE remember to support underground artists...IF THEY ARE GOOD. A lot of people have a bad attitude about purchasing music. If you like it, support it.
---

Dirty Circus' "Alive and Well
" on URBNET Records is in stores now!

Originally posted: October 19, 2010
source: RapReviews.com