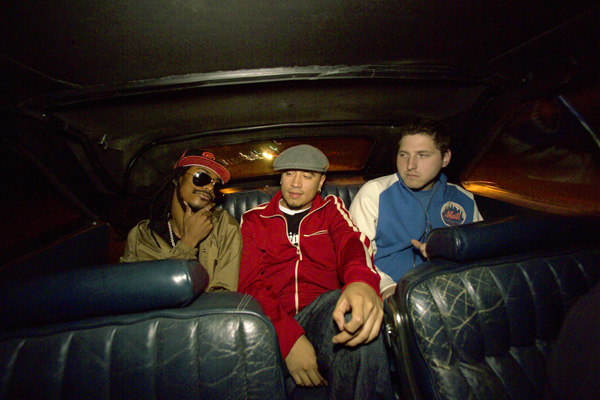 One Block Radius Interview
Author: Adam Bernard

When a listener pops One Block Radius' debut album, "Long Story Short," into their CD player they get a meshing of sounds that artists haven't put together in the past, Hip-Hop and the 80's. "We know we're taking a chance," explains Marty James, who, along with DJ MDA and Z-Man make up the California trio. "I always want to make music adventurously and creatively. I want to always try to do something new and what people may be doing in the future. We're not trying to pull any wool over your eyes. I hope our next record is equally as left field and bizarre, maybe it will be a completely different record. I want to have that vibe where our next record can be completely different from our last record, like the Beastie Boys or Beck. Rap in general is so thugged out or underground right now, we just want to do something more people can relate to and communicate on a real level to people."
The group's development of their current vibe is one that, according to James, came quite naturally. "My two biggest influences as an artist," he notes "are Hip-Hop and 80's music. Those are my two styles of music that I grew up on and still listen to, so when it came time to make the record I didn't make a straight forward Hip-Hop record or a straight forward 80's record, I wanted something in-between." Finding that in-between where he could connect the two wasn't a difficult process. "They run parallel in some aspects, I think it has to do with the heavy drums. And a lot of the 80's stuff, vocally, had a real quality to the vocal and that lends itself well to the Hip-Hop beats. We were listening to Phil Collins and Philip Bailey in our CD player. Not even the corny 80's stuff or the karaoke 80's stuff. The songs that are the classics not the songs you hear everyday on the radio. More Hall and Oates than Kajagoogoo."
While the goal was to create a sound where the 80's and current Hip-Hop came together, James says that once he, DJ MDA and Z-Man were in the studio all bets were off when it came to what was going to be recorded. "We were kind of just wingin it honestly. There was no particular formula to fit the album. There was no standard, it was just gut feeling." James continued, noting their guts were rewarded quickly. "'Loud and Clear' was the first song we recorded and that gave us a good push to say 'OK we've got something here.' We did it in my studio so there was zero pressure on us."
There was zero pressure, but there was also zero of something else, air conditioning. "I didn't have an air conditioner," he remembers "we made it in the fall and it was still getting really hot in the room with people in here while the equipment was on. I would have to go to the studio at 9 PM and stay until 8 AM so I was working on the record a lot myself. I was doing all the grunt computer crappy shit that they pay people $400 a day to do." Of course he was joined by the others a lot of the time. "The most fun I had was when all three were in the studio together. We had a really good time overall making the record. Anytime we sound like we were having a humorous moment we were having a lot of fun. It was very low stress, making stuff at our own speed and a lot of times when you're doing things at your own speed it happens fast because there's no pressure."
The lack of stress produced some crazy songs, including "I Like Him," a song that has Z-Man encountering Jennifer Love Hewitt at a recording session. "That's a completely made up story," James asserts "but strangely enough she is actually one of my good friends, but he made that story up on his own and brought me that. We recorded that song in late '03 or early '04 and I ended up meeting her through a friend a few weeks later and actually become good friends with her. There's a story behind that story, it's not completely false, but it definitely never happened with him." James explains Hewitt has heard the song, but she didn't get to feast her ears on it right away. "When I first met her I didn't mention it but after we had hung out for a while I gave her the CD and was like what do you think about that? She said it was cute. It's not like we were doggin her."
Having already met J. Love, One Block Radius now has some other simpler goals for their debut album. James notes "my goal is just to get it out. My goal is just to be able to make another one. I just want to keep the ship afloat." Why such a simple goal for the trio? "I've lowered my whole expectations of the business as a whole," James explains "my goal is for us to just be able to get a shot to tour. Sales wise I'm not trippin at all over any of that, I just want people to have a legitimate chance to hear the album. We've never really gotten a break."
Their big national break may not have come yet, but James happily reports that One Block Radius is getting a ton of love in their home state. "We've got a lot of love in California," he says proudly "we've been hittin it hard here. We really focus our energy on that, being on an indy it's better to try to focus on an area than taking what you have and spreading it really thin. Right now it's a smart move for us to be out here and spread our fan base here." There's another reason getting their home state's backing is so important to the group as James notes "if you can break in California you can make it. We feel we're lucky in that regard because we're from here while other bands are trying to get here."
Those other groups should know that even if they aren't hearing One Block Radius coming from their stereos in their current hometowns, once they've made it to Cali their ears will get a healthy dose of James, MDA and Z-Man's "Long Story Short."
---

Originally posted: November 29, 2005
source: RapReviews.com