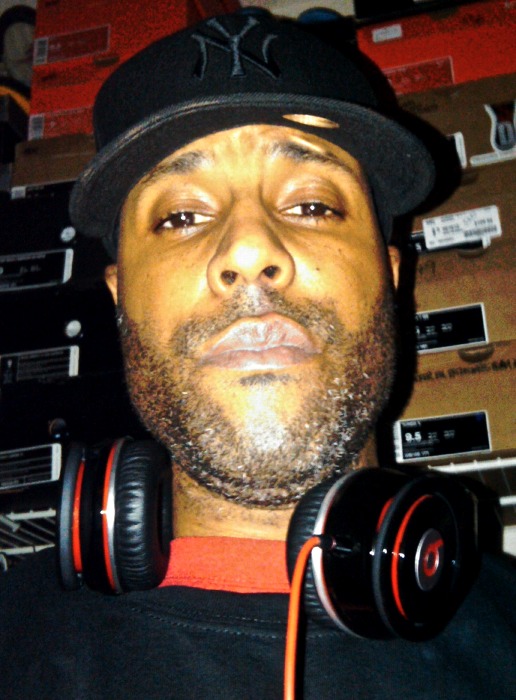 Sean Williams Interview
Author: Adam Bernard

Have you ever met someone who ALWAYS seems to be making big moves? That's how I've felt about Sean Williams, aka Ope, aka Paper Chasr, since I first met him in 2003 at the Boo-Yaa Tribe's West Koasta Nostra listening party at Justin's in NYC. Poison Pen introduced us and over the years Williams and I have managed to combine forces a number of times (including one still unrealized project involving Tatyana Ali). He introduced me to Substantial, Fresh Daily, Insanate, and a host of other artists, and I featured Williams, and everyone he was working with, on my radio show on a regular basis.
Williams' latest project is a sneaker documentary titled Know You Got Sole, and the soundtrack to that documentary, Know You Got Sole: The Music. Sneakers and hip-hop have had an incredible connection ever since the days of "My Adidas," and this week I caught up with Williams to learn more about that connection, get some insider information on Know You Got Sole: The Music, and find out which hip-hop legend he's working with next (hint - the news may cause you to want to "duck down"). We also compared classic kicks with classics albums in a word association game that could only happen at RapReviews.
---
Adam Bernard: Why don't you start me off with something real basic; why do sneakers and hip-hop have such a close relationship?
Sean Williams: It's the only American subculture where sneakers are important to EVERY aspect of it. It's pretty much a standard requirement for whatever aspect of hip-hop you are involved in and it will always be that way. Nothing can change that.

AB: You are going to be releasing Know You Got Sole: The Music as an internet-only album on March 2nd. The album includes Mr. Mecca, Fresh Daily, Benjamin Hooks, Substantial, Loj and Helixx C. Armageddon, among others. Being that it's a soundtrack to a sneaker documentary, are all the songs going to be about shoes?
SW: Yes indeed. All ten songs are a unique approach to addressing the love of kicks. I'm very happy that each artist brought a completely different approach and that EVERY track on the album is different but still the same in the level of artistry. These truly are some of the best emcees that I think people should be checking for. Salute to all of them.

AB: We've had some pretty famous sneaker odes in the past, "My Adidas" and "Air Force Ones" are two of the many. How would you compare the songs on Know You Got Sole to those?
SW: There's one song on this project that I think has tons of potential to be the 2010 "My Adidas." The song is by Mr. Mecca (Dominion) and is called "My Shelly." Mecca laced the track perfectly and it was true to him. He wears shell-toes all day every day, just about. He has stayed true to them all this time. I think that Adidas needs to hear this song and give it some strong consideration for inclusion in their efforts going forward. All the other songs on the project masterfully address an overall love of kicks and the culture.

AB: Tell me about some the sneaker head qualities of a few of the artists on the album. Does anyone have an especially rare pair of kicks, or a ridiculously large collection?
SW: Well, I can say this… all you folks who have seen how crazy Substantial has been going in, before his lovely daughter came into the world, I did that to him! {*laughs*} Substantial has asked me to help him find kicks that I still can't locate years later! Fresh Daily and I also have a couple of stories between us involving kicks. He goes in for his, as well. His song "Know You Got Sole" was really easy for him to do because of how involved and how crazy he would go in at the time. When he finished the joint he pretty much said "this is your title track!" I can't deny he was 1000% right. My homey Proper is also a really insane sneaker lover, but is also a pretty fashionable guy. He has his own clothing line called Icon Society that he's been doing well with for the last couple of years. He, too, is one who would call me and ask "yo, where can I get this shoe?" or he'll see me rocking something from a distance and hit me like "dude, what are those?" It was all of those situations that made it easy for me to know who to call for the album.

AB: Not only did you put this soundtrack together, you also produced eight of the ten songs on it. Why did you want to be so hands on with the soundtrack after being so hands on with the film?
SW: After putting the film together I realized that music was going to have to be involved to give those who will support it the full experience. The reason for being so hands on with it all is that I always get inspired to be involved in full projects. I've never been one of those people that's just happy with a beat here or there. Tell me we're gonna get in there and crank out a full project, or a film, or even a music video and I'm ready and inspired. You'll get the best of me. Since I started music production waaaay back when, I became involved at a time when you had to do everything to learn the business and be effective as an independent entity in a major label driven business. I produced the tracks, engineered the sessions, mixed and mastered the songs, managed the artists, booked the shows, directed the videos, you name it and I did it. Unfortunately it was not always appreciated. That lead to my desire to step away, lay low, and re-invent myself.

AB: I'm glad you mentioned that you stepped away because I know this album marks your return to the indie hip-hop game after a three year absence. What made you leave the game three years ago?
SW: Three years ago there was a lot going on that disappointed me from folks I did not expect it from. People I knew for years, people that are on a high level in Hip-Hop, legends, icons, you name it and they all did something to disappoint me and take advantage of my efforts. It all converged on me at a time when I took stock in whether all the time away from my family was worth it. No matter how I asked the questions to myself, the answer was always no. I didn't really like the fact that things I'd done for people were being omitted from their history when they spoke and when you read their bios. I didn't like the fact that business was being handled with people I have a genuine distaste for. I didn't like the fact that certain people of legendary status in hip-hop were such assholes. My boy Dallas Penn recently told me a quote that I live by now and it put things in proper perspective, "there are no heroes in hip-hop." He has no idea how refocused that quote helped me become. Two people who were also instrumental in telling me how things were going down at the time were Mr. Mecca and Fresh Daily. Both of them held me down as friends so I will always look to do what I can to help those dudes get a lot of money some day.

AB: What made you want to come back?
SW: The comeback was basically a fight between staying on the sidelines and jumping back in to do things I knew people weren't looking to do three years ago when I left the game. I feel like in a lot of ways indie hip-hop still has not caught up to my way of thinking. I still see a train of thought from a lot of indie labels that goes back to 1998. I was already thinking about the way music would be in 2005 back in 1998, so to see that a lot of artists are trapped in a vacuum... I was in a heavy debate with myself to return. I also had some unfinished business that I could have walked away from but didn't feel 100% right walking away from, and saw some injustices being done to folks that I felt like I was in a position to rectify. I'm happy about the level at which I'm returning to music, but I'm not primarily a music guy anymore. Those days are over!

AB: I hear you're also re-filming parts of the movie. Why? And if you're re-filming parts of it why are you releasing the soundtrack now?
SW: I'm actually re-filming the ENTIRE movie. We had some problems with post production that caused for us to miss the original deadline for the release and that also caused for us to change everything creatively. There's a bit more documentary-wise and creatively that we can do. We know that now, so we're going to do that. As far as the music related to the film, I'm releasing the music first because I'm tired of the same ol' same ol' where music related to a film gets treated like a step-child. There are a lot of films that come out and once people see the film the music is forgotten like that {snaps fingers}. I want to keep the music related to the film on the radar so that people don't forget that the music is also part of this film's experience. I want to give sneaker lovers much more to hold on to than the movie and I think I'll achieve that with this entire project. That's something that my good friend Dee Wells (OSD's creator) and I always try to do for folks into kicks. Give them more than the obvious and they hold it in a higher regard.

AB: What are some of the other sneaker and hip-hop related projects you're working on?
SW: As far as music goes I guess you can really say I'm back because it's gonna be a busy 2010 for me musically. After Know You Got Sole, there will be a Benjamin Hooks album. Ben is the very first artist I started Ope Entertainment with back in 1996. He finally gets his time to shine after numerous setbacks over the years. I'm happy for that. Then I have Napoleon Complex, which will be a project with me and 5FT of Black Moon. I'm really excited about getting to work on that because folks really don't know how dope he is as an emcee. I can't wait to showcase that! It's crazy that the creator of Black Moon has never had a solo project, so I want to do this right to set things up really well for his future. I also have another project with my man Proper who is on Know You Got Sole. He's a great bridge to the future of hip-hop. He understands that you have to be more than just a rapper these days. He's been working towards that for a long time. I hope to showcase that properly. He deserves for folks to know who he is. As far as sneaker culture, you can catch me every Wednesday on our weekly live podcast, OSD (Obsessive Sneaker Disorder), where I'm the producer and co-host of the show, I'm also the channel programming manager for OSD TV, which is the only internet video network dedicated to sneaker culture, and I'm the executive producer and writer for the sneaker world's first sketch comedy show, Just Blame Chad. We're filming season one of the show right now. I guess the understatement of this entire interview is that it will be a BUSY year for me, OSD, and Ope Entertainment. {*laughs*} I said I was back right?

AB: Yeah, and you weren't kiddin. Why don't you close this interview with a little hip-hop - sneaker association? Tell me your three favorite pairs of kicks and which hip-hop album you'd compare each of them to.
SW: I would associate my all-time favorite sneaker, the Nike Air Max 1, with one of my all-time favorite albums, No One Can Do It Better from The D.O.C., simply because that was a classic album and the title matches how I feel about Air Max 1s. I would associate the Air Jordan 1 with Public Enemy's Yo Bumrush The Show album because that's exactly what P.E did to hip-hop and that's what the Air Jordan 1 did to the sneaker game. Both changed the way people express themselves forever in music and in fashion. Finally, I would associate the original Reebok Pumps with the song "Pump Me Up!" from Melle Mel (Grandmaster Flash & The Furious 5). For some weird reason that song and those shoes have always been hand in hand in my head! {*laughs*}
---

You can find Sean Williams on the web at obsessivesneakerdisorder.blogspot.com.

Originally posted: February 16, 2010
source: RapReviews.com