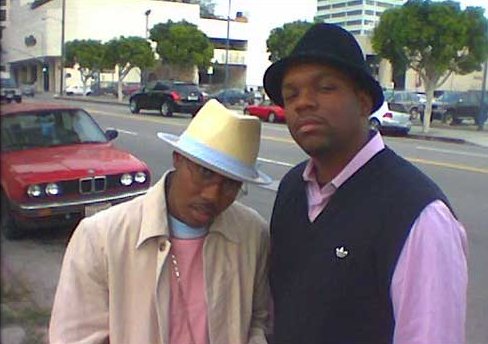 Slum Village Interview
Author: William Ketchum III

Slum Village has been through their share of drama, losing members with each of their last two albums released. Yet with their new album Detroit Deli, the two members of the group left have found a recipe to make the Motor City taste sweeter than ever. RapReviews.com talks to T3—one half of the current Slum Village—about losing pieces, putting them back together, and the state of hip-hop.
---

WK3: You're the group's only original member. What member changes has Slum Village had, and why did they happen?

T3: When we first started it was me, a guy named Jay Dee, and a guy named Baatin. Jay Dee left to do his own solo thing, and then I started managing Elzhi, we made him a full-fledged member for the Trinity album. From then, Baatin got sick on the course of us touring on the Trinity album, so now it's just T3 and Elzhi. We not adding no members, none of that, it's just me and El. We're already working on the next album.

WK3: What's the status of Baatin now? Is he coming back?

T3: I don't think so, Baatin is still sick, he's not taking his medicine. I don't think it's gon happen no time soon. It'd be good for him if he got himself together, but I don't think he has himself together.

WK3: A lot of people were disappointed with the second album, "Trinity."

"That album wasn't our fault, I'd like to say that to a lot of people. Basically, Jay Dee had left, and he made most of the beats."



T3: That album wasn't our fault, I'd like to say that to a lot of people. Basically, Jay Dee had left, and he made most of the beats. When he left, we still wanted him to do production on the album, so he would send us beats, and we'd send him vocals, and he would fit the beats. And the beats were on some futuristic stuff. Then Baatin wasn't showing up to the studio. So the album was sort of out of our hands. So we had to go find new producers, and we were also in the course of trying to find a new label. We were going through so much with that album that we're lucky that that album (even) got made. It's one of those albums that was like "Well you know, let's just get it out," because we almost didn't have nothing. It was just tough for a moment.

WK3: Tell me about the new album, "Detroit Deli."

T3: The new album was easy for us to make—we was focused, we knew where we wanted to go, we had already worked with our producers. We worked with BR Gunna, these two young cats, they did four tracks on the Trinity album, but they did most of this album. Jay Dee came back and produced one on the album, and I coproduced two with those guys. Once me and Elzhi came up with the concept, we sat down and focused and were able to knock it out. There wasn't all the grief there was when making Trinity. It was two focused guys knocking an album out, just put together smoothly.

WK3: Why did you name it "Detroit Deli?"

T3: We wanted to let people know that we're from Detroit; sometimes they couldn't relate us to Detroit. We also wanted to let people know outside of Detroit what's going on in Detroit. So we basically based the whole album about what's going on the "D," where we go eat, how to dress, churches and all that, so someone could get a glimpse of the heart of Detroit. Not just parts of Michigan, but the heart of Detroit. We wanted to bring that aspect across.

WK3: Critics are saying that this is your best album yet. Do you agree with that?

T3: I think it's our most focused album, I definitely think we stepped up lyrically on this album. You know what? To me, this album is a classic the same way still I think Vol. 2: Fantastic is a classic. Trinity was out of our hands, that's just up in the air. I think that lyrically it's definitely a step up, we touch on real topics this time, which is something that Slum had never did. I think this is just a start of more to come.

WK3: Tell me about your production team, B.R. Gunna.

T3: Well those two guys grew up on us and our sound. I've been knowing these guys since, well I've known RJ since he was 11, they're both 21 now. He grew up on Slum Village, and Black grew up on us too, he'd always been a big fan of Slum Village. It wasn't really hard to work with these guys—we just basically (decided to) go where we wanna go, and they were talented enough to make it happen.

WK3: Your single "Selfish" features Kanye West. How did you hook up with him?

"It's dope working with Kanye, because he gives good energy in the studio. He spits his raps to everybody in the room."



T3: I met Kanye at The W hotel a while back before his album came out. I was really supposed to be on his album, but it didn't work out, and we moved on from there. I ran into him again in Detroit, he was working on the D12 album. Then I bumped into him again at the BET Awards. We was basically done with the album, but that's when we called Kanye up and made it happen. We went to LA and did it in two days—he made the beat and wrote most of his rhyme that first day, and we came back the next day and finished it up. It's dope working with Kanye, because he gives good energy in the studio. He spits his raps to everybody in the room. He gives a real good energy, which makes it fun to work with a guy like that.

WK3: You also collaborated with Dirt McGirt and MC Breed. How did those happen?

T3: (Working with) Dirt McGirt was just something we always wanted to do. We never got a chance to sit down with Dirt McGirt, which I wish we could've did. We talked on the phone, sent him the music, and he liked it, and knocked it out. He called us back and played it for us, and that sounded like ODB to us, not Dirt McGirt. We've been big fans of ODB, that was just lovely to do. And with MC Breed, he was one of the first people from Michigan to get national love like that. So when we think of something big and bringing the whole city with us, he's definitely part of the heart of Detroit, so we wanted him to feature him as part of the album and part of this whole movement we were trying to make.

WK3: You guys have always had interesting videos, and "Selfish" is no different. Who came up with the concept for the concept for that video?

T3: I've gotta give that to (director) Chris Robinson man (laughing), that guy really grasped what we were trying to do with the song. It was supposed to be just like a talent search, like American Idol mixed with Nelly's Apple Bottoms. Just all women, of all walks of life—big small, skinny, cute, not so cute—just showcased all those women in the video, which is what we said in the song. It was just a great concept, and when we saw it we were like "Dang, Chris you did it again." He laced us.

WK3: Did he direct any other videos for Slum Village?

T3: He did "Tainted." That was innovative, it was like cartoon and real life together, it was crazy.

WK3: What's the next single?

T3: The next single's called "Do You," featuring MC Breed. We're probably going to shoot (the video) in Detroit, we'll probably get Chris (Robinson) to do it again.

WK3: What kind of response has the album gotten as far as sales go?

"We're starting to get crossover radio, which is something we hadn't got on the last album."



T3: We're actually the same as we had been before, but we're getting better. We're starting to get crossover radio, which is something we hadn't got on the last album. Now we have this D12 tour, so we're getting different types of fans. So it's still respect, we're still looking good. With things better hopefully, we'll be gold in about a month. That's what we're striving for, and I think we can do it.

WK3: Will Slum Village's members ever have solo projects?

T3: Oh yeah, Elzhi's going to do solo projects. I'm thinking about it, but I don't know, maybe either that or just staying in the producer's chair. But yeah, after a couple Slum albums, it's definitely going to be solo time, or doing other projects.

WK3: What's popping as far as Detroit hip-hop goes? Who's hot down there?

T3: We're definitely doing our thing down there right now, it's crazy. D12, they're some top people. As far as on the underground coming up, there are a lot of dope MCs—you've got Guilty Simpson, Mobb One, Front Ray, Phat Kat. It's a lot of dope cats that stay home because Detroit doesn't get the opportunity to be signed as much, it's kind of hard being from Detroit and trying to get a record deal. There's a lot of hungry MCs that you need to look out for that's on the come up that have hot joints.

WK3: You guys just did the album, so what's next for y'all?

"We're working on a movie of our life story [...] it's kind of like a rap version of the Temptations."



T3: We're already working on the next album, we're working on a movie of our life story, about us loosing members and going through the struggles that we went through, and where we're trying to go. It's kind of like a rap version of the Temptations. We're probably going to leave this tour, hop on our own tour, a college one, then we'll go overseas, go to Japan. Then we'll drop another album early summertime next year, right on schedule.

WK3: What do you think of the rap game right now?

T3: You know what? With all those people complaining about the rap game, I'ma say this. It's a double-edged sword, but the positive thing about the rap right now is that underground artists are now getting commercial success, as well as commercial. The reason why I'm saying that is because you've got groups like Slum Village who's always been underground, you've got groups like the Roots,coming from the underground, you've got Common, you've got Talib, you've got all these guys that's "underground music" but have that mainstream affect on people like mainstream artists. Before, if you were underground, you were underground, that was it. You wasn't getting no video play all day, you weren't going on TV. So in that sense, I think it has gotten better, so that underground artists can't complain as much, compared to how it was when we was coming up. When we were coming up in '98, basically it was a wrap for us. Nobody wanted to hear no Detroit group; you only had two coasts that did it, and those were New and LA. If you weren't from them man, it was hard to get a deal, like "Good luck." We luckily have people that supported us, like Q-Tip vouching for us, Pete Rock and all these cats. If we didn't have people vouching for us, it would've been super difficult for us.

WK3: Here's the deal—I give you two different choices, and you choose one. Monica or Brandy?

T3: That's a hard one, (but) I'd go with Monica.

WK3: Lil Kim or Foxy?

T3: I'd go with Foxy before Lil Kim.

WK3: Jay-Z or Nas?

T3: Oooh, that's a hard one. It depends on what I'm feeling like. I'ma go with Nas for now though.

WK3: Reebok or Nike?

T3: Nike, I don't even have to think about that one.

WK3: Verizon or Sprint?

T3: I'll go with Sprint.

WK3: XXL or The Source?

T3: XXL.

WK3: Chicken or steak?

T3: Chicken.

WK3: That's about it. Is there anything else you want to say to the readers?

T3: Just check for the new Slum, it's coming out soon. And get the one that's out now, see what we're coming with.

Originally posted: August 10, 2004
source: RapReviews.com