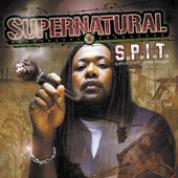 Supernatural Interview
Author: Adam Bernard

There's something about New York City and Hip-Hop. The birthplace of the culture will always be the epicenter of it all. As a youth in Indiana Supernatural, AKA Supernat, knew this, which is why after he graduated from high school he high tailed it to the big apple. "It just inspired me to be somewhere where Hip-Hop was so prevalent," he explains "there was Hip-Hop on the radio every Friday, Saturday and Sunday. It was just an inspirational time and a good time for music."
Already in love with the music, soon rap fans would be falling in love with Supernat and his incredible ability to freestyle. He quickly became an underground icon, but like all icons there were plenty of people lining up to take his crown. Supernat quickly disposed of his combatants but is just as quick to note "I don't center my life around battles, or my career around battling, I'm an artist first." He continued, adding "battles come battles go, and when they do come you have to be prepared. If I feel like I want to do it then I'll do it. Soldiers are told when to fight and real warriors fight when necessary."
Even though he was involved in countless battle Supernat points out "as a battle MC, in my whole career, I never issued a battle. Word of mouth is a powerful thing." Word of mouth gained him his current status, and he's hoping word of mouth can also open up some ears to some of his written work such as what he has on display on his debut album ""S.P.I.T." (Spiritual Poetry Ignites Thought)."
"I think it will surprise a lot of people that I've finally made a studio album after all these years and they'll hear some written rhymes," he muses, adding "on this record I tried to give people a little bit of everything, the plight of my people, black people, and I kind of told a little bit of my story, what I've been through." One thing Supernat wants to make abundantly clear is "I'm tryin to say something. It's a powerful tool, Hip-Hop, and I'm trying to use it to the best of my ability."
So far Supernat's ability has been shown mostly via the stage and his numerous performances. He explains that a good stage show is key for any artist, saying "if people see you but you have a wack stage show they're always going to remember that. You can lose a fan." Supernat hasn't been losing many fans, though. He notes "every time that I give a show I have the gift of freestyle that's given to me I know that was the gift that was given to me, the ability to spit rhymes off the dome. People always left the show with something to say and nine times out of ten it was something good, thank God for that. One moment in a set of moments. An insane gift got me in the industry, freestylin, even before I was a battlin cat I was freestylin. Thank God I have that gift because it paves the way for this record to be out."
Finally, after years of spittin, Supernat's ready to see where "S.P.I.T." can take him.
---

Visit Supernatural's label at UpAbove.com.

Originally posted: January 17, 2006
source: RapReviews.com