RapReviews.com Feature - They Try to Be Like Me: Songs in Tribute to N.W.A (Part 2)
Author: Matt Jost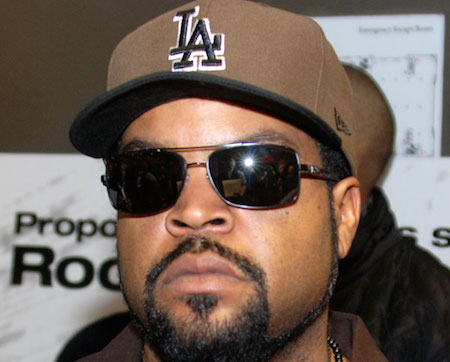 "My behavior is hereditary," the good Doctor (Dre, that is) stated in "Straight Outta Compton"'s "Express Yourself," and where it wasn't hereditary the behavior was highly contagious. It's actually a bit misleading to present, as we do here, N.W.A's influence in the form of cover songs and the like. The influence runs much, much, much deeper. N.W.A and their disciples (as well as their fellow apostles for free speech in rap fashion, most notably Ice-T) crept on their come-up all the way into middle America (by way of tens of thousands of teenage bedrooms). Still covers and sampling collages are always a peculiar way to pay tribute (and mind you, much rarer in rap than in rock), so here are 6 more. (Part 1 can be found here.)

7) G.S.F - "Straight Outta Ganton" (2013)

"Straight Outta Compton" and many subsequent rap releases relying more explicitly on gang culture brought the destructive urban warfare to the attention of a greater public. The image of the American city as a site of never-ending criminal activity was cemented by both fear-mongering media coverage and violent rap songs. One of the most successful video game series of the last twenty years, Grand Theft Auto, has made use of the sad clichˇs but also the harsh realities. The GTA location San Andreas is a rebuilding of California, including the fictional Ganton doubling for the City of Compton. Famously featuring a knowledgeable soundtrack via built-in radio stations, GTA educated many gamers on rap history. Grand Theft Auto is but one item of pop culture that thrived on the scenery that "Straight Outta Compton" set so early on. Paying tribute to both N.W.A and GTA III, a bunch of gaming and rap fans got together as G.F.S (named after the GTA gang Grove Street Families) for this faithful but still fictionalized remake of "Straight Outta Compton."

8) Dynamite Hack - "Boyz-N-The Hood" (2000)

Not even trying to be pretty fly for some white guys, Austin geek rock band Dynamite Hack do the ironic thing and cover Eazy-E's "Boyz-N-The Hood." Actually done better than many a half-assed hipster episode.

9) Foxy Brown f. Mia X, Gangsta Boo - "B.W.A" (1999)

Chances are southern boss belles Mia X and Gangsta Boo were more familiar with N.W.A and the song they cover here ("Efil4zaggin" opener "Real Niggaz Don't Die") than young gun Foxy Brown, but this is still noteworthy as a later reminder of the group's influence on female rap as well, after the first wave of gangstresses that emerged in the wake of "Straight Outta Compton."

10) Aphrodite - "Gangsta Gangsta" (1999)

One of the original/'old skool' drum-n-bass DJ's and producers, Aphrodite is credited for introducing hip-hop samples into the genre that up to that point stuck faithfully to reggae and dancehall sources (well, next to the "Amen" break). He even featured Rah Digga, Big Daddy Kane and Schoolly D on one of his albums. The sub-genre called jump-up which Aphrodite represented in the later '90s was sometimes derided as too basic, but his take on "Gangsta Gangsta" is a fine example of how a radical new form of music can be combined with something just as radical but still completely different.

11) Lethal & Khanage - "Fuck You!" (2007)

Belonging to a later generation of London drum-n-bass artists, Lethal & Khanage distill some choice words from the N.W.A and Ice Cube catalogue for this explosive cut.

12) Bone Thugs-N-Harmony - "Fuck Tha Police" (1998)

No other rap act outside of N.W.A's immediate circle of influence has had the bond the young rappers of Bone Thugs-N-Harmony had with their mentor Eazy-E. It was an unlikely relationship, Eazy-E once learning rap the hard way (and often still having a hard time rapping, even as one of the genre's superstars), while Bone took the artform into another dimension with their shamanlike mastery of flows and melodies. But the bond was strong, well beyond Eazy's untimely death, and when Priority Records initiated a '10th Anniversary Tribute' for "Straight Outta Compton," Bone were naturally present to re-record one of the album's iconic songs.
---

Feel free to send all messages regarding this article to Matt Jost and to follow @RapReviews.

Originally posted: August 18th, 2015
source: RapReviews.com