Blue Scholars and Psalm One Concert Review
The date: November 20th, 2007.
The place: The Waiting Room Lounge; Omaha, NE.
The event: Blue Scholars & Psalm One in concert.
I've been to a lot of shows in Omaha where it's best to arrive early because parking is an issue and there are long lines at the bar to get a drink. Tonight was not one of these nights. I parked less than half a block away from Waiting Room and despite strolling in at 4 minutes to 9 Central time the venue was anything but packed. Bear in mind this is no indication of how things would turn out just a couple of hours later, but there were maybe a dozen people in the entire venue and I'm including the artists and their road crews. On the plus side this made it ridiculously easy to get a beer at the bar and find a good seat to chill for a while. I sent a text to my man JJ and told him come on through, and I sat back sipping a brew while a DJ who was already on stage mixed a variety of hip-hop classics. In a ten minute span he had mixed "Come Clean" into "I'm the Magnificent" and followed it with "'93 Til Infinity" so I was already getting a good vibe about the night. With the dead time I took a few photos of the merchandise table and surfed the web on my cell phone.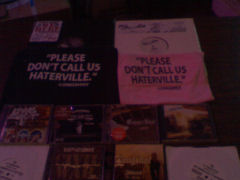 About 20 after the venue SLOWWWWLY started to fill up. By this time the DJ was really hitting his stride, juggling the break from Big Daddy Kane's "Ain't No Half Steppin'" on the one and the actual rap on number two. We continued on this path for another 20 minutes until finally he finished and stepped off the stage. A small table from the lounge had been set up to his right (stage left for the audience) with one lone turntable on it and a foot pedal underneath, and it was at this point DJ CMB took his position behind said wheel of steel. Shortly after local Omaha rap scene veteran Articulate hit the stage, all the while promoting his "Against the Current" CD. He opened the set with a freestyle and one of his usual crowd pleasers "Rough Rugged and Raw," and midway through he switched up the beat and he rapped it over Biggie's "Dead Wrong." I COMPLETELY approved. A little bit later in the set he turned things over completely to DJ CMB, who entertained us by using the foot pedal to catch breaks and loop them while he was scratching. This might not win him the grand prize at DMC any time soon but it was definitely a solid display of turntablism. Art wrapped up his set with "The Voyage" and bounced about 5 after 10.
The original DJ came back and threw on one of my all-time hip-hop favorites, East Flashbush Project's "Tried By 12" before mixing it with Young Buck's "Bang Bang." Unfortunately the next act LongShot took a little too long to hit the stage, because most of Articulate's crowd had vanished for beer and piss breaks. He rocked a song with the hook "LongShot to make it, but I'm willing to try." I regret to admit I own two of his albums and didn't recognize which track this was, but at least it drew the small but passionate crowd back to the stage. He gave out props to DJ GT, the selector who had been rocking us with classics all night long, and then noted this would be his last night on tour. The energetic set pulled the crowd in close as he ran through several songs and an acapella freestyle, the highlight of which was "Sacrifice" from his album of the same name. A song about the NBA got a good reaction and then the Chicago MC wrapped his set vowing to "get that dough." His set ended at just about 10:30 but DJ GT stayed for a little while longer to spin for the crowd.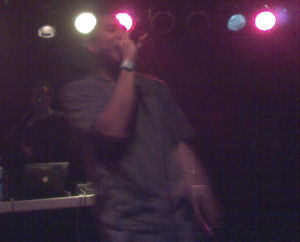 At 20 minutes to 11, at the fullest The Waiting Room had been all night long (or was going to get all night – I'll generously estimate 100 people) Blue Scholars hit the stage to an enthusiastic response. The tag team of Geologic (vocalist) and Sabzi (turntables) were playing to a crowd of people who were largely familiar with their work, despite the fact they are based in Seattle and were playing in Omaha. In fact one fan standing front stage right next to me was repeatedly singled about by Geologic for knowing the hooks to all of their songs. You could characterize Geo's rap as being underground, some might even derisively say backpacker, but I would say it was just damn good and delivered with a ton of energy and passion.
Geologic was all over the stage from left to right, spitting memorable lines like "They say hip-hop is dead, NO IT'S NOT, it's just the lyrics are underfed." I gotta give it up at this point to Sabzi for rocking the old school thick glasses like D.M.C. used to (seen here) while Geo had on a dope shirt with a Taki 183 logo (please no debates about "graffiti isn't meant to be on a t-shirt" here – hip-hop went commercial a long time ago). The crowd erupted when the duo broke into "Fire for the People" from the "Bayani" album and eagerly sang along to the chorus. Scholars covered the whole range of their catalogue though, even busting out "The Ave" from their eponymously titled debut before rocking the crowd with "Back Home." This track gave me flashbacks to the Chubb Rock posse song "Bring 'Em Home Safely" for all the right reasons – not so much anti-war as pro-men in uniform and hoping they can be taken out of harm's way and brought back to their loved ones in the U.S. soon.
Blue Scholars brought their set to a close with "North by Northwest" and a couple of other strong cuts, stepping off the stage at a quarter after 11 with a crowd that seemed very reluctant to see them go but just as eager to see Psalm One. This was actually the second time I had seen Psalm in Omaha, the first time being May of 2006, but unfortunately the charismatic Christalle was coming down with a cold and was losing her voice like crazy. Fortunately for the crowd Psalm is a crazy hardcore b-girl who doesn't give a fuck, and she mentioned that this was her last night on tour and there was no place she'd rather finish than here in Omaha.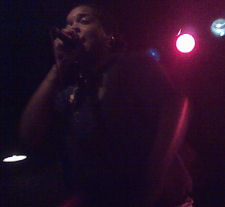 Clearly she was still going to go out there and give it everything she had and then some. Psalm hit on all of her most popular songs including "Rapper Girls (Cut That Shit Out)" which DJ GT eventually flipped up to The Game's "Wouldn't Get Far" instrumental, which she transitioned over effortlessly. With the help of LongShot freestyling and doing duets, plus copius amounts of liquid refreshments, she managed to keep her voice just long enough to close out a few minutes before midnight with "Rap Star." she thanked the loyal crowd by urging us all to "PARTY AND GET DRUNK TONIGHT." Well if it wasn't a Tuesday night and I didn't have to drive myself home I probably would have took her up on the offer. It wasn't her longest or greatest set but I doubt anybody who stayed until midnight was in any way disappointed.
As a whole the Blue Scholars and Pslam One show was a very worthwhile experience, and the Waiting Room Lounge was a nice sized venue with good acoustics, so the only real complaints I can issue are that this show seemed poorly promoted and that Wednesday nights seem to draw better anyway. Besides all that indie hip-hop acts usually seem to play Sokol Underground when they come to Omaha, so it may just be that the crowd didn't follow the scene from downtown out to midtown. Other than that I'd recommend catching Blue Scholars or Psalm One on tour, when they come to your town, but since it seems the entire tour is winding down it's best to say catch them NEXT TIME that they come around.