London Rapper Stormzy is such a huge fan of Monopoly that he's been gifted with not one but two personalised versions of the game. Towards the end of last year, he got his own personalised Monopoly Deal cards game. He's made no secret of the fact that he is a massive fan of the game and has been known to take to social media to rant about people who don't know how to play. Stormzy says that he likes to play the game for what it is, simple fun.
Monopoly Deal made a personalised version of the card game for him and included a few nods to his music. In a black box with gold lettering, it oozes #Merky style. Some of the cards have been renamed. The just "Just Say No" card is replaced with "Shut Up" in this deck and the "Debt Collector" is now "Bailiff One". No room for the "Forced Deal" in this game, it is now a "Big For Your Boots" card.
In a Guardian article in 2019, Idris Elba asked him if he had any hidden talents that would surprise his fans. Stormzy replied that he was good at poker. He described himself as a proper game head who loves poker, Monopoly, Scrabble and Connect 4. He says that he is very good at Texas Hold 'em and that he has a poker room in his house. As a man who might enjoy a flutter and playing games, you can imagine that he could be found trying out a slots version of Monopoly on Megaways slots UK online casino site. He has said that if he wasn't a musician, he be a professional poker player.
A couple of years back Hasbro, the makers of Monopoly, presented him with a one-of-a-kind version of the board game. The property squares all featured Stormzy, and the Chance and Community Chest cards were personalized. He was so delighted that he showed off the game on his Instagram story. He whooped in delight at the card which says, "Jay Z rates you" and "Enzo Bit You". There was also a card that said, "You have won a MOBO award" and another which simply says, "Shut Up". There's even a "Coutts Bank error in your favour" card which entitles the holder to a pay-out from the bank. Even the "Go to Jail Square" on the board is customized and says "You're Done Out Here, Go To Jail". The classic "Advance to Go" card now reads "You are headlining Glastonbury".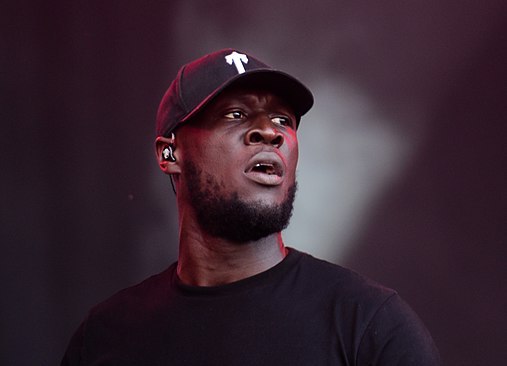 The traditional silver-coloured playing pieces of car, iron, cat, ship, hat, thimble, and boot, appear in #Merky Monopoly as golden pieces in the forms of a hashtag, watch, phone, penguin, trainer, gramophone and sportscar. The only playing piece in common is the dog but in the #Merky version of the game, it's a golden one, of course.
Hasbro said that when they realised what a huge fan of Monopoly Stormzy was they could not think of a better way to celebrate his many career highlights than producing a version of the game with a #Merky twist. That twist included a black box with gold lettering.
In true Stormzy style, he goes one step further than those who have gone before him. In 2018 Drake was presented with a personalized version of Monopoly while on tour at Toronto's Scotiabank Arena. For him, it was a North Side edition that was dedicated to his career's accolades. It also featured those in his inner circle who had played a crucial role in his success. Unlike Stormzy, however, he hasn't been honoured with a personalized version of the high-paced, addictive card game version that is Monopoly Deal.
After two years of cancelled gigs, Stormzy will be back out on the road. His 'Heavy Is The Head' world tour had been scheduled to start in September 2020, but those dates were twice postponed. He has confirmed that the gigs will take place starting April 2022.