Nobody likes an attention seeker. The Game's latest album seemed to be checking off every technique in the marketing handbook and yet here we are weeks later, after a lukewarm reception from critics and a halfhearted shrug from hardcore rap fans. Every trick was used to generate discussion, which has ultimately hurt The Game's reputation, in my opinion. This album, the Compton rapper's eleventh, is full of contradiction, is far too long, and adds nothing to his legacy. It's not a complete write-off, but if it achieves anything, it seems to highlight how deluded Game can be.
This sense of making music to remain relevant, rather than to leave a strong body of work has ultimately started hurting The Game's legacy, when his records were more level-headed and under the radar ("The Documentary 2", "1992") helped his claims as a west coast great, with many citing these albums as underrated. There's no denying Game can rap his ass off when he wants to, coupled with charisma many emcees would sell a kidney for. Crafting raps that rely on name-dropping other artists is pretty challenging from a writing perspective, and it seems divisive still. Even if you do like The Game, the relentless references to Dr. Dre feel obsessive and have been a running joke amongst many fans: "how long before Game mentions Dre?". I like the (non-Dre) namedrops myself, it's The Game's USP but even these seem to have been usurped by corny behavior and childish feuds with other artists.
The original title for this album was "30 for 30", which explains why there are thirty tracks. My assumption is because it's been thirty years since "The Chronic" (released December 1992) and Game tends to release music at the end of the year (7 of his previous 10 albums were released between October and December), Game planned to celebrate that anniversary given he's never far from shouting out his idol.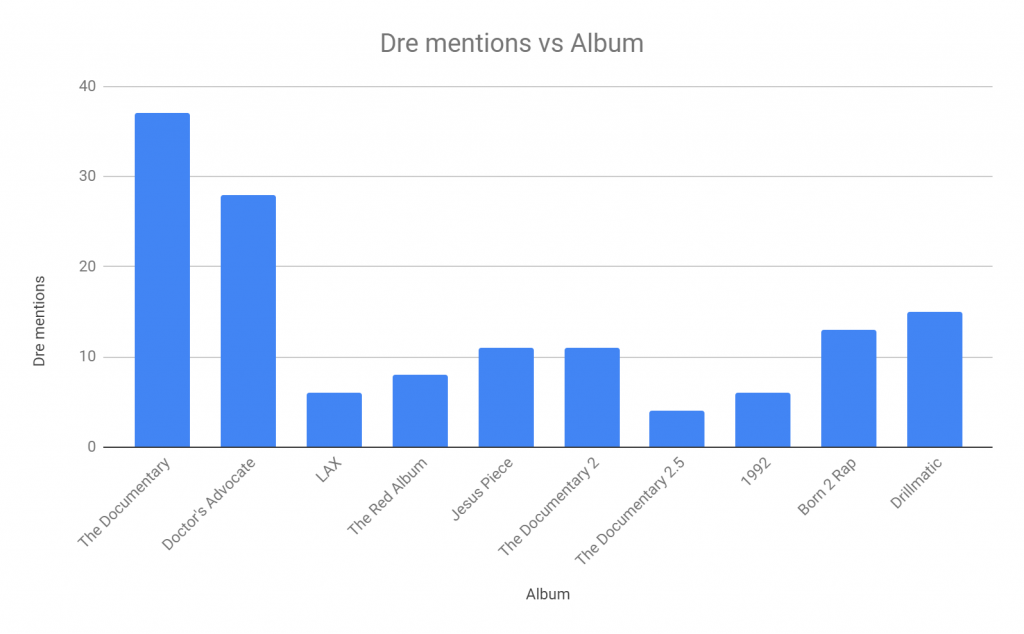 Notice how Game gradually thinks about Dre more with each album that passes, but he reined it in with "The Documentary 2.5", before following the same pattern. Most of the Dre mentions on "DRILLMATIC" happen on the Eminem diss "The Black Slim Shady", but we will get to that later. Initial impressions of this project are that a lot of this music feels like Game recorded it, but wasn't sure what to do with it. This isn't a drill album, nor is it in any shape or form connected to Nas' seminal debut "Illmatic" – it sounds uninspired and the result of a marketing meeting that overran.
"Yo, we've got five minutes before lunch, what are we naming this new Game album?"
"Well, everyone loves Illmatic, and what's that music the kids are listening to now?"
"Drill?"
"Yeah, that's the one. How about "Drillmatic?"
"Hmm, it's a bit obvious."
"You're right, let's stick it in capital letters."
"Sorted. Sushi?"
Stylistically, thematically and structurally it's as messy as Suge Knight's rap sheet. There are contradictions up the wazoo, which is probably my biggest issue with Game's performance. For a man obsessed with his legacy, who celebrates, indulges, and quite literally embodies west coast gangsta rap, he's filled this album with everything but that west coast gangsta rap we know he does so well. By the end of the album, you've got Game quoting Common over a Janet Jackson sample alongside Chris Brown. "Universal Love" is actually one of the more rewarding listens, but it only confirms how far "DRILLMATIC" is behind his best work. It lacks identity, and cohesion and it's more of a playlist than anything.
I like "Outside" with YG and the DJ Paul produced "La La Land" – both possessing a heft that fits Game's passionate celebration of his hometown. DJ Mustard reps the west too on "Heart vs. Mind", very different from his more familiar style instead providing a stuttered piano loop which Game never quite meshes with. Hit-Boy continues his streak with some solid contributions too, namely "A Father's Prayer" and the Big Sean track "Stupid" which reminds me of the JDZ & Westy grime hit "Anthem" (specifically Shadow's verse). One of those millions of views must have been Game or Sean, as it's way too similar.
This influx of guest appearances vastly dilutes the experience, so as good as some of these tracks are, they never feel like Game's. Lil' Wayne and G Herbo sound at home over London on da Track's monstrously catchy "Chrome, Slugs & Harmony", as do French Montana and Tory Lanez on the dancehall/pop track "Nikki Beach". Game's verses flow well, but the vocals sound noticeably different to the rest of the final mix, only adding to the compilation feel this album possesses. There's also some horrible rhyming on "Talk To Me Nice" that, while making Game sound superior, makes you question why he's sharing the mic with rappers as iffy as Meek Mill and Moneybagg Yo. Particularly as the former is someone he spent two years and "92 Bars" tearing to pieces. Beef and pettiness are nothing new to Game, and the inclusion of a Drake voicemail declining a feature is a bizarre moment. Surely this is a self-own? Is being declined by Drake a badge of honor now?
Similarly problematic is the pandering to 90s New York. "K.I.L.L.A.S." is actually a dope drill beat whereby I expected Skepta or Giggs to drop by for a verse, but instead we get Cam'ron with a rusty reimagining of his glory years. Game randomly revisits Jay-Z's "Change the Game" with Hit-Boy and Ty Dolla Sign but it's little more than an inferior imitation. Mobb Deep's "Getaway" isn't a Havoc beat, but it is recycled on "Start From Scratch II" (the original is a Havoc production from Game's first "Documentary" album) and features some interesting regrets from that period. Hearing Game admit he should have married one of his children's mothers is powerful among the throwaway moments, like congratulating Missy Elliott on her Grammy, or making an effort to stay in touch with Jay-Z. Sometimes I'd like to hear Game share more of his personal stories, because there is so much more to unpack than brief interactions with fellow celebrities. The other New York revival is Jay and DMX's "Money, Cash, Hoes", here billed as "Money, Cash, Clothes" with A$AP Rocky. It even includes the original beat courtesy of Swizz Beatz but only highlights Rocky isn't in the same league as X or Hov. There's also another Game self-own with the line "Rocky you've got Rhi-Rhi" (in reference to A$AP Rocky's relationship with Rihanna), as nothing Game says stacks up to that. The petty side of Game comes out with a jab at Drake too, but much like Eminem at the time of this review, I doubt he'd waste time responding.
January saw Game and 50 Cent's feud flare up for the umpteenth time after Game said "Kanye West did more for me in two weeks than Dr. Dre did for me throughout my entire career" during a Drink Champs interview with N.O.R.E.. Any sane person knows that this is a lie, given the countless times he has confirmed what Dre did for his career:
If that wasn't controversial enough, he claimed he was a better rapper than Eminem which 50 didn't take kindly to. The mention of Kanye West was in line with the release of the single "Eazy" which featured Kanye West – itself courting controversy from its artwork featuring a skinned monkey.
He's moved his reticule over to Eminem this time, which definitely feels forced. Only a fool goes at Eminem, and the fact that Game's "diss" is called "The Black Slim Shady" – itself a compliment to Em – highlights just how little this diss makes its mark. Producer Hit-Boy even acknowledges that the first part of the song is a dedication to Em – considering Game had just the one album with Dr. Dre on Aftermath, it's worrying how much he misses that period.
There's a strange impersonation of Slim Shady too, which mocks Em for masturbating to Lizzo, despite just shouting Lizzo out as a "killa" on the previous track. The diss is full of this half-hearted material that fails to connect. "You was pretending to be the white Royce Da 5'9"" – but Royce Da 5'9" is one of the best rappers of his generation? There's even a bold kidnap claim of his daughter Hailee (in-character as Slim Shady) that feels dodgy, along with a slew of terrible puns using Interscope, 8 Mile and Mariah Carey – things that happened twenty years ago. It just sounds a bit sad, with Game coming off more as a Stan rather than playing the role of Stan. Em doesn't need to even acknowledge this, as it's another so-called self-own. A shame, because there's plenty of material to really attack Eminem (bad albums, corny lines, his ludicrous beard) so this feels like a missed opportunity to light a fire under the Detroit wordsmith.
"I've had a great run & surpassed my rap goals a long time ago. It will always be 'QUALITY' over 'QUANTITY' from where I stand. The REAL music will always prevail & this album will cap off an amazing run."

Game interview with AllHipHop in 2021, before releasing a 30-song album
"When it drops, I promise you that if you put your ear to it you will then understand why I'm the best rapper alive. My controversy has always stepped on my greatness, but that's all about to change. This album has a strong hold on being the best album of my career."

A quote from Game's Instagram, which has since been deleted.
There's a key sentence here that acknowledges Game knows the controversy prevents him from being great, and yet he seems to ignore this throughout "DRILLMATIC". This essentially removes any credence to what Game says, but confirms any suspicion around whether Game is self-aware. He is, but working with famous names still takes precedence over crafting a great album. 2019's "Born 2 Rap" was supposed to be Game's final album (as was 2008's "LAX"), but he joins a long list of artists ensuring the word retirement means nothing in hip-hop outside of lazy marketing.
| | | |
| --- | --- | --- |
| Artist | Announced retirement | Returned with new music |
| Too $hort | June 18, 1996 (retirement album) | July 13, 1999 |
| Master P | June 2, 1998 (retirement album) | October 26, 1999 |
| Ma$e | April 20, 1999 | August 24, 2004 |
| Jay-Z | November 14, 2003 (retirement album) | November 21, 2006 |
| 50 Cent | September 11, 2007 (retirement album) | June 16, 2009 |
| Lupe Fiasco | January 18, 2008 | March 7, 2011 |
| The Game | January 4, 2008 | May 14, 2009 |
| Jean Grae | April 28, 2008 | June 25, 2011 |
| Scarface | December 18, 2008 | April 27, 2010 |
| Kid Cudi | March 16, 2009 | November 9, 2010 |
| Lil Wayne | March 29, 2011 | December 29, 2017 |
| Lupe Fiasco (2) | September 5, 2012 | October 19, 2012 |
| Childish Gambino | June 4, 2017 | March 31, 2022 (announced new music) |
| Yasiin Bey/Mos Def | January 20, 2016 | December 5, 2016 |
| LL Cool J | March 14, 2016 | March 14, 2016 |
| Bow Wow | August 7, 2016 | January 11, 2022 (announced new album) |
| Lupe Fiasco (3) | January 9, 2016 | February 10, 2017 |
| Joe Budden | June 17, 2016 | – |
| XXXTentacion | October 27, 2017 | November 2, 2017 |
| Lloyd Banks | March 16, 2018 | March 17, 2018 |
| Jeezy | March 22, 2018 | March 27, 2020 |
| Lil Xan | November 14, 2018 | November 15, 2018 |
| Wale | November 15, 2018 | December 20, 2018 |
| Lil Uzi Vert | January 12, 2019 | April 10, 2019 |
| Kev Brown | April 18, 2019 | August 2, 2019 |
| Nicki Minaj | September 5, 2019 | January 26, 2022 |
| The Game (2) | November 29, 2019 | January 6, 2022 |
| Logic | July 17, 2020 | June 18, 2021 |
| Lil Uzi Vert (2) | November 13, 2020 (announced two albums then retirement) | – |
The problem with even making an album this lengthy is little sticks in the memory. At least in the era of double disc CDs, you would spend time with your purchase and ultimately skip tracks you didn't fancy. A 30-track album in 2022 may as well be a playlist, with decreased attention spans and all music at our fingertips, are people sticking with Game through two hours of music that's frequently jarring? Guest features spilling out everywhere, forced remakes of New York hits, questionable statements and musically veering all over the place.
In trying to remind fans that he's one of the greats, his try-hard approach only undoes his earlier, often overlooked projects. The two Documentary albums, "Doctor's Advocate" and even "Born 2 Rap", are a legacy to be proud of. Sure, he's not got as much money as Dre, or as big an audience as Em, or as critically acclaimed as Kendrick, but Game has something none of them have. He's the pure west coast gangsta rapper, with oodles of charisma, a sharp pen, and an underrated flow. He should be proud of that and use this to his advantage, rather than worrying about what everyone else is doing. He could make another defining west coast album but instead seems obsessed with straying from what makes Game, Game. He's a bit of a lost soul caught between a lifelong love for west coast pioneers, a fascination with popular rap stars, and in turn an obsession with remaining as relevant as his reference points. By channeling his whole writing style to famous names, he fears he won't be cited by others. But there's no need. Game will always have the detractors that deem him corny or too much of a referential fanboy, which is an understandable criticism of his style, but it's also hugely dismissive. Game rhymes through reference, and it's what has made him, but maybe also what holds him back. This two-hour epic may not be his best work, but it's his most Game album yet. Half of the music industry is on the tracklisting, and it doesn't matter if this is called "DRILLMATIC", "THE CHRONIC 2" or the motherf***in' "DETOX" – if this is Game's final album, it's a real shame to see him bow out in this manner because we know he has it in him to craft another great album.
The Game :: DRILLMATIC Heart vs. Mind