I've always thought of Elzhi as one of many under-appreciated rappers and Khrysis as one of many under-appreciated producers. So the two figured the appreciation levels would go up a notch when they link as a rap group called Jericho Jackson. Named after the real name of Action Jackson, the 1988 movie starring Carl Weathers; Jericho Jackson started off 2018 right by releasing their slept-on joint album that booms in your Jeep or your Honda or your Beamer or your Legend or your Benz. The group toured throughout the West Coast last month to support their album, now they've been hitting the East Coast leg, which includes the show in this review, Buffalo. The group had just performed the day before at the 2X2 Hip-Hop Festival in Columbus, OH, so it would be interesting how the energy would spread two states over.
But first, we had a list of opening acts and boy, were there plenty! Genecist and Shuteyes w/ Type Relevant, 14 Trapdoors, Chuckie Campbell & the Black Den, Dumb Luck, 60 East and Bronze Nazareth were all in line to open before headliners 'Zhi and Khrysis. The show started at 9 PM and no time was wasted. The scratcher for the night, DJ Optimus Prime, was cutting on the 1's and 2's, blending in mixes of underground hip-hop and break beats really well! He set the tone right as the first opening act, Buffalo's own Genecist with the band Type Relevant and another rapper, Shuteyes, hit the stage. Visually, Genecist left a first impression that he was really about his art. Rocking a Fulani hat with African garbs under his black and green space-looking jacket, you can tell he was set to stick out like a sore thumb on the brink of tendonitis. Musically, his style complimented the funk vibe of Type Relevant, as the bass, guitar, and drums laid over the flow like a warm blanket. Genecist was chilled-yet-confident on stage as he flowed over beats that sounded like the band version of Jay-Z's "P.S.A." He also sang on stage plenty of times, which is very reminiscent of Mos Def during the years he was coming up. Shuteyes rocked and was very hype on the stage, and frankly, that's a white boy who can spit and put on a show. The vibe was very ill that even the band's bassist got on the mic to spit while playing bass. Overall, that was a nice first opening.
14 Trapdoors, another group representing Buffalo, were the second opening act. The group featured three white boys whose style reminds me a lot of a young Beastie Boys on trap music, except they were much more stoned and voices much deeper. In fact, the crew asked trivia questions to the audience offering an alleged (shh!) joint as a prize if a right answer was guessed. The questions were mainly asinine, such as guess the pants color of one of the members (white) and what sport they're pantomiming (tennis). Another weird fact they had their DJ with a guy next to him wearing a Deadpool mask, whose sole purpose on stage was to get slapped around and insulted by the group. The group even asked for audience participation on helping by giving the Deadpool fella the finger (the middle) which they highly obliged.
Next up was Ontario, California's 60 East, who has been really on a come up lately touring with Jericho Jackson, while he also toured with Westside Gunn, The Alchemist, and Devin the Dude in recent past. Rocking a LA Dodger hat, black shirt, and khakis, you can tell how West Coast he is. He performed his single "Almost There," which sums up his current state in rap, "We ain't made it yet, but we're almost there." He also introduced a track called "N.W.A," which is a nod to the legendary group as well as the days of youth in Cali. Thankfully I know the track titles because he introduced most of the track names before performing them. Overall, his performance was nice.
Rapper Dumb Luck, repping Salt Lake City, Utah, of all places, came afterwards to perform. He used his own MPC to turn on and off songs at his choosing, essentially being his own DJ. He rocked over slow-tempo dusty beats which I would never guess coming from Utah. There was a song, before he performed it, he warned the audience that he couldn't sing and bear with him. He proceeded to grab a chair, sit down and blew the song away with intense vocals. Can't sing, my arse! Coming up next was Wu-Tang-affiliate Bronze Nazareth hitting the stage with June Megalodon. Like Jericho Jackson, Nazareth and his crew just came back from 2X2 Festival as they performed his known underground hits such as "Dopest" and "Bronzeman." June got to spit his own joints he has, as well.
Going back to acts from Buffalo, Chuckie Campbell & the Black Den were another hip-hop band rocking the stage. Chuckie Campbell had a look that reminded me of 2010s' Robert Palmer, but instead of having deadpan lady models backed up as a band, he had a lively group including a trumpeter, trombonist, and keyboardist as Black Den. It amazed me how Campbell was able to spit at rapid speed yet sound very clear with no gibberish.
Frankly, for the price of the admission, if it wasn't a Jericho Jackson concert and it only had all of the opening acts, it would be well worth the money and more. But after the 8 acts, it was time for the INDEFATICABLE Jericho Jackson!
After Khrysis got his music setup complete, he told the crowd to make some noise and wanted a dot check for "energy level." "I'm big on energy, so whatever energy y'all give to us, we give that sh*t right back to y'all!," declaired Khrysis. Alright, let's see how this goes! Khrysis then played a mix of dope New York cuts ("Nutmeg" by Ghostface Killah, "Keep It Throro" by Prodigy, etc.) as well as cutting cuts produced by Khyrsis himself, such as "Watch Me" by Little Brother and "Onion Head" by Sean Price (which the audience shouted out "PEEEEE!!!!" soon as the beat came on). The crowd must've passed his test, because they cheered at each tune. Khrysis decided the show is now ready to begin as Elzhi comes out without warning to perform his verse from "Without Warning." The crew got into doing joints from their album, while spinning a little live twist with it. For example, when 'Zhi performed the second verse to "F.R.I.E.N.D.S.," Khrysis switches the beat to Whodini's "Friends" instrumental, which the crowd joined along when the Whodini hook was sung. "Friends – how many of us have them?"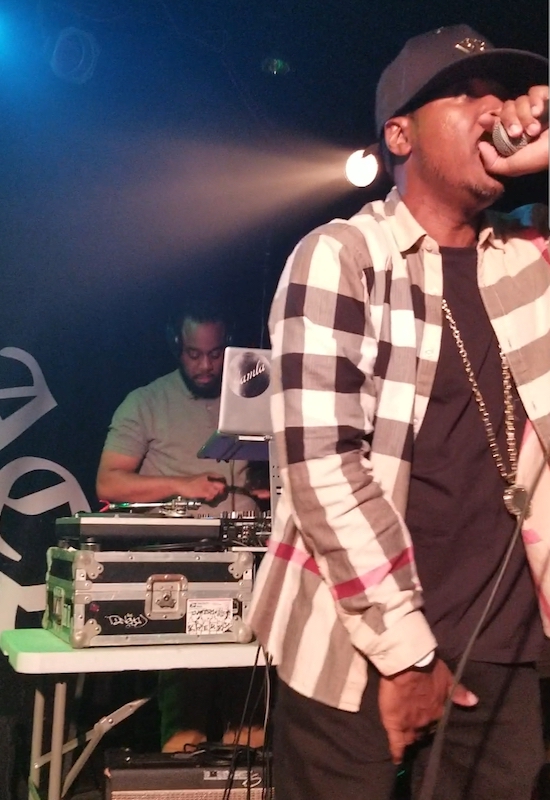 Plenty of other joints from the duo's album as performed, as "Seventeen" (which BTW has a dope-as-hell N*E*R*D sample flip), "To Do List," and "Cuffin' Season" was performed. Elzhi then performed a few cuts off his solo albums, such as storytelling track "Two 16s'" from his 2016 offering "Lead Poison" and respected-hit "Motown 25," from 2008's "Preface". Elzhi gave a brief explanation to the crowd about how he and Khrysis met, when Elzhi guest appeared on Little Brother's "Hiding Place" of 2005 "The Minstrel Show" album, which he spit the verses, as well. Elzhi then had a moment where he dedicated a section to the late J Dilla, former Slum Village-colleague and close friend. He then performed "Come and Get It," from J Dilla's 2001 LP "Welcome to Detroit", which was most head's introduction to Elzhi before he would later join Slum Village. He then spit his verses of "Look of Love," "Tainted," and "Selfish" to satisfy anyone looking to see SV joints performed live, even by just one man.
Elzhi then performed many of his songs from his critically-acclaimed mixtape "Elmatic," tribute to Nas' 1994 seminal debut "Illmatic." However, Khrysis upped the ante by playing "I Love Music" by Ahmad Jamal, the original sample to "The World Is Yours." The crowd cheered as the jazz instrumental got to the familiar section, which Khrysis looped for Elzhi to spit his verses and dropping the hip-hop beat during the second verse. The crowd, again, participated heavily while singing the chorus. "Whose world is this? (The world is yours, the world is yours)." Other songs from "Elmatic" were performed, such as "Memory Lane," "Halftime," and "Detroit State of Mind." The latter was very interesting since the had a Part I and Part II versions of the song (II produced by Khrysis). After 'Zhi spit the first verse to Part II, Khrysis then cut to the Part II beat effortlessly.
Khyrsis then decide to play a game with the audience where he ask "Premier or RZA," the audience shouted out a mix of the two, yet its evident Preemo had the louder pick. Elzhi then spit a freestyle his verses over a mix of Premier beats, such as "Nas Is Like," "Boom," and "Friend or Foe." Afterwards, Khrysis switched to a RZA beat, "Wu-Tang Clan Ain't Nuthing Ta F' Wit," where one audience member shouted out as loud as he can, "JERICHO JACKSON AIN'T NOTHIN' TA F**K WIT!!!" Khyrsis then asked Elzhi to give the mic to the dude to do it again over the beat, which he happily obliged.
Things took a weird turn when Khrysis asked Elzhi to switch places, where 'Zhi would be on the DJ board and Khyrsis would be on the emcee space with the mic. The turn got weirder as the laptop froze while Elzhi was set to turn the song on. It took a minute for the computer to come back on, but the vibe was so chill, the audience were patient during the technical difficulty. One audience member shouted, "Elzhi on the boards with the FREEZE!" and another shouted out, "You too cold, Elzhi, that's why the computer froze!"
After the crew got the setup back together, Khyrsis got to the mic to perform his hook to "Talkin' Bout," which included a Brand Nubian hook heads are largely familiar with: "You either love me or leave me alone/You either love me or leave me alone." Jericho Jackson knew to save their big hit for last as "Self-Made" got the crowd in a uproar. "Self-made since 12th grade, that's my callin'/Every jewel drop is money out the sky fallin'/El is dat nigga, some of y'all forgotten when I'm jottin'/My pen bleeds while yours be bloodclottin'" The audience rapped every word along with Elzhi without missing a beat.
Just like that, the show was over and it was one of the dopest shows I've been to ever. The performers did well, the audience participated well, even the opening acts weren't simply slouches bidding time for the headliners. And it was all for $10! I cannot recommended enough to catch Jericho Jackson if they hit your vicinity. They knew where to find the town's professional locals to perform for the opening act, as well. Although WWE's primetime show is on Mondays, Sunday night July 29th, was the date that marked, in Buffalo, RAW. IS. JERICHO JACKSON!