For a now historical generation of US MC's, Europe provided a vital outlet in terms of record sales and particularly live shows. That would of course also pertain to the big stars and the big venues they play, but as everybody knows mainstream success is not easily sustained. There is however a class of hard-working rap musicians who have learned to hit a road that literally takes them anywhere. They established relationships not just with an audience but also with promoters and locations. The fact that Europe – and concurrently Japan – served as additional avenues might have even helped prolong some careers. We are talking foremost about the classical backpack set that broke through in the 1990s, the likes of AG, J-Live, Sadat X, Masta Ace, etc. Some bigger names would be included among these typical representatives, such as De La Soul, as well as acts who eventually left the indie grind behind like the Black Eyed Peas.
The entry point for most of these travels would undoubtedly be the United Kingdom, but the jump across the English Channel to the Netherlands, Scandinavia, Germany, France, Italy and the Iberian Peninsula was in many cases simply the next logical move. Despite the first generation of recorded rap hitting selected spots prior to that, touring the world must have really gotten in gear with the hip-hop heroes of the second half of the 1980s, the Run-D.M.C.'s, Public Enemy's, Ice-T's, etc. But the transatlantic relationships must have grown decidedly stronger in the next decade. The corresponding stories will hopefully be told in artists' autobiographies and in local hip-hop histories. But for convenience sake, let's have a look at a simple index for the convergence of hip-hop artists in the northern hemisphere – guest features by North-Americans on European releases. This article concludes with an exhaustive list, but before we will highlight some songs that stand out for one reason or another.
It's safe to assume that some of the contacts were made when the artists involved shared the same stage. They likely shared other things, maybe a blunt or two, but at the very least the love for a certain kind of music. Money changed hands as well, that's understood, in the entire process of one hand washing the other. Both the guest and the host can count on greater exposure through the collaboration. But let us also acknowledge the aspect of showing mutual respect. We could even describe it as a joining of forces against a – to put it bluntly – common enemy. Commercial, mainstream, pop music. Or rap that falls under these categories. A song named "Undaground Connexion" by French renegade rap mainstay Assassin and freestyle legend Supernatural may serve as a motto for the kind of morale that inspired these meetings. Most of the artists mentioned in this article were not underground by any means but thus was their self-image.
Curiously enough, if you would search for the most successful North-American performance on a European single (whether rap/hip-hop, jazz/acid jazz, or electronic/dance) in the '80s and '90s, you would end up either with Turbo B of Snap! fame or Rahsaan who rapped on Us3's smash "Cantaloop (Flip Fantasia)". But these are exactly not the people we are looking for because they lack the official stamp of heavily networking artists who unequivocally represent the American (or Canadian) hip-hop scene. Although as usual when we try to categorize, there will be some gray areas. Some of them more interesting than others. Not every artist on our list represents hip-hop in the conservative sense or can be considered established (in fact many were up-and-coming, which may also explain their eagerness to experiment), or, conversely, independent, and not every feature comprises an actual rap. When Pras issues a few adlibs on a remix of Shola Ama's "You Might Need Somebody", that's even below a pointless celebrity cameo.
The first step is sometimes a misstep, at least that would have been the case with Kurtis Blow swooning all over Adamski's "I Want You Back" in 1990. An acid house crossover act, Adamski broke singer Seal with "Killer" the same year, but this album cut with an old school legend was a failure on practically all levels. Also in 1990, future tastemakers (as heads of Ninja Tune and hosts of Solid Steel) Coldcut fared much better with the dub-meets-club tune "Find a Way" graced by Queen Latifah. (Find a shortened video edit below.)
The United Kingdom proved soon after to be a reliable ground for collaborations, readily taking advantage of the acid jazz hype, most notably with the still one-of-a-kind Brand New Heavies project "Heavy Rhyme Experience: Vol. 1". Gang Starr's international reputation was solidified by assists for Cookie Crew, Subsonic 2, Ronny Jordan, Marxman, Slam Slam and Neneh Cherry, the latter opening her sophomore effort with the Guru feature "Sassy". The UK/US connects didn't gradually intensify after that, but they mushroomed at the end of the decade when instrumental outfits such as Rae & Christian, The Herbaliser, The Nextmen, The Creators, Aim, Unsung Heroes and DJ Vadim (joined by others after the turn of the millennium) began to enlist overseas MC's more and more often. A notable coalition formed when Jean Grae (at the time still going by What? What? and representing her crew Natural Resource) collaborated extensively with The Herbaliser, their working relationship resulting in 6 full songs.
Around the same time (the later '90s), the Scandinavians began to cast their nets across the big pond. Swedish West Coast afficionados Infinite Mass teamed up with MC Eiht in 1997 for "Comptown 2 Stocktown", the album also featuring South Central Cartel's Prode'je and Da Lench Mob's Shorty. Denmark's Boulevard Connection were surely on the verge of something bigger when their 1998 EP featured Artifacts, Company Flow and MC Serch, but 2000's "Copenhagen (Claimin' Respect)" with Rakaa Iriscience, Maylay Sparks and The Last Emperor was already the end of it. Norwegian producer Tommy Tee however came to embody the concept like no other with a string of pragmatic features combining European beats with American rhymes.
From another English-savy scene, a mind-boggling feature happened in 1991 when Kool Keith and Ced Gee of Ultramagnetic MC's, joined by Rudeboy Remmington of Amsterdam's Urban Dance Squad, lined up for a slice of hyper-tense hardcore hip-hop called "Cold Slammin'" by King Bee, a short-lived Dutch act that straddled early European hip-hop and Eurodance. The same year Rhyme Syndicate member Bronx Style Bob became the lead vocalist on French pioneer DJ Dee Nasty's self-titled album. Same time, same place, another surprising bilateral (and bilingual) talk took place in the form of "Moment de Gloire" ('Moment of Glory') by French femcee Saliha and Boogie Down Productions member Harmony, who, as her own album around that time showed, was versed in both singing and rapping. Three years later Saliha again called on international sisterhood when she brought in Champ MC for the domestic abuse drama "Derrière la Porte" ('Behind the Door').
French rap records down the line also hosted prestigious guests such as Ol' Dirty Bastard, Biz Markie, De La Soul, Common Sense and Warren G, but the most famous, indeed one of the most historic global hip-hop collaborations featured so-called Wu-Tang second-stringers Timbo King, Dreddy Krueger and Prodigal Sunn. But the track they featured on, IAM's "La Saga", meant a lot for mainland Europe's hip-hop confidence. Far less known but highly endearing for its youthful spirit and grassroots setting, "Worldwide" saw another Wu associate, Shyheim, join Raphaël of Paris' La Cliqua and Loucha of Geneva's Petits Boss for another acknowledgement of the global proliferation of hip-hop music, the 12″ captioned 'When Hip-Hop Becomes… Worldwide'.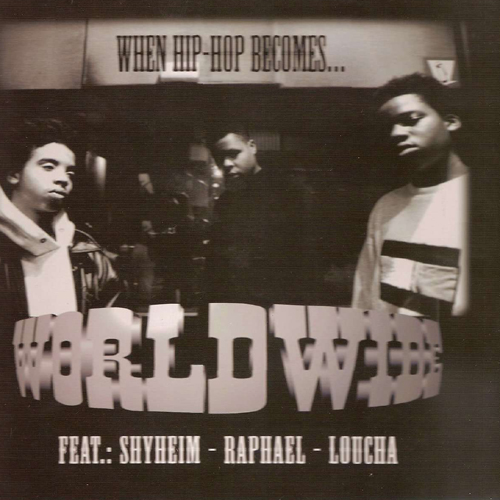 Heading over to Germany, an early highlight was Jeru the Damaja guesting on a track that captures the classic mid-'90s East Coast sound to a tee, Walkin' Large's "When I Flow". Brixx and her label Columbia went for the Rawkus crowd with a guest-heavy English-language album in 1999. A treat of its own was "Will Smith, Meer Gayne?". Spoofing their own satirical single "Willst Du Mit Mir Geh'n?" ('Will You Be My Girl?'), Fünf Sterne Deluxe invite Biz Markie to a sightseeing tour of Hamburg, but Biz shows little interest in any sights except for a statue of statesman Otto von Bismarck and local beauties. Later that day, they all try to hit on the same girl and it's Biz who hooks up with her in the end, crooning "Willst Du Mit Mir Geh'n?" the way he hears it – Will Smith-something.
Meanwhile the Arsonists weren't obliged to come across clear in a traditional rap way at all when they found themselves in a firestorm created by Berlin techno-punk pioneers Atari Teenage Riot. This is a feature you wouldn't be aware of without the corresponding album credits. Also from Berlin but with a keen commercial sense, DJ Tomekk caught a lot of attention with the marquee "1, 2, 3,… Rhymes Galore (From New York to Germany)" with startling cameos from Grandmaster Flash and Flavor Flav, while good old indie rap skepticism ruled Massive Töne's "Rapgame (U.N.)" summit with Outloud and P.F. Cuttin' of Blahzay Blahzay.
Not all these collaborations are explicitly on a mission to cross physical borders and go beyond cultural boundaries with the semantics of rap and hip-hop. But some strive for a common ground, and one that does that really well is "Stessa Gente" ('Same People') by Italian female rapper La Pina, who welcomes two Americans, Al' Tariq and Black Attack (both of Missin' Linx, the former previously with The Beatnuts), a Belgian (Rival) and a German (Torch) on a track that discusses the fact that we are all the same from different perspectives (Black Attack addresses abusive police). Other collabos had their own specific angle, such as when Vienna's Schönheitsfehler connected with San Francisco's Rainbow Flava to proclaim queer autonomy on "Sapiens Mit Dem Homo Davor" ('Sapiens With Homo in Front of It') or when K-Mel and Phife, both having achieved fame as part of a group, make a case for going solo on "Solo Mouvement", Phife making some interesting remarks in regard to his break from A Tribe Called Quest.
Whatever motivated these artists to collaborate on songs, some simply good tracks came out of these constellations, strictly hip-hop or not. The combination British musicians/American MC's can reek of opportunism (especially when it excludes UK hip-hop talent), but for the Yankees (pardon the expression) it was nevertheless a challenge to become acquainted with unaccustomed beats and an opportunity to record raps. The sheer number of US/UK rendezvous even give the impression of a serious intercultural romance.
You could say that Jean Grae got her solo career in gear on those Herbaliser records. Or that labels like Talkin' Loud, Mo Wax, Ninja Tune, Grand Central or BBE helped propagate the idea of an international community that makes instrumental music inspired by the techniques of hip-hop. When people come together to make music, nationality should be an afterthought. That doesn't change the fact that collaborations across genres and distances drive innovation and progress. Thinking outside of the box made hip-hop happen, how could it hurt hip-hop to think outside of the box for itself? That's why parameters matter. Who. Where. When. What. When Kool G Rap raps on a beat built mainly by DJ Shadow, that might be mostly an American affair, but since the respective project within which the collaboration took place, U.N.K.L.E., was curated by Englishman James Lavelle, factors such as initiative and infrastructure still give it an international dimension.
Distinguished British soul act Sade recorded an album as Sweetback without their famous lead singer, and their cut with Bahamadia, "Au Natural", is meditative chill hop deluxe. Imagine the band usually fronted by Sade Adu supporting underground favorite Bahamadia. These are a different kind of credentials. Equally top-notch was the Mos Def support on the 1999 comeback album of '80s avantgarde pop act Scritti Politti, notably the single "Tinseltown to the Boogiedown" (which also features Bush Babee Lee Majors).
If you study our list below, you will see some lineups repeating themselves. Convenience may have played a role there, but if you had Mos Def on your album in 1999, you would have tried to keep him on there for another joint, too. And why not one more (even if it winds up a B side as in this specific case). Mos Def in any case must have enjoyed his stays, going by the number of appearances, that's why a remix release of "Universal Magnetic" is the feature image of this article, even though the remix is in the drum 'n bass style (which opens the path to a separate post). But Big Ben with a big-ass magnet on top and an adventurer with some kind of device on his back and under his feet trekking towards it is just too vivid of an image to ignore.
And of course it takes a certain grasp of what you can achieve through music to realize these opportunities, that's why brainiac Black Thought has left a more distinct trail on European records than others. Simultaneously, the fact that he's the lead vocalist of a full-fledged band who's even more dependent on touring surely played its part.
Not every feature is easily explainable or even believable. Once you dig in the virtual crates along certain indicators, you come up the weirdest things. Though his name does not seem to appear in the single's credits, it looks like Kanye West had his first recorded and professionally released verse with UK club band Raw Stylus (an E-Smoove remix of their biggest hit "Believe in Me"), predating even the first entry in his production discography, Grav's "Down to Earth" album. By our own guidelines 18-year-old Kanye West shouldn't be included here because he was the quintessential nobody in 1995's rap scene. By the same token it's hard to believe that someone like Del Tha Funky Homosapien, who had a name in Europe since "Mistadobalina", waited until 2001 to make his first studio appearance on the continent with Gorillaz' breakthrough single "Clint Eastwood". Or that apparently no Boot Camp member made it onto a European record in the '90s. Or take Eminem, who might have been able to squeeze in a Euro cameo in 1999 had he not blown up beyond reasonable proportions. And to jump back to the very beginning of the decade, an illustrious rap cameo of 1990 was Q-Tip's guest spot on Deee-Lite's "Groove Is in the Heart", it's just that the winsome dance act wasn't British, in spite of appearances.
But maybe it's those glitches that render such a venture interesting beyond the limited pool of middle-aged dudes making music lists. (In the defense of middle-aged dudes making music lists, even if you know some of the tracks this article brings up, I assume you were not aware of the actual dimensions…)
For some further irregularities, Afrika Islam and Afrika Bambaataa historically had a broader understanding of hip-hop, that's how they ended up releasing dance music in Europe, the former with German techno luminary WestBam as Mr. X & Mr. Y. This merely on a sidenote because, for example, 1996's "Afrika Jam" by Afrika Islam featuring Ice-T may have been a European project, but if you know their history together, it's hardly a collaboration that would have come unexpectedly. On that note, old school MC's just couldn't win, even in a place that may have welcomed them more warmly, as Duran Duran's ill-fated 1995 cover of "White Lines (Don't Don't Do It)" with Melle Mel and the rest of the crew showed. Or consider poor Grandmaster Caz' appearance on a Malcolm McLaren project that tried to revive the punk impresario's one-time hip-hop connection with the help of Shakespeare.
So today's inventory has more than one pigeonhole. The title 'Backpacking Europe' itself is misleading. At least if you take it literally. Because there was indeed an era in Europe when all connections ran underground. Idealism and their love for the so-called elements brought people together. Hip-Hop's inner circle would meet and compete across cities and sometimes even nations, circumstances permitting. While this would be far from what we're documenting here (official appearances on recordings), in its essence it would be comparable. Even the term 'backpack rap', sometimes used derisively, paints the rapper as a traveler who can rely on his mental faculties to get him far. Two earlier generations of this MC type once collaborated on an album tellingly titled "Survival Skills".
Earlier this year, we introduced the RapReviews.com readership to a very peculiar form of international collaborations concerning local guests planted on US singles released abroad (read: From Saint-Denis to New Zealand (By Way of Def Jam)). What we've compiled here can be considered, at least in parts, the organic opposite – personal, mutual, direct. If we view these appearances as the result of rappers pursuing their individualistic paths, then you could indeed say, in a figurative sense, that some of these American MC's were backpacking Europe. Touring musicians are not necessarily known for being able to take in local characteristics, and if some actually touch down for a cultural exchange, that's definitely an asset.
On the other hand, even the most grassroots collabo can look mighty curious in retrospect. Case in point, the list also features a no-name act comprised of, among others, two famous Rock Steady Crew members, who apparently left no other musical traces besides the two songs they did with German female rapper and quintessential true school representative Cora E. Alternatively, the Furious Five's Scorpio settled in Stuttgart for a certain time, which explains his contributions to albums by three different local artists between '98 and '99.
Despite J-Zone, J-Live, Jigmastas and Jugganots all being present, our compilation may seem diluted by pop, dance and R&B features. But such a range is exactly one of the reasons we are convinced that these features bring honor to the rap community. The 1990s are admittedly an arbitrary time frame, but it's a fact that such collaborations would become the norm instead of the exception in the following decade. The people gathered here are therefore pioneers, with quite a few women being involved, and the tracks they recorded together include a considerable number of lost gems.
As of now, they are not part of official hip-hop history, but when you consider hip-hop and rap music a global phenomenon (in other words you got the news at one point or another that hip-hop has become worldwide), for concrete evidence, look no further than below.
North-American Rap Cameos in Europe in the 1990s – The List
1990
I Want You Back – Adamski f/ Kurtis Blow // UK
Operaa House! – Malcolm McLaren f/ Grandmaster Caz, Sparky D // UK
Romeo and Juliet – Malcolm McLaren f/ Grandmaster Caz // UK
Contribution – Mica Paris f/ Rakim // UK
Find a Way – Coldcut f/ Queen Latifah // UK
Watcha Gonna Do – Stereo MC's f/ Afrika Baby Bam (Jungle Brothers) // UK
Smokin' With the Motherman – Stereo MC's f/ Afrika Baby Bam (Jungle Brothers) // UK
1991
Tout Pour le Kiff – FFF f/ Jungle Brothers // FRA
Dee Nasty (album) – Dee Nasty f/ Bronx Style Bob // FRA
Cold Slammin' – King Bee f/ Kool Keith, Ced Gee (Ultramagnetic MC's), other // NL
Qui Sème le Vent Récolte le Tempo (Gang Starr Mix) – MC Solaar f/ Guru (Gang Starr) // FRA
Talkin' What I Feel – Young Disciples f/ Masta Ace // UK
Moment de Gloire – Saliha f/ Harmony (Boogie Down Productions) // FRA
Outstanding (Touchdown Remix) – Kenny Thomas f/ Dres (Black Sheep) // UK
1992
Sassy – Neneh Cherry f/ Guru (Gang Starr) // UK
Heavy Rhyme Experience: Vol. 1 (album) – Brand New Heavies f/ Large Professor (Main Source), Guru (Gang Starr), Grand Puba, Masta Ace, Kool G Rap, Dres (Black Sheep), Edo.G, The Pharcyde // UK
1993
Season For Change – Ronny Jordan f/ Guru (Gang Starr) // UK
No No – Dub Syndicate f/ Michael Franti (Disposable Heroes of Hiphoprisy) // UK
1994
Bug Powder Dust – Bomb the Bass f/ Justin Warfield // UK
Mellow State of Mind – Radical Stuff f/ Bosco Money (Downtown Science) // ITA
Derrière la Porte – Saliha f/ Champ MC // FRA
Keep Steppin' (DJ Premier Remix) – Omar f/ Uptown // UK
Axel F. (Remix 1994) – Techno Cop f/ Kurtis Blow // GER
Calling You – Power Nation f/ Kurtis Blow // GER
1995
Believe in Me (E-Smoove Essence/Soul Mix) – Raw Stylus f/ Kanye West // UK
When I Flow – Walkin' Large f/ Jeru the Damaja // GER
Jamais à l'Heure – Alliance Ethnik f/ Psycho Les (The Beatnuts), Lucien // FRA
Blood in Blood Out; Bang Bang Boogie – Kaliphz f/ Ces (Urban Thermo Dynamics) // UK
Brain Dead – Bomb the Bass f/ Justin Warfield // UK
Dritto dal Cuore – The Next Diffusion f/ Guru (Gang Starr) // ITA
White Lines (Don't Do It) – Duran Duran f/ Grandmaster Flash & The Furious Five // UK
1996
Give Me a Little More Time (Buckwild Remix) – Gabrielle f/ O.C. // UK
Qui Tu "Reprèsent"? Partie 2 – Sléo f/ Cella Dwellas // FRA
Au Natural – Sweetback f/ Bahamadia // UK
Runnin' Through These Veins – Funky Fresh Few f/ Afu-Ra // UK
MC Pretend – Suspekt f/ Mystik Journeymen // UK
I Don't Give a Whut (I Don't Give a F… Part 2) – Big Kwam f/ A-Butta, L Swift (Natural Elements) // UK
Return of the Mack (Da Beatminerz Remix) – Mark Morrison f/ Shadez of Brooklyn // UK
Antique Travel Structure – Sources of Specialment f/ Murs // NL
The Special Forces From Under This World – Sources of Specialment f/ Luckyiam.PSC, Murs, The Grouch, Sunspot Jonz (Living Legends) // NL
Undaground Connexion – Assassin f/ Supernatural // FRA
Worldwide – Raphaël (La Cliqua), Loucha (Petits Boss) f/ Shyheim // FRA/SUI
Keep (Sh)It Raw – Cora E f/ Taino Tactix (incl. Mr. Wiggles, Ken Swift of Rock Steady Crew) // GER
1997
Sometimes (Ummah Remix) – The Brand New Heavies f/ Q-Tip (A Tribe Called Quest // UK
Show Me Love (QD3 Fat Boy Remix) – Robyn f/ O.C., Rahzel // SWE
Rough – Aquasky f/ Big Shug // UK
Baba Hooker – Zap Mama f/ Michael Franti (Spearhead) // BEL
Tender (Organized Konfusion Remix) – Attica Blues f/ Organized Konfusion // UK
All of Me – China f/ Guru (Gang Starr) // FRA
3ree (A Means to Be) (What Boundaries? Remix) – Attica Blues f/ Apani B-Fly Emcee, Antipop Consortium // UK
Candyman – Cornershop f/ Justin Warfield // UK
La Violence (Remix) – La Relève f/ Black Thought (The Roots) // FRA
Phillystyle – La Relève f/ I.N.T. (Schoolz of Thought), Stamma, Dice Raw // FRA
The Blend – The Herbaliser f/ What? What? (Natural Resource) // UK
New + Improved – The Herbaliser f/ What? What? (Natural Resource) // UK
Hardcore – The Herbaliser f/ What? What? (Natural Resource) // UK
Bring It – The Herbaliser f/ What? What? (Natural Resource) // UK
Next Stop New York – Cora E f/ Taino Tactix (incl. Mr. Wiggles, Ken Swift of Rock Steady Crew), other // GER
You've Got a Friend (Brooklyn Funk Club Mix) – The Brand New Heavies f/ Jemini // UK
Strickly Hip-Hop – Afro Jazz f/ Ol' Dirty Bastard (Wu-Tang Clan) // FRA
Comptown 2 Stocktown – Infinite Mass f/ MC Eiht (Comptons Most Wanted) // SWE
44 Times – Infinite Mass f/ Prode'je (South Central Cartel) // SWE
Pimp Daddy's – Infinite Mass f/ Melle Mel // SWE
Alwayz Somethang – Infinite Mass f/ Shorty (Da Lench Mob), other // SWE
La Saga – IAM f/ Timbo King, Dreddy Kruger (Royal Fam), Prodigal Sunn (Sunz of Man) // FRA
All Night All Right – Peter Andre f/ Coolio // UK
All Night All Right – Peter Andre f/ Warren G // UK
Overture – Hip-Hop Meets Classic (album) – The Rapsody f/ Xzibit, L.L. Cool J, Reverend Run (Run-D.M.C.), Warren G, Mother Superia, Redman, Onyx, Nikki D, Mobb Deep // GER
1998
6 Minutes (Greg Nice Version) – Tricky f/ Greg Nice // UK
Guns Blazing (Drums of Death Part 1) – U.N.K.L.E. f/ Kool G Rap // UK
Pages of Life – Rimes f/ Killah Priest // UK
Galaxy de Glace (Remix) – KDD f/ Melachi the Nutcracker (Group Home) // FRA
Broadcasting Live; Raise Up – DJ Cam f/ Channel Live // FRA
Buffalo Gals (Back to Skool) – Malcolm McLaren & The World Famous Supreme Team f/ Rakim // UK
Who Got the Flavor – Main Concept f/ Problemz (Missin' Linx) // GER
What? – MKII f/ Al' Tariq, Problemz (Missin' Linx) // GER
Wild Eyes – Helén Eriksen f/ Mike Zoot, Wordsworth // NOR
Birth (album) – Baby J f/ A.Alikes, Poetic (Gravediggaz), Shaqueen, Celestial Souljahz, Freestyle (Arsonists), Shabazz the Disciple // UK
Make Me Happy (Deep Inside) (DJ Spinna Vocal Mix) – Cooly's Hot Box f/ Jigmastas // UK
Listen to This – Walkin' Large f/ Black Thought (The Roots) // GER
Interaction – Walkin' Large f/ J-Live // GER
L'Ecole du Micro d'Argent (Version U.S.) – [IAM] f/ Prodigal Sunn, Hell Razah (Sunz of Man) // FRA
Si Tu Rap Faux – Les Sages Poètes de la Rue f/ Buddah Monk // FRA
International Connects – Tommy Tee f/ El Da Sensei (Artifacts), Mike Zoot // NOR
Horizon – Tommy Tee f/ Basheeba Earth, Black Sun, Mr. Eon (The High & Mighty), Tru Personna // NOR
Blood Rush – Tommy Tee f/ F.T., P Dap // NOR
Takin Ova U.S. Version – Tommy Tee f/ Joe Sexx, Mr. Eon (The High & Mighty), Reservoir Doggs, Shabaam Sahdeeq // NOR
Day By Day – Tommy Tee f/ A.L., Punchline, Talib Kweli, Wordsworth // NOR
Crown Holders – Tommy Tee f/ I.G. Off and Hazadous, Skam // NOR
Intense; Dance in the Darkness – Tommy Tee f/ Craig G, Will Pack // NOR
The Hard Margin – The Creators f/ Mos Def, Talib Kweli // UK
Haagen-Daz – The Boulevard Connection f/ Artifacts // DK
Jonny Rookie Card – The Boulevard Connection f/ Company Flow // DK
No Doubt – The Boulevard Connection f/ MC Serch // DK
Will Smith, Meer Gayne? – Fünf Sterne Deluxe f/ Biz Markie // GER
Chaos – Jazzkantine f/ Ol' Dirty Bastard (Wu-Tang Clan), other // GER
It'z Uzelezz – Germ f/ Lin Que, Finsta // GER
Made it Back – Beverley Knight f/ Redman // UK
Nobody But You (Brooklyn Funk R&B Mix) – Conner Reeves f/ Jemini // UK
If You Want Me (Brooklyn Funk's Club/R&B Mix) – Hinda Hicks f/ Jemini // UK
The Culture We Live (album) – Sources of Specialment f/ Sunspot Jonz, Bizarro, Luckyiam.PSC, The Grouch, Asop, Eligh (Living Legends) // NL
Strike a Pose – Murmurecordings f/ Luckyiam.PSC (Living Legends), Eclipse 427, other // FIN
Frustration – Murmurecordings f/ Eclipse 427 // FIN
Wake Up! (Réveillez-Vous!) – Assassin f/ Wise Intelligent (Poor Righteous Teachers) // FRA
Foundation – Hausmarke f/ Wyclef Jean (Fugees) // GER
Weltweit – Hausmarke f/ Melle Mel, Scorpio (Furious Five) // GER
From Queens 2 Vie – Aphrodelics f/ Tango & Cash // AUT
Dramas y Fiestas – CPV f/ Dom Pachino, P.R. Terrorist (Killarmy) // ESP
Stessa Gente – La Pina f/ Al' Tariq, Black Attack (Missin' Linx), other // ITA
Snakes & Ladders – Structure Rize f/ Canibus // UK
The Norm; Transatlantic – Unsung Heroes f/ Shia, Yeshua Da Poed (Wee Bee Foolish) // UK
1999
Worlds – Texta f/ Akil (Jurassic 5), Tariq, Click Tha Supah Latin // AUT
Burn Me Slo – Nightmares on Wax f/ O.C. // UK
Benztown (Is How We Get Down) – DJ Thomilla f/ Scorpio (Furious Five) // GER
Can't Stop Won't Stop – Joy Denalane f/ Scorpio (Furious Five) // GER
8 Point Agenda – The Herbaliser f/ Latyrx // UK
Dal Basso – Jovanotti f/ Michael Franti (Spearhead) // ITA
Menage a Trois – Brixx f/ Cella Dwellas // GER
Can't Outplay Us – Brixx f/ Jane Blaze // GER
Flossy Gramma – Brixx f/ Camp Lo // GER
Planet Earth – Brixx f/ F.T. // GER
Sweet Deja Vu – Brixx f/ Bahamadia // GER
Halfway – Brixx f/ Talib Kweli // GER
I Sell Rhymes Like Dimes; True Thug MC – Greedy Fingers f/ MF DOOM, Megalon // BEL/UK
Daydreams; Adlibs in My Head – Greedy Fingers f/ Cage // BEL/UK
Wise Ass; Brutal Styles – Greedy Fingers f/ Necro // BEL/UK
Saturday Nite (Jay Dee Remix) – The Brand New Heavies f/ Mos Def // UK
Express Delivery – Runaways f/ Masta Ace // UK
You Don't Understand – Runaways f/ J-Zone // UK
Pounds 4 Dollars – Runaways f/ Rakaa Iriscience (Dilated Peoples) // UK
Reflections – Runaways f/ Tiye Phoenix (Polyrhythm Addicts) // UK
Take it Where? – Beyond There f/ Siah, Ken Boogaloo (Wee Bee Foolish) // UK
Divine Connection (Cross Seas) – Dee Nasty f/ Scienz of Life // FRA
Beyond and Back; Last House on the Left – Paranoid Android f/ Cage, Masai Bey, Space // UK
Rafiki – Zap Mama f/ Black Thought (The Roots) // BEL
Center of Attention – Massive Töne f/ Arsonists // GER
Creeping; Apollo – Double Mouth f/ Freestyle (Arsonists) // DK
$$$$ – Tjes Boogie f/ Bootie Brown, Imani (The Pharcyde) // DK
Anarchy 999 – Atari Teenage Riot f/ Arsonists // GER
No Success – Atari Teenage Riot f/ D-Stroy, Freestyle (Arsonists) // GER
Your Uniform (Does Not Impress Me!) – Atari Teenage Riot f/ D-Stroy (Arsonists) // GER
Heed This Warning – Looptroop f/ Freestyle (Arsonists) // SWE
I Do (Hago Spanish Mix) – Jamelia f/ Slum Village // UK
Tinseltown to the Boogiedown – Scritti Politti f/ Mos Def, Lee Majors (Da Bush Babees) // UK
Smith 'n' Slappy – Scritti Politti f/ Mos Def // UK
Dead Certainty – Scritti Politti f/ Mos Def, Lee Majors (Da Bush Babees) // UK
Another Sound Mission (Mystic Handyman Pt 2) – Scritti Politti f/ Defari, Tash (Tha Alkaholiks) // UK
Superior Raps – Hundred Strong f/ Obscure Disorder // UK
All Natural – Hundred Strong f/ All Natural // UK
Always Find a Way (Jay Dee Remix) – Nine Yards f/ Jay Dee (Slum Village) // UK
X-Files; Midnight Melodic – Terranova f/ Rasco // GER
By My Side – Cunnie Williams f/ Buddah Monk // GER
Elisha Is Not at Home – Elisha La'Verne f/ Vooodu // UK/GER
Tabou (The Roots Remix) – Les Nubians f/ Black Thought (The Roots) // FRA
No Holds Barred – Tommy Tee f/ M.O.P., Matt Fingaz, Royal Flush // NOR
Ready For Me – Tommy Tee f/ I.G. Off and Hazadous // NOR
International Connects Part 2 – Tommy Tee f/ El Da Sensei (Artifacts), Mike Zoot // NOR
World Renown – Tommy Tee f/ AG, Large Professor, Mike Zoot, Pete Rock // NOR
Was Ist Los? – Die Sekte f/ Prevail (Swollen Members), other // GER
Buck Foolish – The Nextmen f/ Ken Boogaloo (Wee Bee Foolish) // UK
Break the Mould – The Nextmen f/ Grap Luva (InI) // UK
True to Hip-Hop – Aim f/ AG // UK
Ain't Got Time to Waste – Aim f/ YZ // UK
From Here to Fame – Aim f/ YZ // UK
The Force – Aim f/ QNC // UK
Anything U Want – Rae & Christian f/ QNC // UK
Now I Lay Me Down – Rae & Christian f/ YZ // UK
Play on Grand Central – Rae & Christian f/ Jungle Brothers // UK
Flip the Mic – Rae & Christian f/ Jeru the Damaja // UK
Ground Zero; Dedicated – Dynamic Syncopation f/ Mass Influence // UK
The Essence; Losing Your Mind – Dynamic Syncopation f/ Yeshua Da Poed // UK
Crazy Rhymin' – Only Child f/ Kriminul (Jigmastas) // UK
Solo Quedar Consuelo – Violadores del Verso f/ Jeru the Damaja // ESP
If It's Allright Y'all – Brixx f/ Mos Def // GER
S.O.S. (Some Other Shit) (Remix) – Brixx f/ Mike Zoot // GER
1, 2, 3,… Rhymes Galore (From New York to Germany) – DJ Tomekk vs Grandmaster Flash f/ Flavor Flav (Public Enemy), other // GER
Keep it Hot; Bruklon – Tek 9 f/ What? What? (Natural Resource) // UK
Teknology; Black Expedition – Tek 9 f/ Chace Infinite (Self Scientific) // UK
2001; Bad Baad – Tek 9 f/ Opio (Souls of Mischief) // UK
The Terrorist – DJ Vadim f/ Motion Man // UK
The Hard Margin – The Creators f/ Mos Def, Talib Kweli // UK
No Love – The Creators f/ F.T. // UK
Mission Improbable – The Herbaliser f/ What? What? (Natural Resource) // UK
Let it Go – The Herbaliser f/ What? What? (Natural Resource) // UK
When I Shine – The Herbaliser f/ Bahamadia // UK
Road of Many Signs – The Herbaliser f/ Dream Warriors // UK
Friction – DJ Vadim f/ Rakaa Iriscience (Dilated Peoples) // UK
English Breakfast – DJ Vadim f/ Swollen Members // UK
Capulwak – Diam's f/ Heather B // FRA
Royalty – Diam's f/ DV Alias Khrist // FRA
Fat Come Back – Alliance Ethnik f/ Biz Markie // FRA
Jam – Alliance Ethnik f/ Common Sense, Rahzel // FRA
Star Track – Alliance Ethnik f/ De La Soul // FRA
Serwas! – Schönheitsfehler, Die Symbiose, Waxolutionists f/ The Exile Society // AUT
MCs Im Wandel Der Zeit – The Exile Society f/ The Unknown Family // AUT
Sapiens Mit Dem Homo Davor – Schönheitsfehler f/ Rainbow Flava // AUT
Perché Si! – Articolo 31 f/ Kurtis Blow // ITA
Rapgame (U.N.) – Massive Töne f/ Blahzay Blahzay // GER
I Want it All – K-Mel f/ Warren G // FRA
Solo Mouvement – K-Mel f/ Phife // FRA
Connections (Kölle Nach Cali) – DCS f/ Mystik Journeymen // GER
Spiritual Warriors (album) – Roey Marquis II f/ Matrix (Diaz Brothers), other // GER