At first glance, rappers and video games may not seem like they have a lot in common, but the reality couldn't be further from the truth. From Twitch gaming and acting cameos to live concerts in Fortnite, rappers have already made significant contributions to the growth of the largest entertainment industry in the world.
Some rappers prefer online casino games, while others are more interested in competitive shooters and sports games. If you're curious to find out which games the most famous rappers play, take a look at what 7 famous rappers had to say about their favorite video games.
Danny Brown
Danny Brown loves video games so much that he wants to become a video game developer. When he was asked about his dream to pursue a career as a developer, Brown went as far as saying that he would like to become the next Rockstar Games.
Most of the time, the Detroit-born rapper plays the Persona series of video games, specifically the 4th and 5th titles. Other than that, he prefers games that can be played from a third-person perspective, and tends to avoid shooter games or driving games.
Kyle
Back in high school, the rapper known simply as Kyle was a bit of an enigma. He was as much an athlete as he was a gamer, blurring the line between jocks and nerds. It's a social 'purgatory' that many of us can relate to, and we've all had our own taste of that crisis of identity.
The first game that drew Kyle to gaming was the Elder Scrolls: Skyrim. The immersive escapism of fantasy video games is clearly a major draw for him, as he is often quoted saying that virtual worlds can counter the mundanity of reality. Kyle also plays Zelda and Super Smash Bros., but he always goes back to Skyrim as a firm favorite.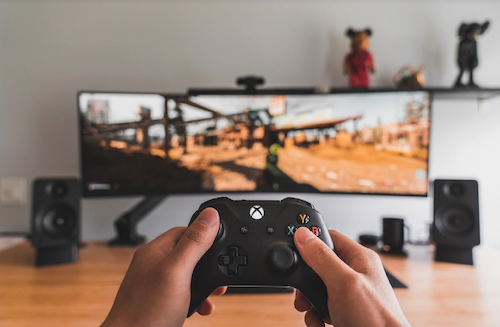 Lil B
From sample tunes in his compositions to the names of songs themselves, Lil B is ashamed to admit his fierce passion for video games. His console collection is as extensive as it gets, and he often describes himself as a "die-hard gamer".
Lil B generally plays the Final Fantasy series of video games, occasionally diving into other Eastern-style RPGs like Shenmue and the Yakuza series. Interestingly, he believes that gaming has a bit of a representation problem, with far too little diversity in the medium in terms of creative ideas and novel executions.
Logic
As proof of his interest in gaming, Logic created his very own Youtube channel in 2016, with the sole aim of sharing his playthroughs with his fans. It's a way for him to connect with his fan base, using a genuine, shared love for video games.
Logic's top five video game series are Metal Gear Solid, Bioshock, The Last of Us, Uncharted, and Borderlands. Aside from those highly-rated classics, he also enjoys modern shooter franchises such as Call of Duty: Modern Warfare and Battlefield.
Post Malone
If you ask him which gaming platform he prefers, Post Malone will always favor PCs over consoles. He had a $6,500 setup custom-built for his Twitch channel, where he plays nearly every genre under the sun to the delight of his millions of viewers.
Whether it's wrestling games or battle royales, fantasy RPGs, or tactical shooters, Post Malone has tried them all. PlayerUnknown's Battlegrounds (PUBG) is one of his favorites, but he rarely plays one game more than others, which is quite a common trait for 'hardcore' gamers.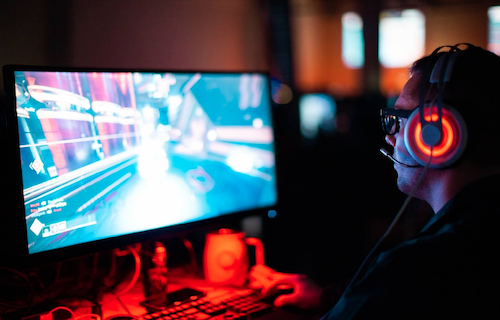 Vince Staples
Vince Staples has gone on record to say that he owns every game he's ever wanted. Gaming was a major part of his childhood and he vividly remembers how his family always had at least one gaming console in their household.
Open world games are particularly noteworthy for Staples, as they had a profound impact on him during difficult periods in his life. He also enjoys fighting games, survival horror games, and story-driven RPGs, such as Mortal Kombat, Resident Evil, and Persona 5.
T-Pain
T-Pain loves video games, but he dislikes the fact that it took the greater public a long time to accept gaming as a respectable hobby. He plays all different kinds of games and is involved in the development of some popular titles. He also shares his playthroughs on Twitch while advocating for a healthier perception of gaming.
For T-Pain, video games are a source of therapy that can provide creative inspiration. He's always been a vocal critic of stereotypes in gaming, and he urges gamers to embrace their passion for video games, not feel embarrassed by judgemental individuals, and share their joy with like-minded people.